Lido Lates | Swim Under the Stars
Sure, the weather's been scorching for a while now, and Brockwell Lido are only just opening up their pool after hours.
But better Lates than never.
As of this Thursday, you'll be able to head down to the Grade II listed, beautiful Art Deco complex and its outdoor pool, and take in a relaxed evening of swimming, cocktails, street food, saunas, and generally merriment – with a strict limit of just 120 tickets per evening, to keep things intimate. An atmosphere that's further helped by the music they'll have playing. So what can you expect?
THE POOL
This sucker is 50 meters long (making it official Olympic length), and they're going to fill it with "floats, boats, and fountains" in a variety of fancy, photogenic shapes. It'll be open from 7.30 until close to midnight, meaning you'll get the full sunset, plus a little moonlight. And if you're feeling chilly? They have a wood-fired aromatherapy sauna (it burns a "custom made blend of fragrances") next to the pool for you to hop into at your leisure.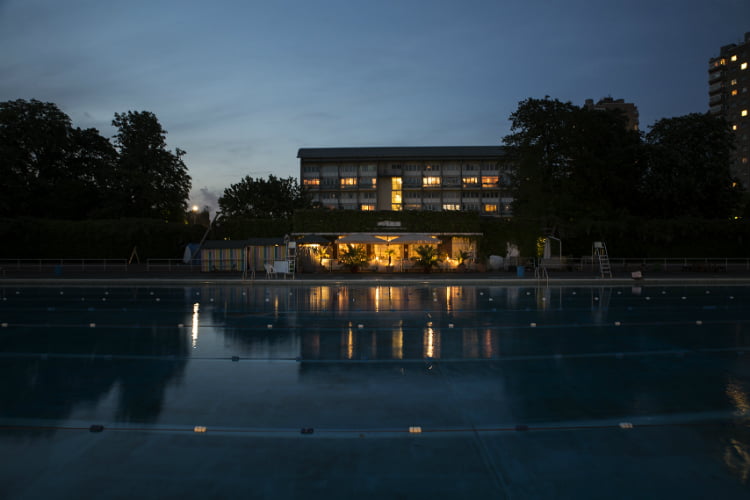 THE FOOD & DRINK
The pool is also abutted by the Lido Cafe, famed for its brunches, and ready to serve up some cocktails & street food whipped up by their chef Lily Ferguson-Mahan, who's dishes include the likes of 35 day-aged Longhorn beef burgers Emmental/Stilton and twice-cooked chips; open smoked salmon sandwiched with labneh & capers; and banana bread French toast with almond butter & cinnamon.
And then of course, there's a list of cocktails, including Negronis, Spritz's, Pimms, and their Brixton Sour made with bourbon, lemon, and red wine, all of which they'll mix up with welcome efficiency. But don't worry…
…you'll still be fashionably Lates.
NOTE: Brockwell Lido Lates are launching on July 5th. You can find out more, and get a ticket right HERE.
Brckwell Lido | Dulwich Road, SE19 1JN
---
Like Theatre? Check out our guide to The Best London Theatre Shows right now.