Burgh House has cut a fancy figure since 1704. Over the years, it's been home to physicians, soldiers, Rudyard Kipling's daughter Elsie and a 19th century upholsterer who was fined £5 for making a 'dung stall' in the garden. But since 1979 it's been owned by locals, who have turned the house into a museum and home for everything Hampstead.
Nestled in the steeply raking backstreets of Hampstead, running down to the heath, it overlooks cobbled streets, elegant old houses and some of the best pubs in the area.
If you're wondering how much there can really be to fill a Hampstead museum, they've got over 5,000 objects here. Thanks to the area's history as a haven for artists, literary figures and liberal thinkers, there's plenty of interesting bric-a-brac to pore over here, from modernist Isokon furniture, to Victorian watercolours by Helen Allingham and 1930s London underground artwork by Elizabeth Passini. Altogether, two floors of galleries house local artefacts and visiting exhibitions, and its beautiful wood-panelled rooms frequently play host to talks, concerts and artsy workshops.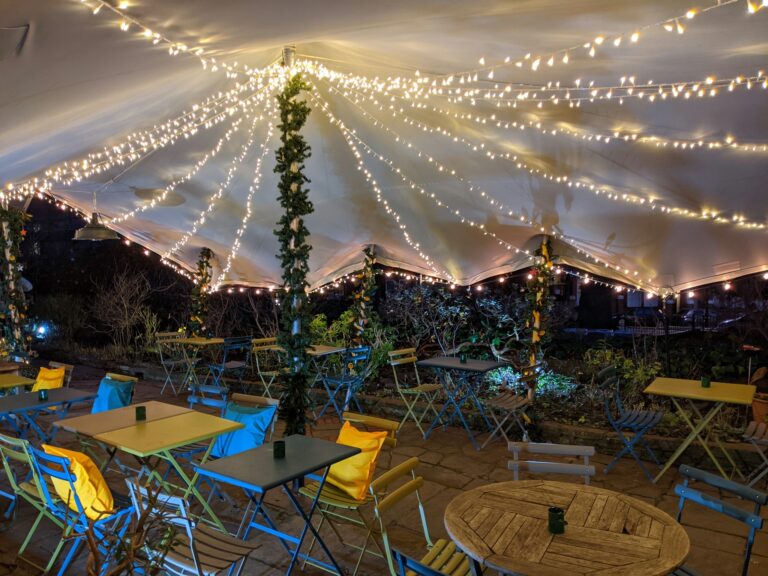 Burgh House's crowning glory, however, is the basement café, which spills into the garden outside. Thanks to its sweeping, tent-like canopy – strung up with countless twinkling fairy-lights – it's a great little hideaway in all weather. The day kicks off with big brunch dishes like Hampstead Hash (with Cumberland sausage, chorizo, cavolo nero and a runny poached egg) before moving onto more standard café fare: quiches, soups, sarnies and a range of cakes and pastries baked in-house every day…
…and not a dung stall in sight.
NOTE: Burgh House is free to visit, and the café is open Wed-Sun for brunch, lunch and afternoon tea – no need to book. You can find out more HERE.
Burgh House | New End Square, London, NW3 1LT
---
Like twinkly gardens? Give Dalston Curve a visit.