Remember when everyone used to huddle around a campfire on school trips while someone played the guitar, and you all told stories, and had a singalong?
Well, this is like that, except instead of your PE teacher, the person with the guitar is a celebrated folk musician, and there's a full bar stocked with home-made wines, ciders, ales, and mead.
It's run by the Nest Collective (a group of folk who like folk) and their pals Friends Of The Earth. Together they decided to create Campfire Club as a way to reconnect with both nature and other people, through the medium of booze, fire and song.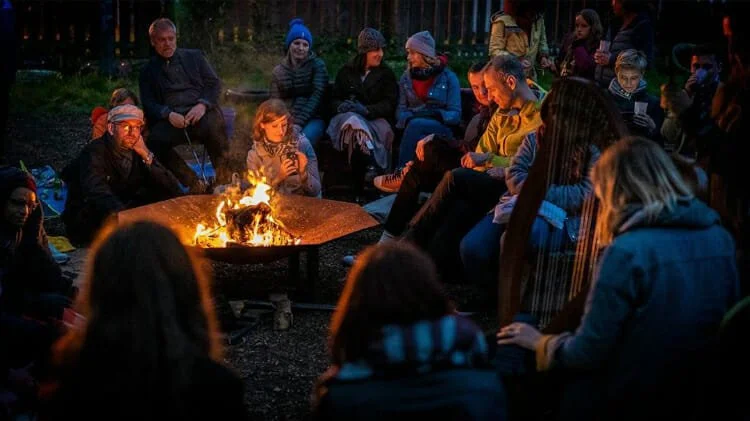 For a number of weeks throughout the warmer months, they gather around a crackling firepit in one of London's most beautiful green spaces, from city farms to community gardens. Guests are then invited to cosy up quite literally feet away from whichever incredibly talented folk musician has been chosen to play that evening, and clink glasses as they soak up the acoustic rhythms and day slowly fades into night.
Kicking off this June, the line up for the 2023 summer season is as follows:
June
16th: Joshua Burnside, Peckham | 23rd: Owen Spafford & Louis Campbell, Bird in the Belly, Peckham | 30th June: Fyfe Dangerfield, Newham
July
7th: Baque Luar, Newham | 14th: Polly Paulusma, Newham | 29th: Family Campfire Club, Hackney | 29th: Saied Silbak, Hackney
August
4th: Chris Wood, Hackney | 11th: Tarren, Hackney | 18th: Touki, Chingford
Tickets cost £16, which – as life-changingly special, one-of-a-kind experiences go – is pretty good value. And on top of these campfire gigs, the Nest Collective are also kicking off the season with the Magpie's Nest festival on 3rd June, for which they invite a whole slew of musicians to perform in the secluded riverside garden of an old shipwright's house in Deptford.
Which should leave you feeling chirpy.
NOTE: Campfire Club runs from 16th June – 18th August 2023. Tickets cost £16 – you can find out more, and book, here. 
---
Like live music? Check out the best jazz bars in London