Choc-Tails Workshops | Make Chocolate Martinis & Truffles
The first chocolate bar was made in 1847.
For the thousands of years before that it was exclusively a drink.
And for good reason: because drinking chocolate is bloody delicious. Especially when you mix it with alcohol. Which is where MyChocolate comes in. You see, for their Choc-Tails Workshop, they'll not only help you make your own chocolate martinis, but also a few truffles besides. Here's how each workshop works:
THE MARTINIS
Things kick off with a stiff-yet-meltingly-smooth drink, in the form of a chocolate martini. You'll get to mix your own, and drizzle it in a little melted chocolate to finish.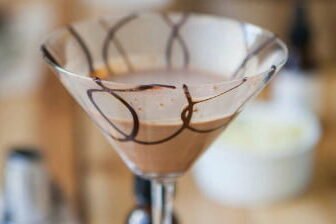 THE TRUFFLES
Suitably whetted, you'll then get to make a Batch of fresh-cream truffles. Working in pairs, you'll dip & decorate your truffles using dark chocolate ganache, bowls of melted chocolate, and decorations like white chocolate flakes, honeycomb and strawberry curls.
THE GOODY BAGS
When all's said and done, you'll then get your batches of truffles (10-15 depending on how industrious you are) wrapped in ribbon-tied goods bags to take home with you.
And finish on the way.
NOTE: My Chocolate's Choc-Tails Workshops are available now at various London locations. You can find out more, and make a booking at their website right HERE.
---
Choc-Tails | Various London location