Kenwood House has had a glow up.
Over its 250 year history, the palatial stately residence at the top of Hampstead Heath has been home to six generations of Earls, a private dairy, and the largest Pipistrelle bat roost in London. But it wasn't until 2021 that it finally got its very own festive light trail.
And Christmas at Kenwood is making its triumphant return from 1st December, once more inviting you to take a stunning illuminated walk through the grounds of the house after dark.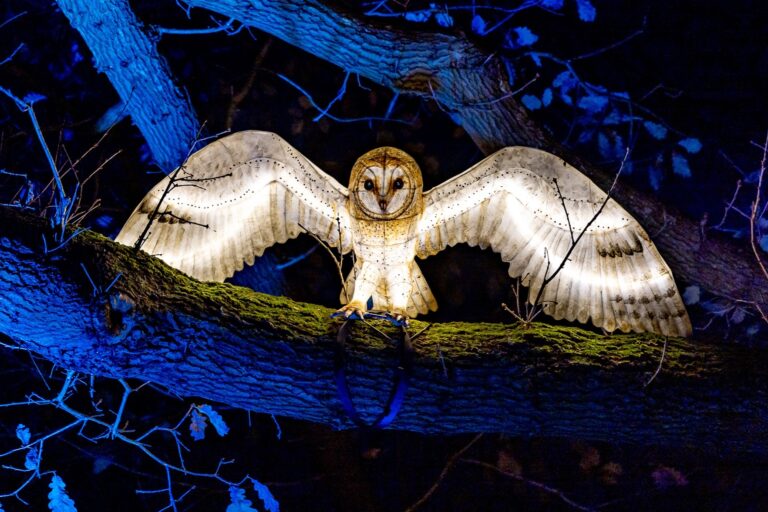 Your journey will begin a little way behind the house, so that you get a decent run-up to the main view. And it's worth saying at this point that Christmas at Kenwood can take a bit of forward planning to get to – your options are either a trek across Hampstead Heath in the dark (we're going to advise against that), or coming in from Hampstead Lane at the top (which also has quite a few handy bus routes). Just be warned that you can only get into Christmas at Kenwood from one specific entrance, so make sure you build in enough contingency time to find it.
Ok, boring logistics chat over.
Once you've successfully found your way to the starting line, you'll be able to stock up immediately with a warming beverage – there's mulled wine and cider, and you can add an extra shot of something else if it's really nippy outside and you need the booze jacket. There's hot chocolate, too, and they're all served up in eco-friendly reusable cups, which is nice.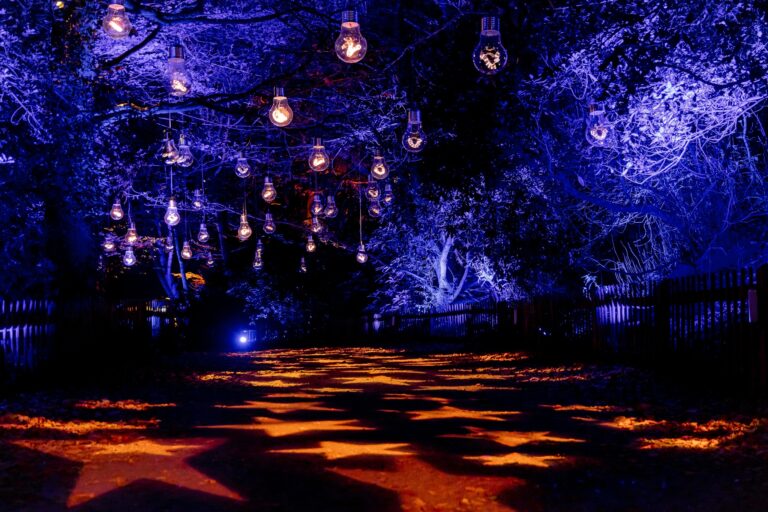 Christmas at Kenwood 2023 is set to feature 13 brand-new illuminations, so it's hard to know exactly what to expect. But if the first two years are anything to go by, there'll be some pretty spectacular sights. We're talking avenues of frosty, floodlit wintry trees surrounded by frolicking woodland creatures; a flickering fire garden; tunnels of twinkling arches; a forest canopy of giant, glowing light-bulbs; a hyper-futuristic laser garden, with hundreds of rotating, colour-changing beams transforming the surrounding woodland… all bringing you to the front of the house, where an animated audio-visual spectacle cleverly combines all the usual festive motifs with Kenwood library's famous pink and blue interiors.
Along the way you'll be able to stop off at a little marketplace where you can score some warming street food, and some more mulled wine.
After all, those cups are reusable…
NOTE: Christmas at Kenwood runs from 1st December 2023 – 1st January 2024. Tickets start at £22, and can be booked HERE.
Christmas at Kenwood | Kenwood House, Hampstead Heath, NW3 7JR
---
It's cold outside. Time to investigate London's best pubs with open fires