For one evening every month, the huge, ornate St James the Great church in Clapton has a large space in front of the pews cleared out, and something remarkable is put in. 
Right in the centre is placed a towering column of speakers. Forming a circle around it are some of the best up-and-coming jazz artists in the country. And clasped around them is a swathe of sonically hypnotised audience members, forming the final concentric circle in this "Neapolitan ice cream of noise". 
This is the Church of Sound.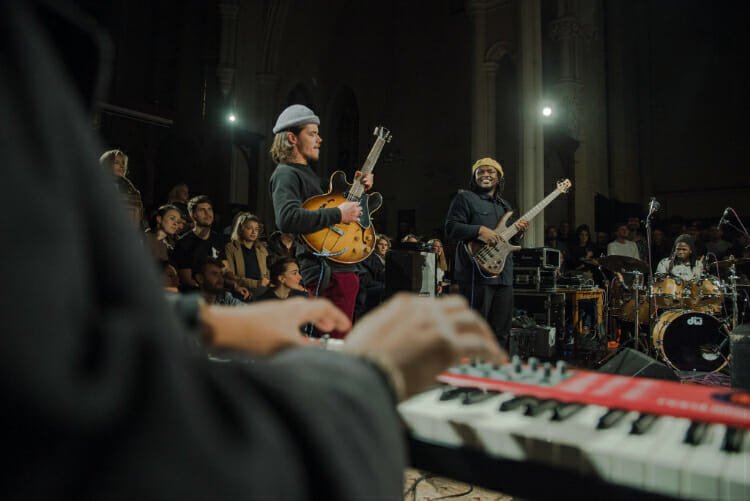 Formed back in 2016 by a former church organist & a musical entrepreneur (who founded the recording studio & nightclub Total Refreshment Centre), Church of Sound is a night for interesting, cutting-edge jazz, and it's developed a cult-like following, with its monthly shows consistently selling out. 
The format for each night is fairly interesting: the artist in question plays two sets, one from a songbook of music from other artists (for example, Ezra Collective did a Fela Kuti set) before coming back on after a short break to play their own original music.
There's a stand with some homemade food, and a small bar to boot, and everyone there has a shared interest in great music, giving the whole experience a comfortable, community vibe and a unique atmosphere unlike most other gigs.
If you want in, make sure to check their Insta/website regularly, and jump on the tickets as soon as they're released, because they will go quickly. 
And that's gospel. 
NOTE: Church of Sound runs roughly one gig per month. To find out more click here.
Church of Sound | St. James the Great Church, 233 Lower Clapton Road, Hackney Downs, E5 8EH
---
Love live music? Check out the best bars with live music in London