Cocktails In The City 2018
It's summer.
Let the festivals be gin.
Or better yet, let the festivals be gin, rum, tequila, whisky and a whole lot more – all whipped into Willy Wonka-level concoctions by the city's (and some would say, the world's) most illustrious barkeeps.
Because Cocktails In The City, London's preeminent cocktail weekender, is back – and it's going to see 25 of the city's finest, award-winning bars recreated in pop up form in a beautiful Georgian garden square.
Surrounded by Grade I-listed buildings and backing onto the British Museum, it's one of London's lesser-known, but more picturesque patches of land. And it's going to look a hell of a lot more picturesque once it's taken over by a bunting-strewn cocktail village; stacks of al fresco seating; and a champagne ice cream parlour.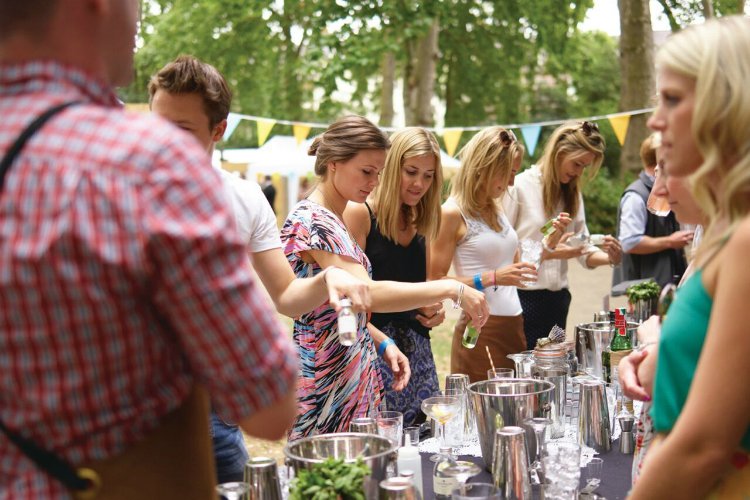 Each of the bars taking part has paired up with a top-shelf spirit or liqueur, which they'll use as a base for a one-off signature cocktail, in a bid to be crowned Best Bar. Joining the ranks this year will be elegant speakeasies like Nightjar and Opium; quirky themed bars like Burlock and Mr. Fogg's; recently opened rum spot Laki Kane; whisky emporium Black Rock; and a host of other excellent institutions. Besides their competing cocktails, they'll also be mixing up their greatest hits, offering tips and insider knowledge on current trends, and serving unique tastings of spirits, infusions and more.
And if the idea of the city's most convenient bar crawl in a leafy sunlit square isn't enticing enough, there'll also be street food stalls from the likes of gyoza guys Rainbo; Lost Boys Pizza with their distinctive black dough; and Rock a Dolla hot dogs; as well as a multi-sensory journey through 31Dover.com's Tasting Rooms; mixology masterclasses with award-winning bartenders; and even a pop up incarnation of the fabled B&H Buildings greenhouse to explore…
…you may just want to put down roots.
NOTE: Cocktails in the City 2018 takes place Friday 3rd (5-10pm) and Saturday 4th (12-5pm and 5.30-10pm) August, in Bedford Square, Bloomsbury. Tickets cost £20pp and include a welcome cocktail – you can bag yours HERE.
Cocktails in the City 2018 | Bedford Square, WC1B 3HH
---
Like pop up cocktail events? Check out our guide to London's pop up bars this month