London's comedy clubs are always good places for an inside joke.
And if you know where to find them, there's dozens of pubs, bars and theatres around the city that are full of some real stand-up citizens. From big names to fringe improv groups, here's where to track down great comedy in London – and if you want to check out the specific gigs we're recommending this month, head on over to our guide to the best comedy shows in London now.
–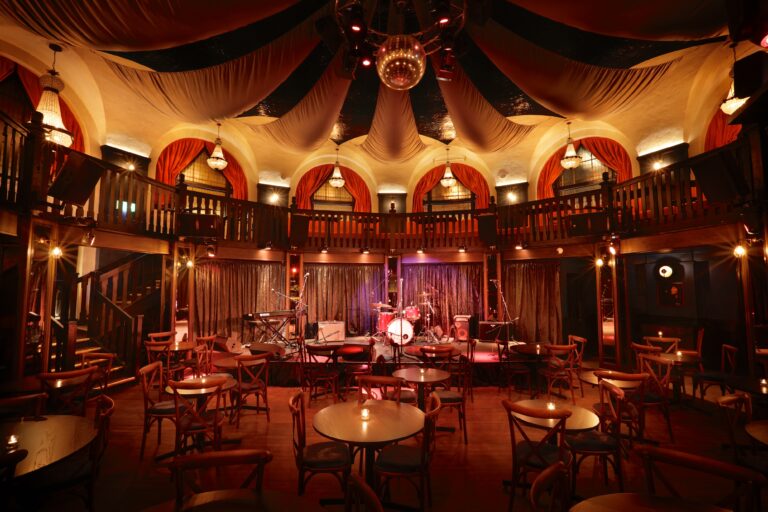 Welcome to the Banana Cabaret.
Hopefully no one'll slip up on stage.
It's unlikely, considering that the line-ups are chock-full of comedy regulars, from TV stand-ups Ed Byrne and Omid Djalili to award-winners like Njambi McGrath and Jenny Collier. For the past four decades it's called The Bedford pub's Club Room home, and after a multi-million refurb it's now an intimate, glamorous, Spiegeltent-style cabaret space with individual tables, swooping sashes of satin across the ceiling and a mezzanine level with a great view of the stage.
Where to eat before: You can order food in the pub, but we've always loved Caminata.
Details: The Bedford, 77 Bedford Hill, Balham SW12 9HD | Fridays & Saturdays | £13-16 | Book here
–
Old Rope 
| Leicester Square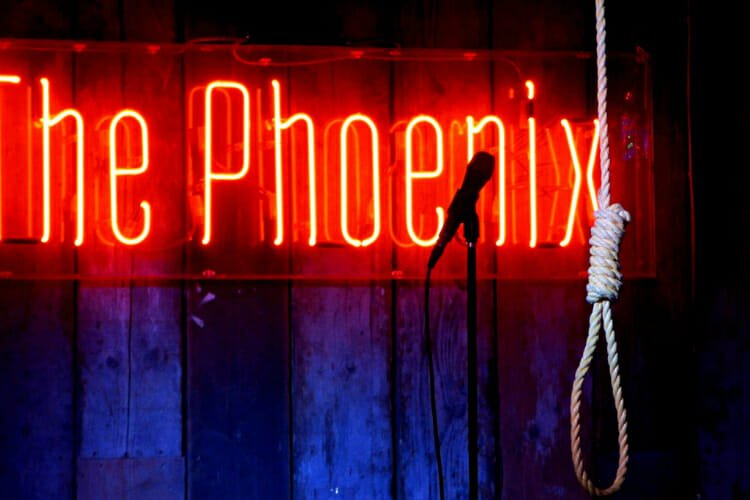 Fancy paying good money for old rope? Excellent news – here's a comedy night offering just that. Now in residence at The Comedy Store, Old Rope sees comedians big and small (metaphorically) come and try out some of their new material. If it starts bombing, they'll just clutch onto the noose dangling next to them on stage, and switch over to some more tried-and-tested stuff. Which means you're basically guaranteed to have a great night either way.
Where to eat before: There's nothing ropey about Fowl
Details: 1 Phoenix Street, WC2H 8BU | 2nd Monday of the month | £13 | Book HERE
–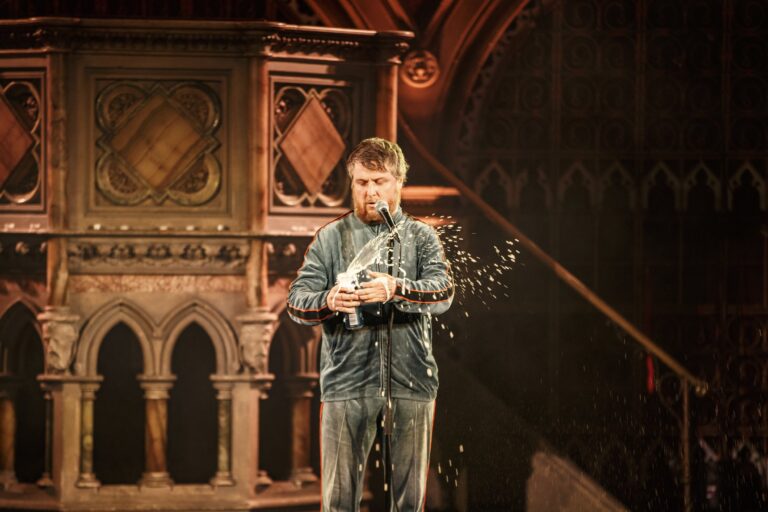 One comedy night worth making a pilgrimage to, Live at the Chapel takes place beneath the vaulted ceilings of the grandiose and historic Union Chapel. Taking place once a month, the line-ups are focussed on quality rather than quantity, and comprise 4 or 5 comedians, usually including one or two household names. They're supported by an excellent live band and a tea caddy – plus if you grab some food at the Chapel's café, you'll be supporting their in-house charity in aid of the homeless.
Where to eat before: If not the café, head up the road to Trullo for Italian goodness.
Details: Union Chapel, Compton Terrace, N1 2UN | £27.50 | Book HERE
–
The Comedy Store is one of the longest-running comedy clubs in London, going strong for more than four decades. Over 3,500 people pass through its doors each week, which makes for pretty good odds that you'll be able to skulk in the shadows and avoid getting hauled up on stage. The week is structured around different themed nights: it kicks off with 'London's most brutal open mic' on the last Monday of every month, and winds up with improv from the (very talented) Comedy Store Players on Sundays. In between, both up-and-coming comedians and big names grace the stage, counting Jack Whitehall, John Bishop, Marlon Davis and Sara Pascoe in their number, as well as shows performed entirely in other languages.
Where to eat before: Put fire in your belly at Speedboat Bar
Details: 1a Oxendon Street, SW1Y 4EE | Thurs-Sun, plus some Mondays | £10+ | Book HERE
–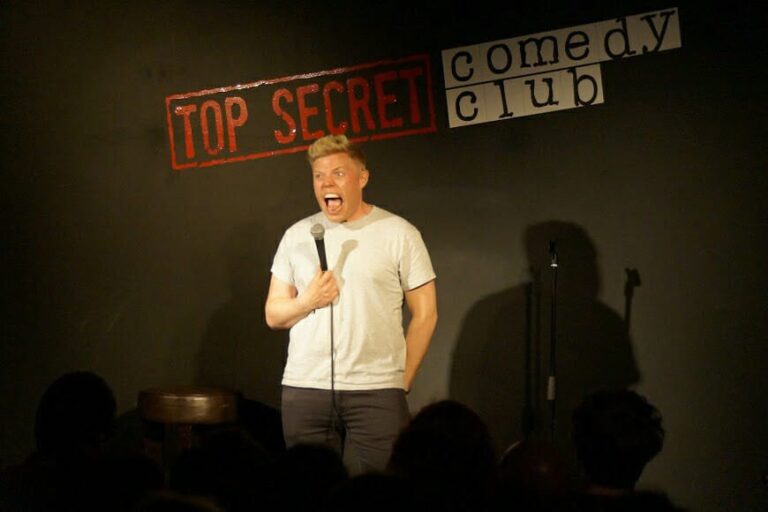 The Top Secret Comedy Club isn't doing a great job, because it's one of the most popular comedy clubs in London. It started years ago in an old musty storage basement and slowly grew into the nightly phenomenon it is today. Many top comedians rank it in their personal favourites, and it's a good place to watch high-profile stand-ups try out some of their new material and tweak it before an upcoming telly appearance. What's more, the drinks are dirt cheap, and from Sundays to Wednesdays, all the shows are pay what you can…
Where to eat before: Spend your savings at The 10 Cases
Details: 170 Drury Lane, WC2B 5PD | Nightly | From £1 | Book here
–
A regular, roving comedy club that graces the stage at Dalston's MOTH Club. It regularly pulls in big names, with multiple people you've heard of appearing on the same billing. They've a penchant for both the sublime and the ridiculous, so expect sketch shows and character acts to make an appearance.
Where to eat before: Fresh pasta at Pophams Hackney
Details: Valette Street, E9 6NU | Every Thursday | £16.83 | Book here
—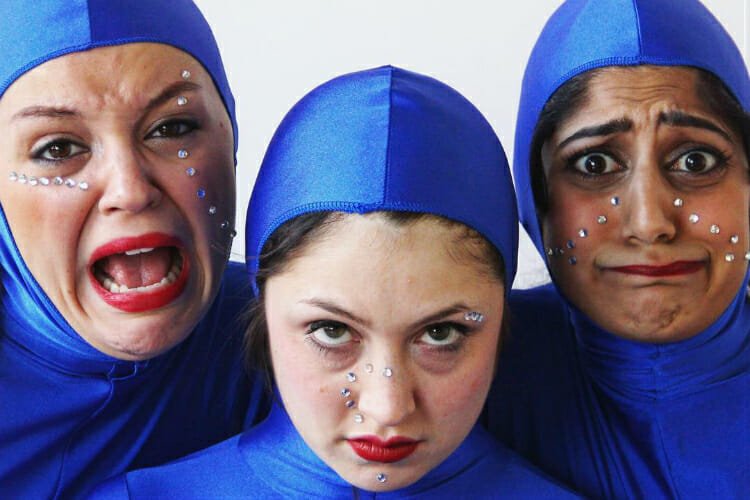 Not technically a comedy club, but undoubtedly one of the best places to see comedy in London. The Soho Theatre has three different stages, each of which host new writing, comedy and cabaret every night of the week. It's a great place to see big names showing work in progress and previews of Edinburgh Fringe shows, as well as sketch comedy, live podcasts, and rising stars performing polished sets.
Where to eat before: Countertop tapas & seafood at Maresco
Details: 21 Dean Street, W1D 3NE | Nightly shows | £13-20 | Book here
–
Stand-ups often find themselves Up The Creek. That's because it's one of the most respected clubs on the circuit, frequently sporting line-ups with household names like Mo Gilligan and Seann Walsh. Friday nights are a good mix of new faces and big hitters, making it a fairly low-stakes way to discover some new favourites, as is The Blackout – where 15 up-and-coming comedians get 5 minutes to impress you, before audience members start raising black cards: three strikes and the lights are out.
Where to eat before: It's a 15 minute walk, but Sharkbait & Swim is leagues ahead of more local options.
Details: 302 Creek Road, SE10 9SW | Thurs-Sun with occasional Tuesdays | £8.80-22 | Book here
–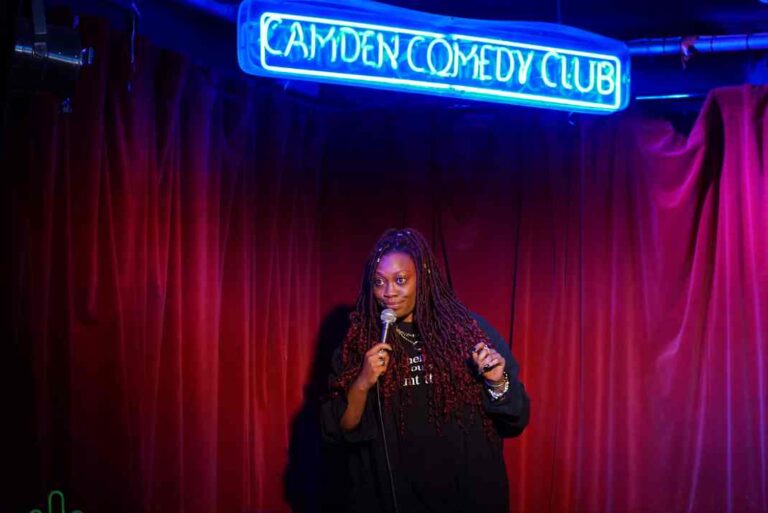 If it's cheap gags you're after, head to the Camden Comedy Club, where shows start at just over a fiver. It's in residence at the Camden Head pub with shows every night of the week, from solo shows with new material to the fast-paced Saturday night show featuring acts from four different comedians.
Where to eat before: Get a taste of the Southern states at The Blues Kitchen Camden
Details: 100 Camden High Street, NW1 0LU | Nightly shows | £6.50-11.50 | Book here
–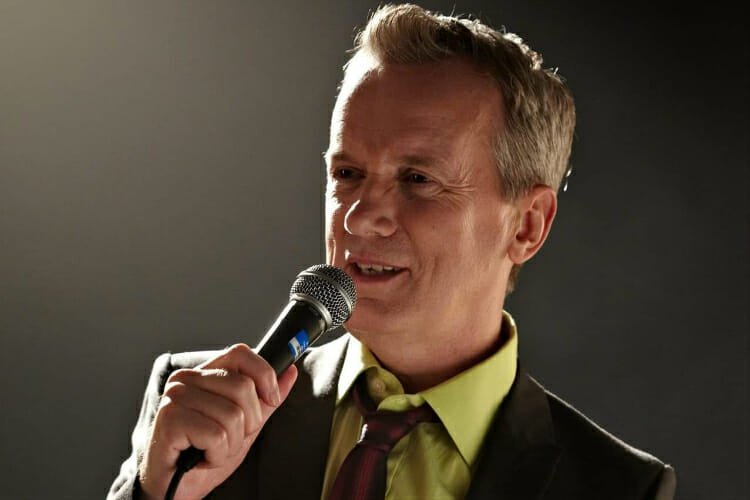 Angel Comedy's become so big, their nightly shows have spilled over into two venues in Islington, the Camden Head (a different one) and The Bill Murray. Some of the names who hit up the stage regularly include Tim Key, Stewart Lee and Desiree Burch, and there's a nice roster of newer faces and alternative comedy for a little more variety. Beyond the programming, they offer plenty more – their comedy school runs classes and short courses on clowning, stand-up and joke writing, as well as women's improv groups and free comedy writing surgeries.
Where to eat before: Gastropub fare at The Duke of Cambridge
Details: 2 Camden Walk, N1 8DY | 39 Queen's Head Street, Islington, N1 8NQ | Nightly | Free/From £5 | Book here
–
Not your common or garden comedy club, Backyard was founded by TV regular Lee Hurst. Nowadays it plays to big names as well as emerging comedians on regular stand-up nights (Thursday-Saturday). Throughout the rest of the week they also stage various specials, from evenings curated by Black Comedy UK to 'face-off' comedy battles.
Where to eat before: Pasta & negronis at Sager + Wilde Paradise Row
Details: 231 Cambridge Heath Road, E2 0EL | Thursday – Saturday |  £12.50-30 | Book here
–
99 Club

| 
Leicester Square & Covent Garden
Don't flake on the 99 Club. Voted the best comedy club in London at the Chortle awards for ten years running, it pops up in venues that range from a rough-and-ready setting in Leicester Square to a chandelier-filled room at Browns Covent Garden (with bow-tied waiters). Many of the comedians here will be familiar faces, too, like Jo Caulfield, Ahir Shah, and Chris McCausland.
Where to eat before: Some of the city's best xiaolongbao (soup dumplings) at Leong's Legend
Details: 1 Leicester Place, London WC2H 7BP | Tuesday-Sunday | £9-20 | Book here
–
Comedy Carnival 
| Covent Garden, Leicester Square & Camden
Carnivals are usually in tents.
Luckily, this classic comedy club is a laid-back affair, with stand-up nights featuring four or five different comedians, each of whom have cut their teeth on panel shows, Live At The Apollo and the like. Over 15 years Comedy Carnival's built up a reputation for booking some of the best names on the circuit, making it a dependable choice.
Where to eat before: Grab some street food at KERB Seven Dials, or pizzas at Café KOKO up in Camden.
Details: 42 Earlham Street, WC2H 9LA | 36 Shaftesbury Avenue, W1D 7EP | 65 Crowndale Road, NW1 1TN | Thursday – Saturday nights | From £16 | Book here
–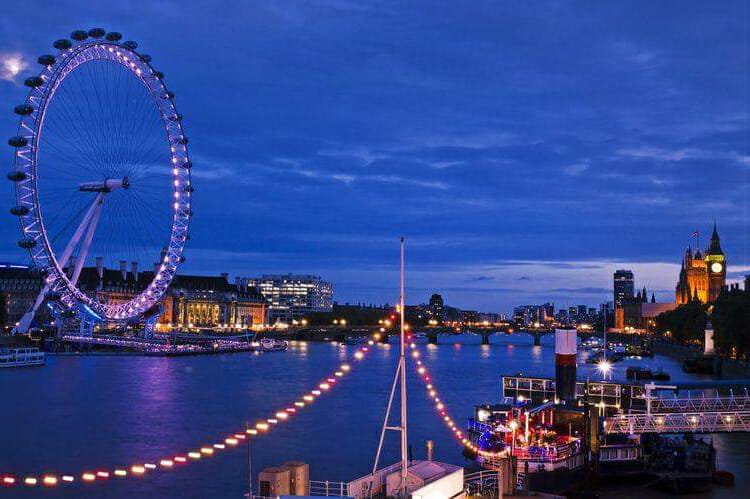 This thrice weekly comedy club takes place at the Tattershall Castle – which is, of course, a boat. Weekend shows see four or five comedians take to the stage for longer sets (regulars include Zoe Lyons, Matt Richardson and Thanyia Moore), while the Tuesday shows are for new material, with seven or so stand-ups testing the water.
Where to eat before: Osaka-styled canteen, Okan
Details: Tattershall Castle, Victoria Embankment, SW1A 2HR | Tuesdays, Fridays & Saturdays at 8pm | £6-15 | Book here
–
For an authentically grungy comedy night, head to the basement of the King's Head. The bare brick wall takes you back to the comedy clubs of the 80s and 90s – but there's nothing rusty about the line-up. There are shows here twice a week, flitting between Saturday's 'cabaret nights', featuring taster-sized snippets from six or so comedians, and new material nights on Thursdays with up to 16 performers taking to the stage.
Where to eat before: A slap-up French meal at Les 2 Garcons
Details: 2 Crouch End Hill, London, N8 8AA | Thursdays & Saturdays | £5-15 advance | Book here
---
Looking for something a little more serious? Check out the best London theatre shows playing now