Día de Muertos by Patrón Tequila | Partner Content
Día de Muertos.
The Day of the Dead.
Despite the name, and the fact that it starts on Halloween, it's all about celebrating life.
And this year, Patrón Tequila has gone big on bringing this colourful and vibrant festivity to London. Expect parades, art, bar takeovers, hand-painted bottles and much more. Here's your full guide to celebrating Día de Muertos in London in the most, ahem, spirited way..
It starts in Soho, at dusk on the evening of November 1st. The streets will be filled with iconic characters from Día de Muertos – the Day of the Dead – including the iconic skeletal beauty La Calavera Catrina, vibrant Monarch butterflies, and vivid sugar skulls. They'll all form an ironically rather lively parade through the streets until they arrive at their destination: a lush, six story building on Greek Street whose eye-captivating façade will be absolutely covered in Día de Muertos Marigold flowers.
This is  Casa de Dia de Muertos.
It'll be popping up for three days across the weekend, and inside you'll notice a rather proud tradition at work: Patrón are a patron of the arts. The venue will be filled with specially commissioned works from some of the most influential contemporary Mexican artists, who've all put together works that showcase the unique, and instantly recognisable iconography from Día de Muertos.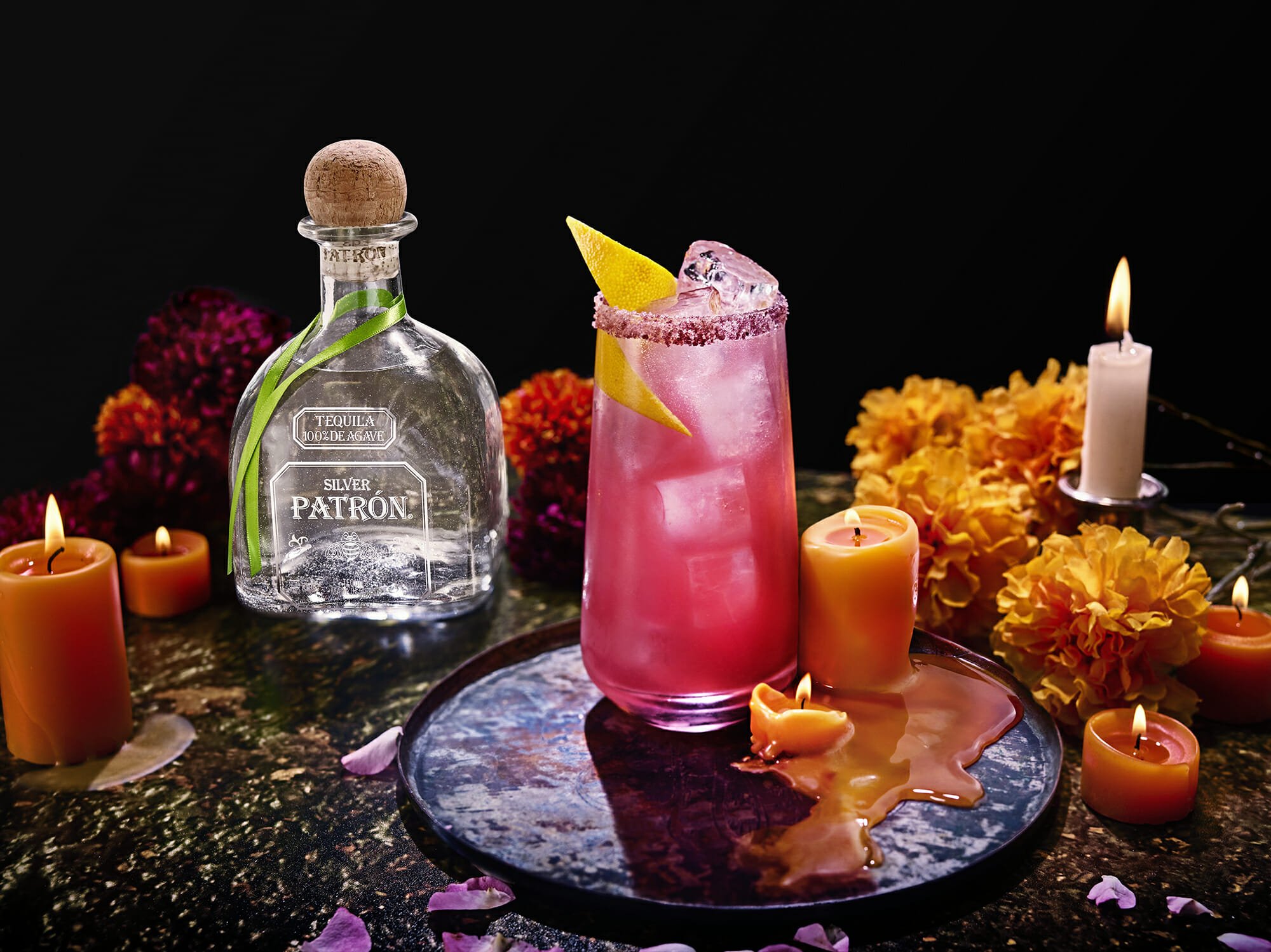 The showstoppers, however, will be Lourdes Villagomez and Lola Argemi, who are easily two of the most sought-after artists in the country. They've put together artworks spanning from hanging skeleton & mask sculptures, to large floor sculptures, paintings, murals, embroidered fabric skulls, and painted Mexican artefacts, purely for the show.
Of course, Patrón are a patron of the drinking arts too, so there'll not only be tequila bars on hand at The Casa de Dia de Muertos (you'll get a pair of cocktails included in your ticket), but they're also going to be arranging a series of bar takeovers on the 1st & 2nd of November, at some of the best drinkeries & shops across London.
They will include (deep breath) Soho House, Boneca, Raffles, 100 Wardour Street, The Den, Oriole, Swift, Red Rooster, Novikov, Playa, Thirst, Chotto Matte, Hovarda, London Cocktail Club, Selfridges, Harvey Nichols, Amathus, annnnd Soho Residence. The bars will all be dressed Día de Muertos-style, and they'll serve delicious Patrón-based cocktails.
After all, it's only appropriate that Día de Muertos be filed with spirits.
NOTE: The Casa de Dia de Muertos will be open from 1st-3rd November. The VIP launch party will start at 7pm on Friday the 1st with a parade through the streets of Soho. You can find out more, and get tickets (incl. x2 cocktails – £15 for standard entry, £30 for the VIP launch party) right HERE.
OTHER NOTE: We'll have more information on the bar takeovers as it comes in, so watch this space…
The Día de Muertos by Patrón Townhouse | 19 Greek Street, W1D 4DT
---
Like the cactus hooch? Here are the best tequila bars in the capital…