Bothy Nights Christmas | Dram & Smoke
We've found the venue for your Christmas party.
It's a 3,500 sq ft ex-tannery at the end of a cobbled lane just off Bermondsey Street which has been taken over by the Scots of Dram & Smoke (who are used to running events in interesting locations, having previously hosted pop ups in steelyards, biscuit factories, whisky distilleries and more). This particular venue is one in which they've held (and sold out) their annual Christmas party for the past three years, so they pretty much definitely know what they're doing.
After finding the venue down that wee side street you'll walk in (as it'd be weird not to) and take in your first impressions of the place. Which will, we hope, be generally good ones thanks partly to the 50ft wreath in the roof…but thanks also to the festoon lighting, the rows of lavish timber banquet tables, the flickering lanterns, heady aromas of pine smoke, and the soft tartan blankets strewn about the place. Oh, and the warming hot toddy cocktail that you'll have handed to you on arrival.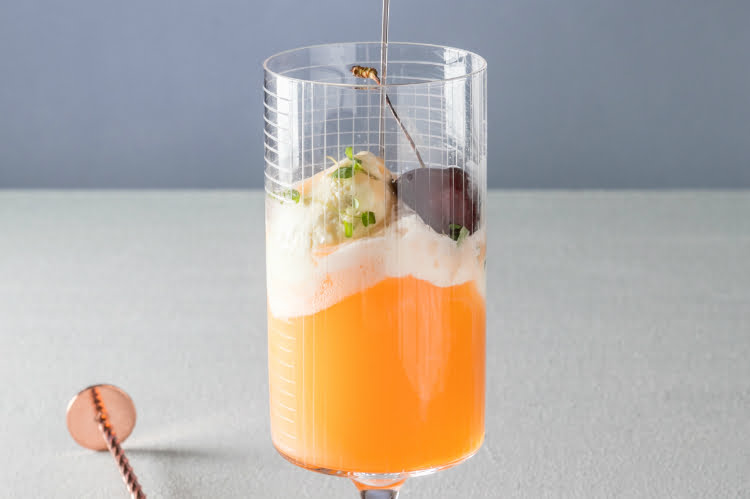 Your host for the night – a Highland Santa known for delivering gifts and terrible jokes in equal measure– will soon invite you to sit for dinner, which will commence with turkey & stuffing nuggets, battered brussels and parsnip noodles with Buckfast cranberry sauce & sourdough bread sauce; before continuing with a cheese fondue for dunking veggie haggis mince pies, truffle popcorn and pickles; and then continuing even further with cola-glazed ham with garlic roasties, spiced scratchings, and charred pineapple served with lashings of gravy and brandy mustard; and then concluding with dessert – a light-your-own dark chocolate candle, which will illuminate the cocktail-paired, slice-at-the-table mulled apple terrine, the cardamom ice cream, and the gingerbread.
And then – after two and a half hours of gorging yourself on dinner – the party vibes will kick in as the table tennis, karaoke and DJ station come out. There'll be more booze available thanks to a bar full of craft beers, wines and cocktails on tap; some Christmas games…
….plus a "profoundly supportive in-house policy on sing-a-longs".
NOTE: Dram & Smoke's Bothy Nights will take place from 11th-21st of December 2018. Tickets cost £65, and you can get them right HERE.
Dram & Smoke Bothy Nights | 2-3 Black Swan Yard, SE1 3XW
---
Want to find more Christmassy things to do? Check out our guide to Christmas in London