Electric Cinema | Two Stunning Retro Picturehouses
Back in 1910, a couple of crazed mavericks decided to build a cinema in Notting Hill.
It was one of the first buildings in Britain built purely for showing Notting Hill films.
And after repeatedly closing and reopening throughout the 20th century, the Electric Cinema has finally fallen into safe hands with the Soho House team, who have only gone and turned it into one of the best cinemas in London, lovingly lavishing it with restored retro fittings; a well-trained team of barkeeps; and a distinguished programme of films. It's a recipe that's worked so well, you'll also find the Electric Cinema in the basement of Soho House White City, too.
Unlike multiplex cinemas, the Electric Cinemas don't have uncomfortable chairs and nachos crunched into the carpet; and unlike Netflix, they won't ask if you're sure you want to keep watching. It harks back to a simpler, rosier time… only with 21st century necessities, like cocktails, and beds…
ELECTRIC CINEMA PORTOBELLO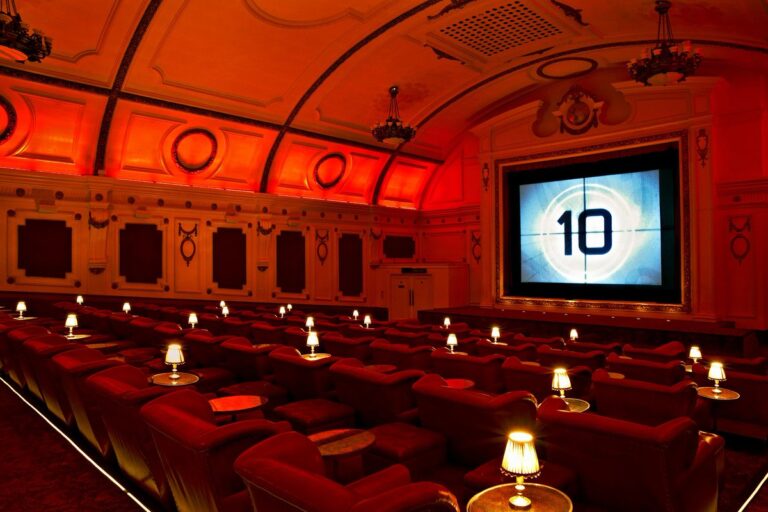 Recently rebuilt after a huge electrical fire, the flagship Electric Cinema has an old fashioned ticket hall, a roomy screening room with original period flourishes on the walls and ceiling, and the American-styled Electric Diner next door (where you can head for a 50% off pre-cinema dinner on Mon-Thurs, 4-9pm, by flashing your tickets). Unspeakably luxurious, the Electric Portobello has a choice of king-sized sofas and even red velvet beds available to those booking early enough. The rest of you will have to put up with the perfectly placed footstools and cashmere blankets that accompany each wingback armchair (each of which also has its own table: no more competing for the cupholder).
The house opens 10 minutes before each screening, giving you enough time to raid the pick'n'mix, settle in, and flag a waiter for your Old Fashioned…

NOTE: The Electric Cinema Portobello has screenings daily – you can book tickets HERE or via 020 7908 9696.
The Electric Cinema Portobello | 191 Portobello Road, W11 2ED

---
ELECTRIC CINEMA WHITE CITY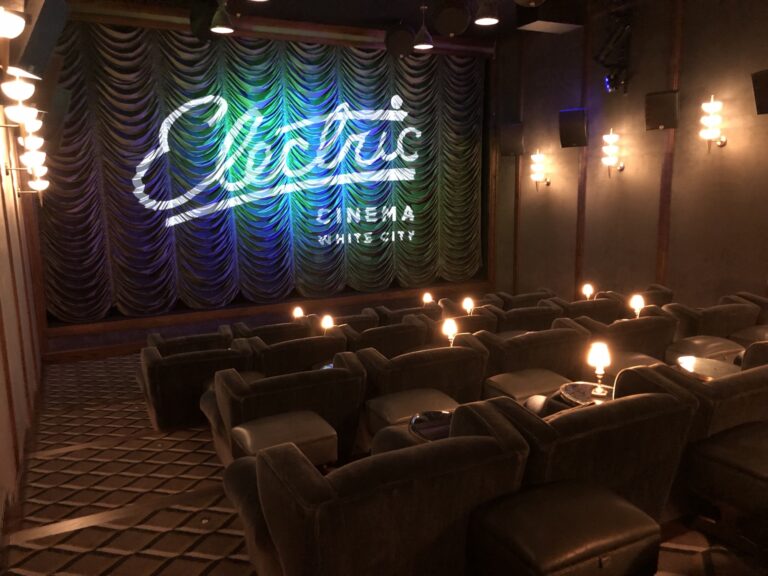 They say when one door closes, another one opens. And when Soho House decided to make the Electric Cinema in Shoreditch members-only, they unveiled their brand-new follow-up in White City. Housed in the former BBC Television Centre, the small screen's been swapped for the big screen – one fitted with 4k laser projection and Dolby Atmos sound – alongside all the plush, vintage-inspired furnishings you'd expect, in the form of sumptuous reclinable mohair armchairs with cashmere blankets (to really ramp the cosy factor up to 10) bordered by elegant side tables for snacks (corn ribs, prawn toast, nachos) and cocktails inspired by the films that they're currently showing; e.g. when James Bond No Time To Die was on they were doing a martini station. Ah and one final but very important thing to add: there's a pick 'n' mix here too…

NOTE: The Electric Cinema White City has screenings daily – you can book tickets HERE or via 020 7908 9696.
The Electric Cinema White City | 2 Television Centre, 101 Wood Lane, London W12 7FR
End credits…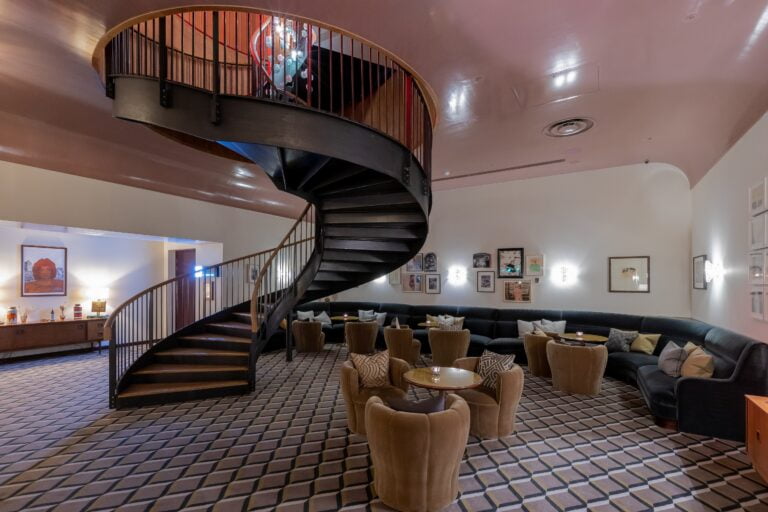 So when merely seeing movie isn't enough on it's own, and you want to make an occasion out of it, to really stretch the cinematic experience to its fullest – the luxury seats (the sorts you could fall asleep in), proper drinks that wouldn't look out of place in the finest London cocktail bars and finally, the five-star setting to watch it in – then a visit to Electric Cinema is a no brainer really.
It does look like something out of a movie after all…
---
Now then… where to for the heated post-film discussion? You could try one of best bars in Notting Hill…