Itinerary Location: Tottenham Court Road | Duration: 6 Hours
---
It's Saturday night. Sometimes you're in the mood for a romantic date night in a glitzy London cocktail bar, or a catch-up with a friend over a long dinner. But sometimes, you're in the mood for a rambunctious, cheap and cheerful night out with a group of mates that variously involves banquets of southeastern Thai food; an Old Fashioned vending machine; darts; ping pong; and a DJ below a church.
This Itinerary very much falls into that category.
Rally the gang outside Tottenham Court Road station, and make a beeline for:
–
➊ ARCADE FOOD HALL | 7:30pm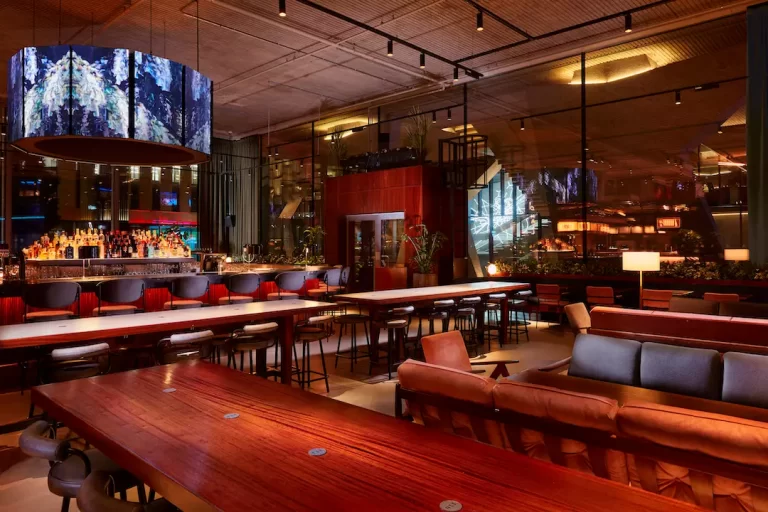 High-quality weekday lunch? Quick bite before the theatre? Arcade Food Hall is the answer to many things, but it particularly comes into its own when you're a big group, you're all craving different things, and you're not about to book a private dining room in town and drop £100pp on a set menu.
Sprawled across the base of the Centre Point building, Arcade relaunched last year under the masterful steerage of JKS Restaurants (they're the team behind big-hitters like Gymkhana, Lyle's and Hoppers). And why yes, a lot of their restaurants are Michelin starred. So Arcade is really less of a food hall, and more of a 'glossy, subtly midcentury dining lounge equipped with plenty of long tables, a suspended DJ booth, a games room and nine of the most exciting food traders operating in London right now'. Meaning that you and your friends can bag a table (or even book in advance, if you want to be fancy about it) and variously tuck into the likes of hot wing sandwiches from Manna, legendary tacos from Mexa, fresh swimmers expertly sliced by Sushi Kamon, and glorious Nepali momo, all while bopping your head to an upbeat soundtrack by a DJ floating above the main entrance.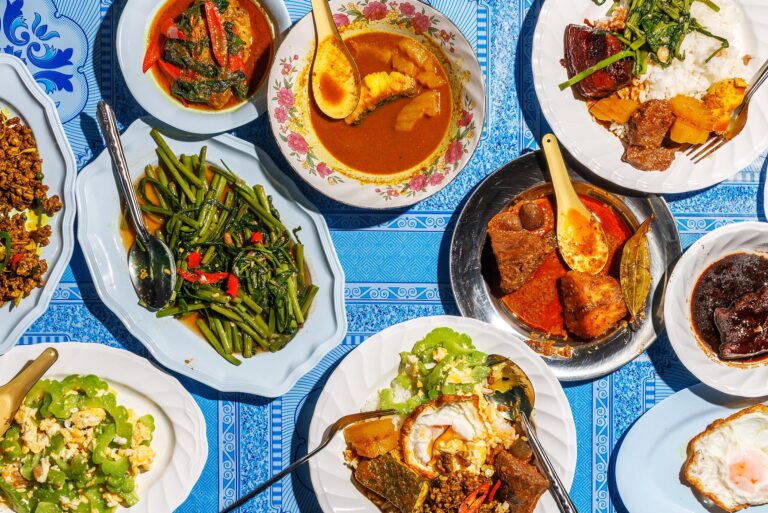 Of course, there's also the option to head up to Luke Farrell's first-rate Thai spot, Plaza Khao Gaeng, and settle in for the Deep South feasting menu, where your table will be laden with dishes like beef shoulder massaman curry, tiger prawns and stir fried morning glory to share.
Post-feast, you can squeeze in a game of pool or ping pong in Arcade's very own games room, which is equipped with an Old Fashioned vending machine. Which, to be clear, isn't just a vintage-looking snack fridge: this is a contraption that churns out the classic cocktail on tap. The arcade machines, on the other hand, are distinctly retro – battle it out over Alien vs. Predator before heading to your next stop, two blocks along New Oxford Street:
–
➋ FLIGHT CLUB | 9:30pm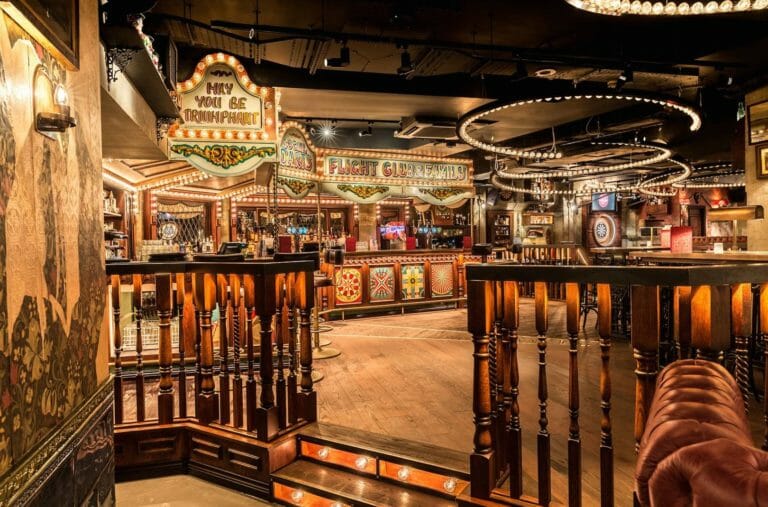 Yes, it's kind of hard to remember a time when there wasn't a throng of activity bars in London. But the fact is, Flight Club Bloomsbury still hits the bullseye whether it's your first or fiftieth visit. A subterranean Victorian fairground of twinkling cabochon bulbs, Chesterfield booths and their famously high-tech dartboards, Flight Club upgrades pub darts to a ruthlessly competitive experience with multiple in-built games and challenges that are a) great for levelling the playing field, b) fun, and c) remove the need for anyone to do any maths.
It's also a (surprisingly) good spot to get your evening started, thanks to a pumping soundtrack and sharing cocktails served in trophy cups. Book an oche – it's best to reserve in advance, but they do have the occasional walk-up slot available – and toast your victory with a couple of booze-laced slushies before heading to…
–
➌ FREUD'S | 11pm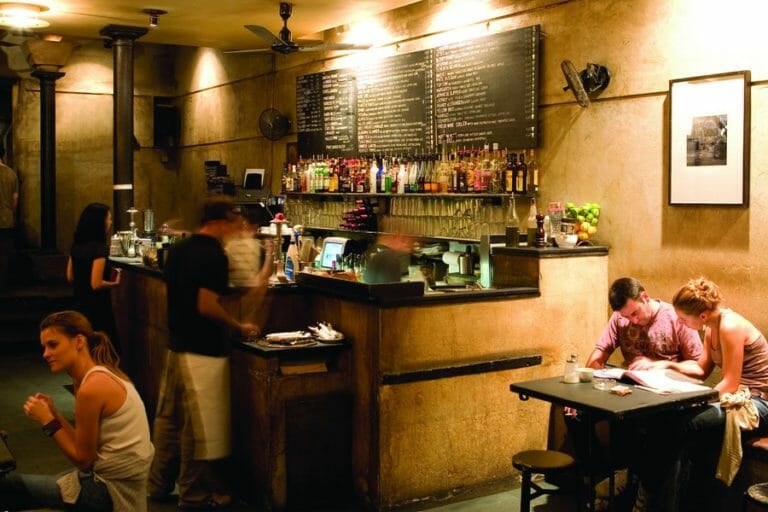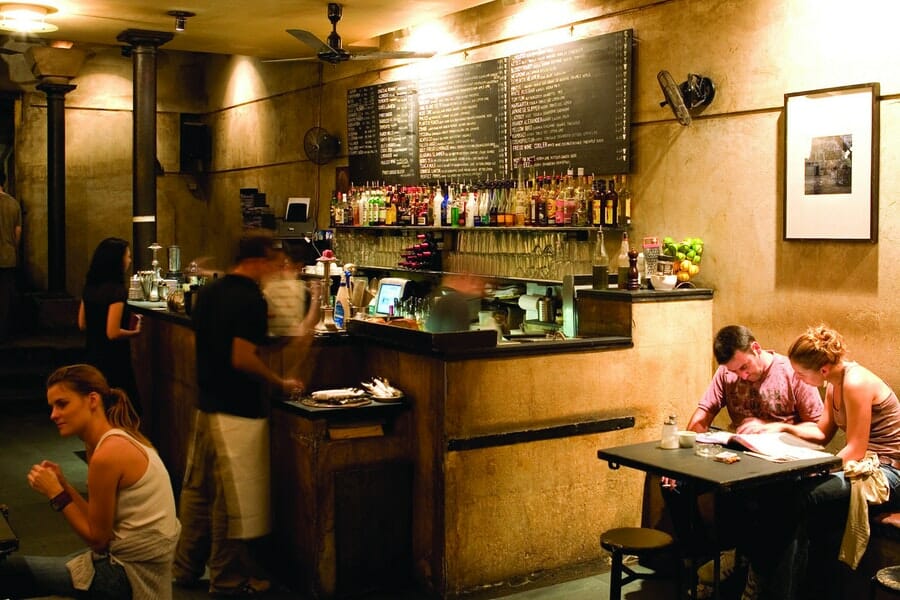 Head right out of Flight Club, and right again down Shaftesbury Avenue. After the crossroads you'll see a small red neon sign announcing 'BAR – CAFE – GALLERY.' Welcome to the legendary establishment that is Freud's. You'll emerge into a raucous bunker of artwork, candles and concrete walls, where cocktails are scrawled on blackboards behind the bar and served by the pint (for less than a tenner). Freud's is, unequivocally, a bar for a good time. Sink a couple of Black Forest martinis or a Holy Negroni with spiced vermouth, and make your way to:
–
➍ BELOW STONE NEST | 12:30am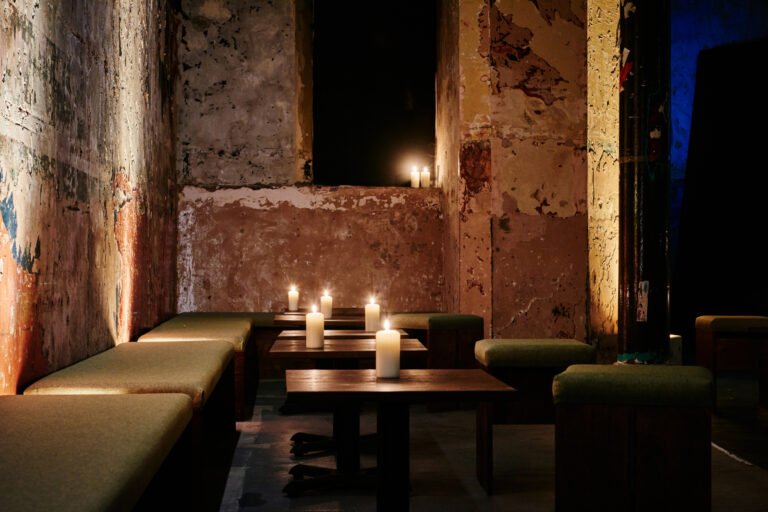 Below Stone Nest is not the kind of bar you walk past and think, hey, this looks good. Because from the outside, it looks a lot like a 19th century Welsh Methodist Church.
Nowadays, the vaulted gothic space upstairs is used for quirky arts events and performances, while down below – right beneath the crowds, buses and cyclists hurtling down Shaftesbury Avenue – is a candlelit dive bar run by the Boxer brothers, Frank (behind Frank's), and Jackson (Brunswick House and Orasay).
During the week, you can swing by for live jazz and whisky sours in a romantic corner surrounded by artfully peeling plaster walls. But on a Friday or Saturday night, you'll descend into a heady, Berlin-style club that's packed with people and some insanely good DJs. The dramatically up-lit walls make the setting even more atmospheric, and don't worry – those whisky sours are still on the menu (as are shots of Fernet Branca, if you've got the constitution for it).
It all stays open till 2am, leaving you just enough time to grab a panini from Bar Italia before your cab pulls up.
At which point you'll discover if you really do have the constitution…
–
---
The Itinerary:
➊ Arcade Food Hall | 103-105 New Oxford Street, London WC1A 1DB
➋ Flight Club Bloomsbury | 55 New Oxford Street, London WC1A 1BS
➌ Freud's | 198 Shaftesbury Avenue, London WC2H 8JL
➍ Below Stone Nest | 136 Shaftesbury Avenue, London W1D 5EZ
---
Want to get the most out of London? Discover more with The Nudge's Itineraries