Jazz bars are, by their nature, pretty hard to keep quiet…
But the Hidden Jazz Club seems to have managed it, appearing all over the world in unusual settings and venues. It's a nomadic set-up run by world-class artists, who invite some of the best musicians in the city to fill secluded, fairy-lit locations with sound.
The sessions are relaxed, and you'll often get a chance to chat with the musicians in between sets. And while you won't know the line-up 'til the night, they regularly collaborate with the likes of afro-beat trumpeter Ife Ogunjobi (who's played with Solange Knowles), Mercury Prize-nominated saxophonist Denys Baptiste, award-winning vocalist Cherise, and the brilliant Jas Kayser, who's drummed for Jorja Smith and Lenny Kravitz.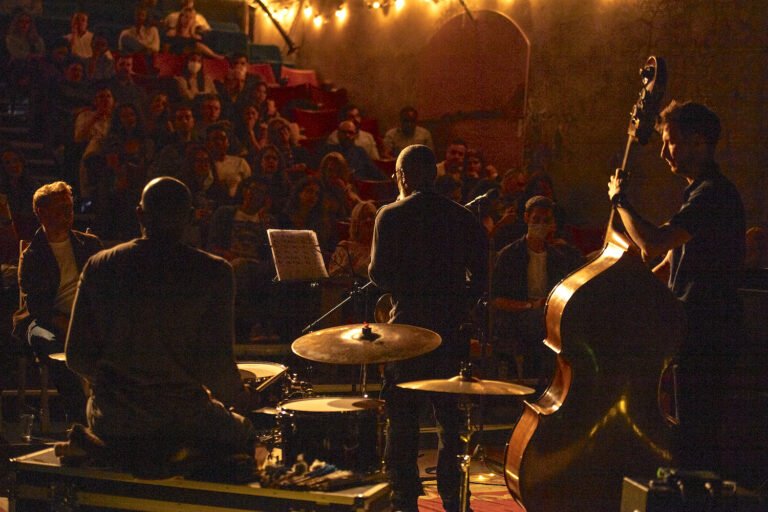 The Hidden Jazz Club has now popped up in Tokyo, Barcelona, New York, Los Angeles, and San Francisco, but they regularly appear where they began, in London. They bring their upbeat, intimate gigs to secretive spots like Soho's Below Stone Nest and The Vaults in Waterloo…
… and that most inconspicuous of London venues, The Shard.
NOTE: The Hidden Jazz Club takes place in various secret locations, including Soho and Waterloo. You can read a little more about it and purchase tickets (around £20) right here. They also offer free tickets to musicians under 30.
---
Like jazz bars? Well, here are best bars with live music in London…