One of London's 'magnificent seven', Highgate Cemetery was built at the start of the Victorian era to cope with a rapidly expanding population of living, and later dead, people.
It's a little out the way, about 20 minutes from the nearest tube, but well worth the pilgrimage if you want to go for one of the most unexpectedly beautiful walks in London (all the more atmospheric on a crisp, wintry morning). It's also a short stroll downhill to the bougie shops on Swain's Lane, where you can grab a coffee to take onto Hampstead Heath if you really want to get your steps up.
Highgate Cemetery is split into East and West sides, which both have an entry fee. The East side (slightly cheaper) was added as an extension to the main cemetery in 1862, and you'll come across a fair few familiar names here. One main loop, surrounded by soaring trees, takes in the most ornamental graves. There's Hitchhiker's Guide author Douglas Adams with his flowerpot full of pens; artist Patrick Caulfield's self-designed gravestone (which only says the word DEAD); as well as the graves of George Eliot, Jeremy Beadle and the poet Christina Rossetti. The most famous resident, however, is Karl Marx, whose memorial you'll recognise by his giant sculpture propped on the top.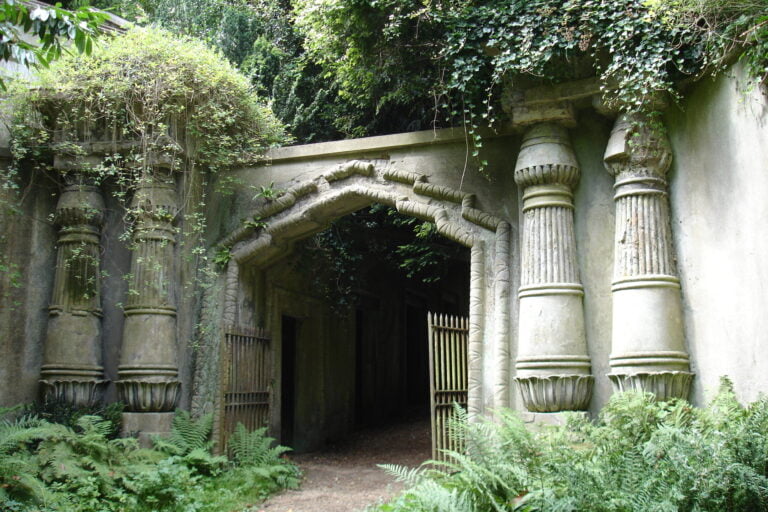 The West side is a little more expensive to visit, but this is where things get monumentally more impressive. The Victorians went big on the architecture here, and 150 years later nature has started to reclaim its territory. There's the Egyptian Avenue, flanked by obelisks and a not-at-all creepy gateway; the sunken Circle of Lebanon, built around an ancient cedar tree; the tomb built by Julius Beer for his daughter (based on one of the Seven Wonders of the ancient world); and finally the catacombs, a subterranean gallery with room for over 800 coffins.
It's also thought to be the earliest surviving asphalted building in England.
Try not to get too excited.
NOTE: Highgate Cemetery is open to visit daily, 10am-4pm. Tickets cost £4.50 for the East side, or £10 for both (and a little bit more if you want to do a guided tour). You can find out more HERE.
Highgate Cemetery | Swain's Lane, London N6 6PJ
---
Like creepy places? Go for a drink at the Last Tuesday Society.