Illicit Signals Bletchley | WW2 Immersive Theatre
– There's A Wonderful Insiders' Perk Available Here –
We're not sure what 's' is in Morse code…
But whatever the code to creating great immersive theatre is, it seems the people at Illicit Signals Bletchley have cracked it.
After a salvo of near-perfect reviews for their opening week, the people at theatrical outfits COLAB and Mechanical Thought are now extending their shiny new show's performance into early February, and deservedly so.
From the moment you arrive at the hidden Borough studio, you'll be thrust into the world of 1940s Bletchley Park by a military man handing you a clipboard, and curtly demanding that you sign the attached secrecy form. From there you'll be allocated to a codebreaking 'hut', and given a tour of the fiendish ciphers, enigma machines, and the hideously high stakes involved.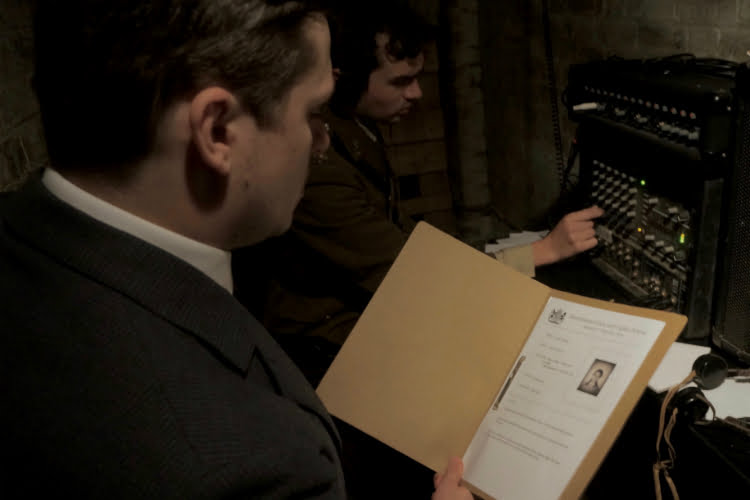 It should come as no surprise that they've managed to keep the plot details something of a state-level secret, but we can tell you that you'll be faced with (and working alongside) characters like the vulnerable genius that was Alan Turing, his profoundly understanding fiancé Joan Clarke, the dashing Gordon Welchman, and the ferociously talented Mavis Lever.
You'll be able to freely wander between rooms (some of which are hidden) witnessing the unfolding of both intimate scandal and large-scale history at the same time. Your breadcrumbs will be the sound of heated argument, doors slamming, and simple codebreaker's intuition.
Hearts will break, and secrets will be spilled. Quite possibly by you.
Now, we have a lot of 't's to write in morse code.
Must dash.
NOTE: Illicit Signals Bletchley is playing now until February 3rd. Tickets are £30, and are available right HERE.
ALSO NOTE: If you'd like to go to Illicit Signals and you're not already a Nudge Insider, then please become a Nudge Insider first. You'll thank us later.  Already a Nudge Insider? Find your perk below.
n
Thinking of going? Become a Nudge Insider and save instantly. 
COLAB Theatre | 74 Long Lane, SE1 4AU
---
Like immersive theatre? How about having a crack at the non-immersive kind too with our big London Theatre guide.