Check out our Reel to see Illusionaries' debut show in motion
---
Just reading the 'about' part of the Illusionaries website is a pretty transcendent experience. You'll be promised that you'll get to navigate "the enchanted nexus of art and illusion", and in doing so "prepare to be left breathless by dazzling, thought-provoking illusions that challenge your perception of reality."
So, basically, you're going to see some mind-blowing sh*t.
And in fairness to the creators, you need to sell a show like this as a transformative experience because A) it helps to build expectation and anticipation in an interesting way without spoiling it by telling everyone precisely what's in store, and B) it sounds cool.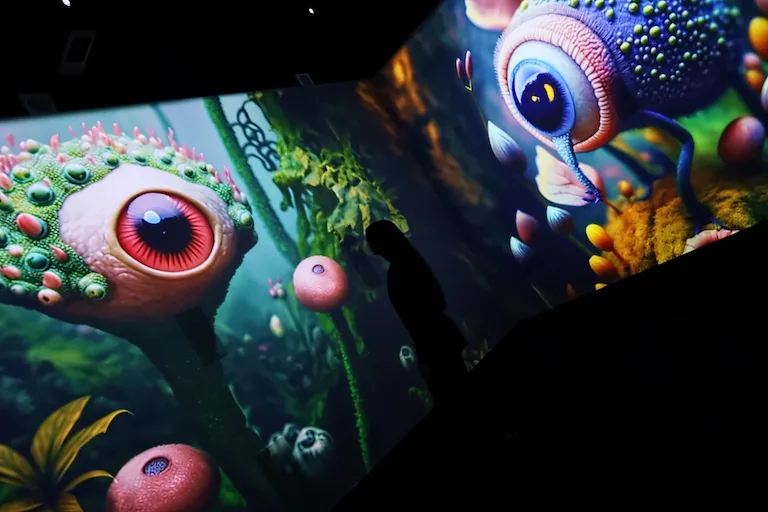 So, with that in mind, what precisely is in store? Well, you'll find it at the fancy Crossrail Place in Canary Wharf, where it's installing itself for the foreseeable. The creators have billed it as 'the UK's first story-based immersive art experience' (which is a claim we can't argue with), and they've already had a successful pilot run, with an opening show titled 'Memories of a Dead Poet'.
The sophomore is called 'Latent Spaces' by London-based digital artist Markos Kay, and it involves three rooms of, well… the best way to describe it is to say that it's a meditative, trippy, colourful, mind bending deep dive into a bizarre & alien world. It's not going to change your life or anything, but it will provide a serenely evocative 40-minute treat for your imagination (depending on how long you intend to stay).
Perfect for your lunch-break.
NOTE: Illusionaries is open now. You can find out more, and book a ticket (£24+) at the website right here.
Illusionaries | Crossrail Pl, Canary Wharf, E14 5AR
---
If you like this… you'll probably like Frameless, too