Itinerary Location: Battersea | Duration: 5 Hours
---
Once only accessible by bus and overrun with Bugaboo prams, Battersea has shed its isolated nappy-valley status over the years.
Like many of its inhabitants, it's grown up.
Now, thanks to the additional stop on the Northern Line, its sprawling park, top-notch pubs and of course, the newly revamped Grade II listed Battersea Power Station, it has renewed appeal. So we've compiled a little itinerary to accompany an amble around this now very accessible part of town.
We begin in the park, which is about an 8-minute walk from Battersea Power Station tube, and even closer to Battersea Park overground and Queenstown Road…
–

Image: Emmanuel Raveaud
One of London's great nineteenth century public parks, here you will find many of the Victorian design features still intact, including a sweeping carriage drive, a formal avenue and flower gardens, alongside a wealth of other cool things. You name it, Battersea Park has got it; there's mini-golf, a children's zoo, a Peace Pagoda, a boating lake, GoApe and even a gallery. It's the type of place where you can see something new no matter whether it's the first or the fiftieth time you visit. 
If you're coming from Clapham Junction you'll start at the South end of Carriage Drive which you can follow towards the river and then along the Thames to the Peace Pagoda, a gift from a 100 year old Japanese Buddhist monk. From here you can cut through the middle of the park, heading in the direction of the bandstand, and, importantly, coffee.
–
➋
 

ELEVENSES AT THE PEAR TREE CAFE | 10:30am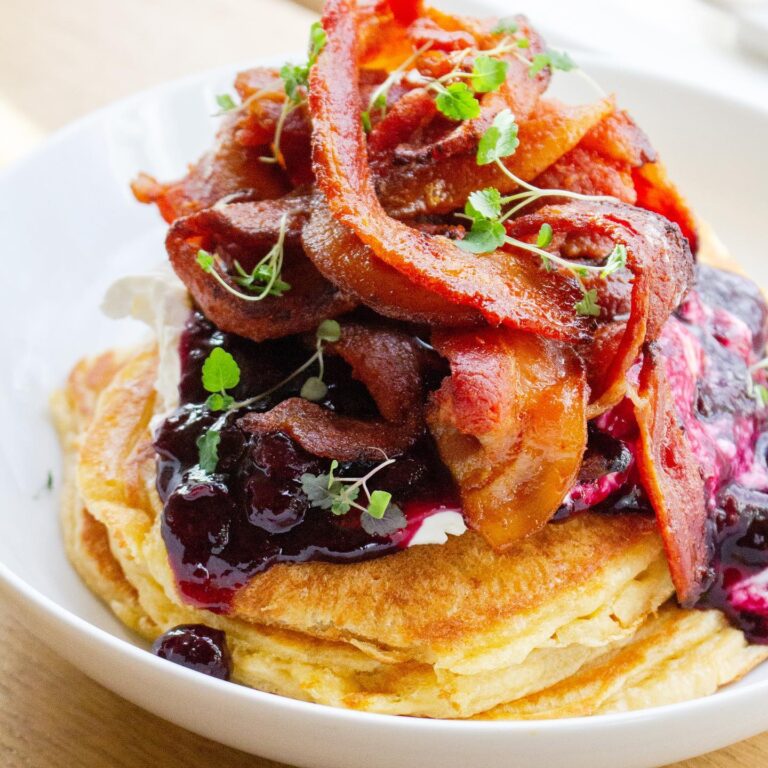 The Pear Tree Café is to Battersea Park what Pavilion is to Victoria Park: it draws a crowd come rain or shine. And for good reason, with a counter brimming with pastries and a menu featuring zhuzhed-up avocado on toast, cinnamon pancakes with lashings of syrup, and sunshine-hued scrambled eggs on sourdough. 
Be decisive, place your order at the counter with a tone of authority and keep your wits about you as you dodge any wayward prams. Despite the amount of people that descend on this little cafe, the Pear Tree team runs a tight ship so you won't be waiting too long before your order arrives.
Caffeinated and satiated, it's time to leave the park.
–
➌ STROLL AROUND BATTERSEA POWER STATION | 11:30am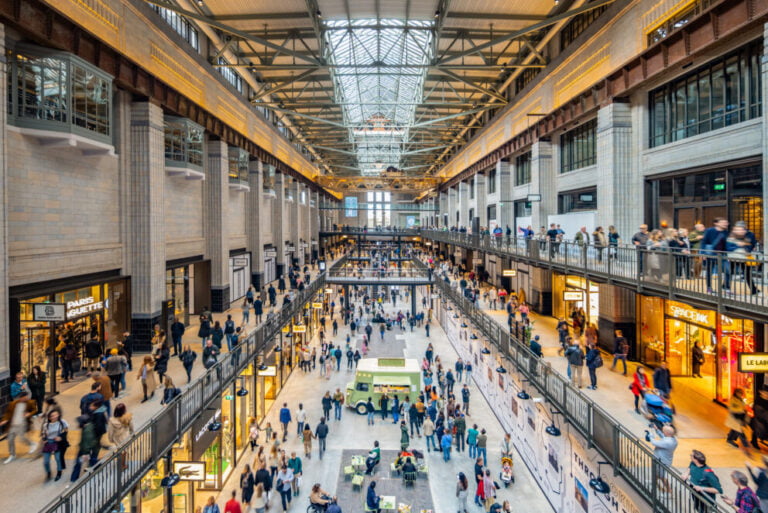 You'll see the slender white chimneys first. They loom large and look as though they're poking out the tops of other buildings. Turn a corner and you're met with red-brick walls and literally acres of windows. What you're looking at is the newly refurbished Battersea Power Station. 
Dubbed the 'Cathedral of Power', it once supplied a fifth of London's electricity and the main Boiler House is so vast it could fit St. Paul's Cathedral. Today the historic turbine halls have been transformed into a mega mall, alongside 436 apartments, two cinemas, London's first-ever Art'otel plus more activities than you could ever dream of packing into one afternoon. 
From the outside the historic turbine halls appear unchanged. But enter and you'll find an emporium fully decked in 1930's Art Deco glamour, flanked with 250 shops. As well as retail therapy, there's a sizeable clutch of restaurants including Wright Brothers Battersea and Control Room B, and in winter you'll find one of the biggest pop-up ice rinks in London sandwiched between the Power Station and the Thames.
Wonder at the surprising harmony between the building's industrial architecture and the shiny shop windows and perhaps grab something sweet to snack on from Crosstown or Kova. It'll help to keep you going to the next stop…
–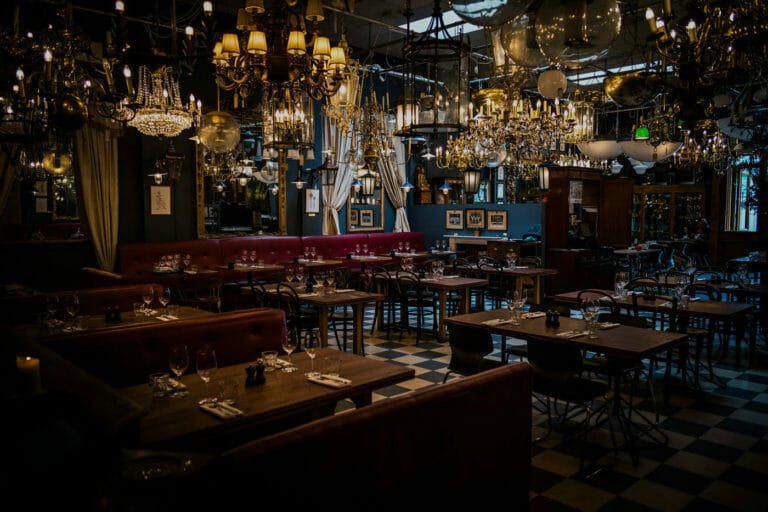 As much as we embrace spontaneity and going fully with the flow, we'd advise booking this one ahead of time. Go for a later slot, that way you can roll from the comfort of Brunswick House's crumbling grandeur to wherever the early evening takes you.
Once a squatters' den, Brunswick House sits stately but somewhat shadowed by its neighbours – we're looking at you, MI6 HQ and glass-clad American Embassy – on Wandsworth Road. 
Through the door you're greeted by architectural fragments, then it's a case of following your nose to the restaurant. Interiors-wise, Brunswick House doesn't do minimal. There are swaths of gold material draped between mirrors, chandeliers, plants, reclaimed shutters, vintage chairs and tables – oh and a disco ball, for good measure. It's almost enough to distract you completely from the food… but not quite.
On the menu, expect deliciously trussed-up takes on British classics with an eclectic edge. Butter is generously served, joints are crisply charred, salads are sharply dressed, there are sprinkles of candied nuts and micro herbs, but nothing feels fussy. It's more like food that will show you a good time and actually feed you. Order a Chilli Pisco Sour and a couple of small plates to start, then chew through the menu at a leisurely pace.
–
➎ GRAB A DRINK ON A BARGE | 3pm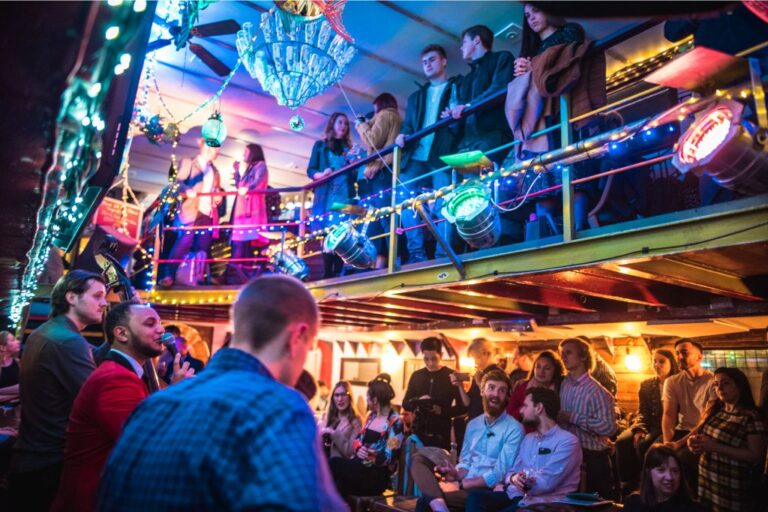 After a multi-plated lunch, a short stroll along the river might be just the ticket. Walk approximately 15 minutes away from Vauxhall Roundabout to Tamesis Dock.
You'll spot the colourful barge at its permanent mooring between Lambeth and Vauxhall bridges. Jump aboard and find a table up top where you'll have a view that spans down the river and beyond towards the City skyline. Here the vibe is merry, the music's live, and drinks are continuously poured until 1am every night of the week.
That's right. Battersea stays up way past bedtime.
---
The Itinerary:
➊ Battersea Park | London SW11 4NJ
➋ Pear Tree Cafe | Lakeside Cafe Battersea Park, London SW11 4NJ
➌ Battersea Power Station | Circus Rd W, Nine Elms, London SW8 5BN
➍ Brunswick House | 30 Wandsworth Rd, London SW8 2LG
➎ Tamesis Dock | Albert Embankment, London SE1 7TY
---
Like exploring London's neighbourhoods? Take a look at our other Itineraries