Itinerary Location: Marylebone | Duration: 9 Hours
---
Yes, it's cold outside.
Which means that any reasonable person's idea of a cosy day of culture right now probably involves a blanket, the sofa, and an insightful documentary exploring the pressures facing a small, inexperienced crew aboard a luxury charter yacht in the Mediterranean.
But today we fly in the face of reason to bring you an Itinerary that – despite requiring you to actually leave the house – more than makes up for it with a treasure trove of free art; cosy, convivial pubs with open fires; a café where you'd least expect it and tortillas wrapped around beef shin and melted cheese. Take a look at what's in store with our reel.
So swaddle yourself in jumpers and we'll begin at…
–
➊ BAKER STREET | 11am
Turning left out of the tube, wind your way down on Baker Street (Gerry Rafferty soundtrack optional). Head past Madame Tussauds and cross the road, heading down Marylebone High Street by the Charles Dickens memorial. Pop into the Conran Shop if you're in the mood for window-shopping eye-wateringly expensive homeware, or keep going until you see the brass wall clock announcing Fischer's.
Stepping inside this Marylebone classic is like going back in time to turn-of-the-century Vienna. The interiors are a time-warping assemblage of wooden fittings, oil paintings and soft lighting, and the menu itself is an ode to the Grand Café culture of the era. Take the paper (there's a newsagents next door) and sit down to black pudding & potato rösti; smoked salmon & cream cheese pretzels; sachertorte layered with apricot jam; and an indulgent Einspänner (Viennese coffee topped with a mountain of whipped cream). And anyone who doesn't like the sound of that is, indeed, Einspanner.
Suitably fuelled up, make your way back out to…
–
➋ MARYLEBONE HIGH STREET | 12pm
Since Oxford Street became one giant American candy mall, this little pocket of boutique shops tucked behind it has become all the more appealing. On the high street you'll pass Daunt Books; the travel-focussed bookshop whose galleried flagship here looks like an eccentric Victorian gentleman's library. Take a right on Moxon Street to discover three of Marylebone's loveliest food shops: Rococo Chocolates, La Fromagerie, and The Ginger Pig (the butchers who supply Hawksmoor with their legendary dictionary-thick steaks). On Sundays, this is also where Marylebone's food markets stalls set up – browse the stalls as they snake down Aybrook Street, before turning right at the end, then right again onto Chiltern Street.
Your attention will probably be grabbed first by the bombastic architecture of The Chiltern Firehouse, the listed 19th century fire station turned celebrity hotspot. But sitting just opposite is the somewhat less flashy Shreeji newsagents. Only this isn't the kind you're used to: the corner shop has been transformed into a store specialising in unusual zines and indie mags, the type that are more like paperback coffee table books. Which is fitting, really, because this is also a café: aside from the smooth wooden shelving displaying an eclectic selection of obscure periodicals, there's a tiny espresso machine churning out coffee, and a couple of tables out the front.
The joy of going window-shopping in Marylebone Village is generally just to duck in and out of wherever catches your eye, but Chiltern Street has some of the most interest-piquing stores, including The Monocle Shop, stocked with lifestyle pieces you never knew you wanted; marmalade candles and unusual scents at Perfumer H; and the world's fanciest hedge clippers at Japanese tool shop Niwaki.
Having strolled up one side of Chiltern Street and down the other, head back along Blandford Street, but this time keep going until it becomes Marylebone Lane. Here, on the corner of Bulstrode Street, you'll see one last store well worth a mention: V V Rouleaux, a magpie's nest stuffed with spools of ribbon, bases for hat-making, boxes of baubles and beads and general frippery. It's a treat.
Depending on how many rösti you had earlier, you may be starting to feel either hungry, or chilly, or both. Time to warm up again with a bite to eat on…
–
➌ MARYLEBONE LANE | 1pm
Three excellent options await. For a speedy hit of carbs that'll power you through the afternoon, head to the Marylebone outpost of Soho fresh pasta spot Lina Stores. For something a little more languorous, Marylebone Lane is also home to St John Marylebone, the third branch of the pioneering nose-to-tail restaurant that's won more accolades, and arguably influenced the London food scene more strongly, than almost any other restaurant.
And for something that'll firmly press the 'eccentric London legend' button, duck into Paul Rothe & Sons, one of the oldest family-run cafés in London. It's a proper deli where you can build your own sandwiches, and eat them at formica-topped tables surrounded by rows of handmade preserves.
It's literally jam-packed.
From here, head onto Hinde Street and head to the grand-looking building on Manchester Square.
–
➍ THE WALLACE COLLECTION | 2:30pm
What started out as a wealthy aristocrat's private art collection & armoury has evolved into one of London's most intriguing museums. The Wallace Collection is housed within said aristocrat's former abode, so the lavish setting – silk papered walls; chandeliers and gilded cornicing – is as eye-catching as the priceless art on the walls. You'll spot big names like Gainsborough and Rembrandt in the collection upstairs, while downstairs is a clashing jamboree of suits of armour (for both soldiers and horses); Samurai swords; chainmail gloves and some alarming-looking Medieval weaponry. There's usually an additional exhibition on in the basement gallery which is ticketed; but the main collection is more than enough to keep you occupied for an hour or two, making it one of the most impressive free things you can do in London.
Cultural appetite sated, it's time to head to one of our favourite pubs with open fires. Turn right out of the museum this time, pass Portman Square and head right down New Quebec Street.
–
➎ THE GRAZING GOAT | 5pm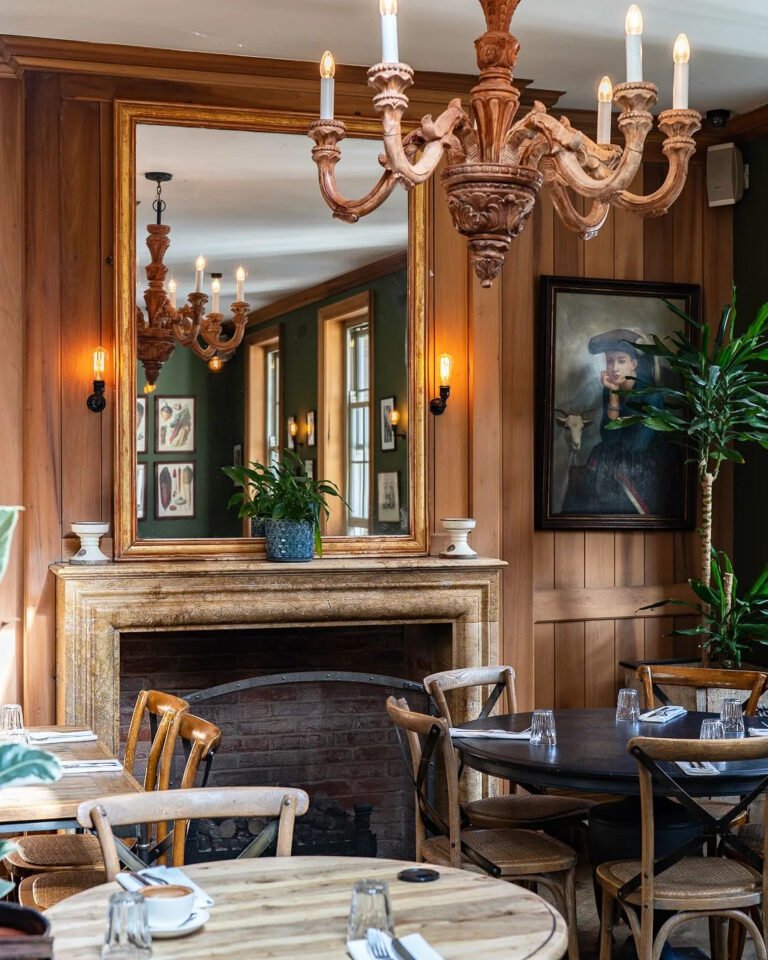 The Grazing Goat is a cosy, elegant pub wrapped almost entirely in distressed wood panelling, perfect for warming up in. It leans distinctly towards gastropub over old boozer, so the beers are mostly new-school craft brews, but there's a decent French & Italian-heavy wine list (with some guest appearances from Canada and Croatia) and they do a nice line in classic cocktails. There's also the highly recommended option to stick around for a Sunday roast here if you skipped lunch earlier. Mostly, though, it's just a warm, woody oasis to retreat in and take stock of a day well spent, before heading on to your final stop…
–
➏ CAVITA | 6pm
Cavita is the debut restaurant from Adriana Cavita, a ridiculously talented Mexican chef who racked up stints at some of the world's most highly acclaimed restaurants before deciding to open her own spot here in Marylebone.
Mexican cooking was the first cuisine to be given UNESCO Intangible Cultural Heritage status, and Cavita's approach here is to pay homage to the history of her homeland's cooking. Here, you won't be inundated with tacos, but introduced to less widely known dishes like chargrilled octopus with chilli adobo and cactus; smoked beef shin quesabirria; and aguachile rojo (a little like ceviche) with king fish and grasshopper salt. And it's all served up in one of the most warm and welcoming dining rooms in the city.
Of course, if you really want to continue your interactive exploration of Mexican cuisine, you could cap off your evening downstairs in Mayahuel, Cavita's subterranean agave bar. Here you can drink cocktails made with Cavita's own personal selection of tequila and mezcal, and sip tasting flights that'll introduce you to lesser known agave spirits…
…if only to keep you cosy on the way back home.
---
The Itinerary:
➊ Fischer's | 50 Marylebone High Street, W1U 5HN
➋ Marylebone High Street | W1U
➌ Marylebone Lane | W1U
➍ The Wallace Collection | Hertford House, Manchester Square, London W1U 3BN
➎ The Grazing Goat | 6 New Quebec Street, W1H 7RQ
➏ Cavita & Mayahuel | 60 Wigmore Street, Marylebone, W1U 2RZ
---
Like spending time in the area? Check out our pick of the best restaurants in Marylebone