Itinerary Location: Greenwich | Duration: 6 Hours
---
Today's itinerary promises to take you on a journey through time and space itself…
…via doughnuts from St. John.
Yes, it's time to take a trip to Greenwich, London's picturesque village-within-a-city whose many charms include bountiful pubs, rambling streets, majestic old buildings and romantic picnic spots, as well as a virtual portal to the cosmos.
And you can get there by boat! Which is precisely what you're about to do.
–
➊ ALL ABOARD | 12pm
You can hop onto a Greenwich-bound Thames Clipper at any pier along the north bank of the river. Westminster makes for a good starting point as you'll get to take in most of London's tourist attractions at a healthy distance from the crowds: the Southbank, the Houses of Parliament, the Tower of London and the rest. As the sights start thinning out and you wend your way around the peninsula that usually triggers the Eastenders theme tune, you'll see Greenwich in all her splendour come into sight up ahead.
Greenwich is separated from Canary Wharf by the river, but also by a couple of centuries. On the north bank you have the sleek, futuristic skyscrapers of the city's modern financial district; on the other, you have a maritime village suspended in time. Greenwich is steeped in nautical history, and it feels like very little has changed in these streets in the intervening centuries.
Flagstoned alleyways and cobbled streets lead you to grand Georgian thoroughfares lined with peach-coloured buildings and palladian columns. As you disembark from your boat you'll pass the Cutty Sark (a genuine 19th century tea clipper named after its witchy, scantily clad figurehead); follow the path with the ship on your right and head through the gates along College Way to approach…
–
➋ THE PAINTED HALL | 1pm
Just occasionally, London looks like a living, breathing film set, and this is one of those occasions. The palatial buildings in front of you were designed by Sir Christopher Wren (whose other hits included St. Paul's Cathedral), and have actually been a film set for the likes of The Crown, Skyfall, and Muppets Most Wanted.
Obviously, such grandiose exteriors take some matching on the interior, and that's where The Painted Hall comes in.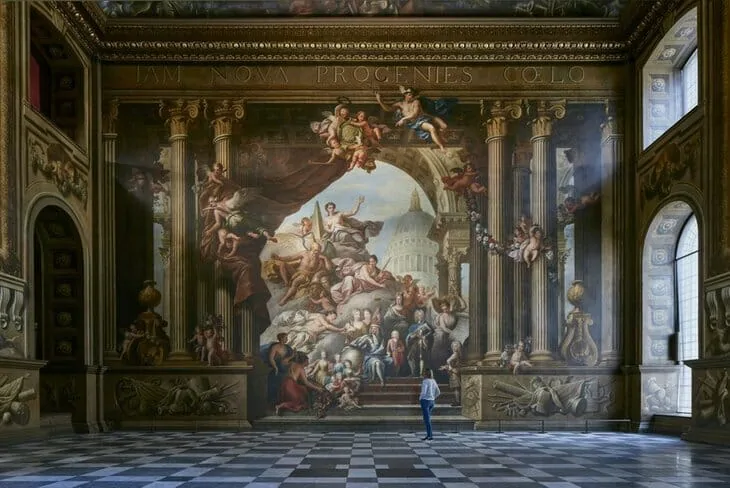 Fresh from a painstaking conservation effort, every inch of this 40,000 sq ft hall is covered in hand-painted murals, originally completed in 1726. It took artist Sir James Thornhill almost two decades to plan & paint, making it possibly the most lucrative freelance gig in history. And now it's open for all to marvel at (you can get in for a fiver on the first Sunday of the month), alongside a similarly lavish chapel and the room where Nelson's body lay in state after the battle of Trafalgar (complete with a ghostly recreation of his coffin).
After that you're likely to need a pick-me-up, so head back down the path and into the heart of old Greenwich, swinging left onto Church Street.
–
➌ 15 GRAMS | 2pm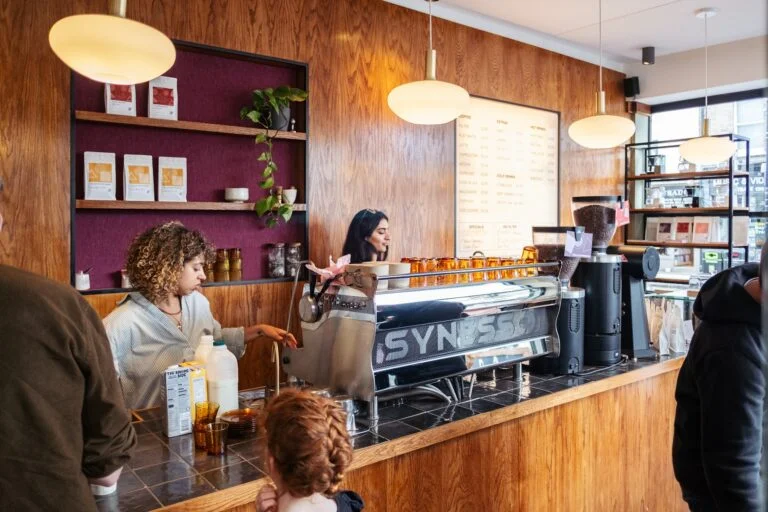 Make a stop-off at 15 Grams for coffee – an outpost for the small-batch roastery that pays over fair-trade standards for its single origin beans. Inside, it's a cosy, wood-panelled pocket; outside there's a smattering of tables which catch the sun. And on the menu: perfectly brewed coffee, hot chocolates topped with a giant cube of toasted marshmallow, and an array of baked goods sourced from St John and Little Bread Pedlar. Pick up anything delicious-looking because – spoiler alert! – you're building a picnic basket. If it's that kind of afternoon, drop into Champagne + Fromage opposite to pick up a bottle of plonk Français and make your way into…
–
➍ GREENWICH MARKET | 2.15pm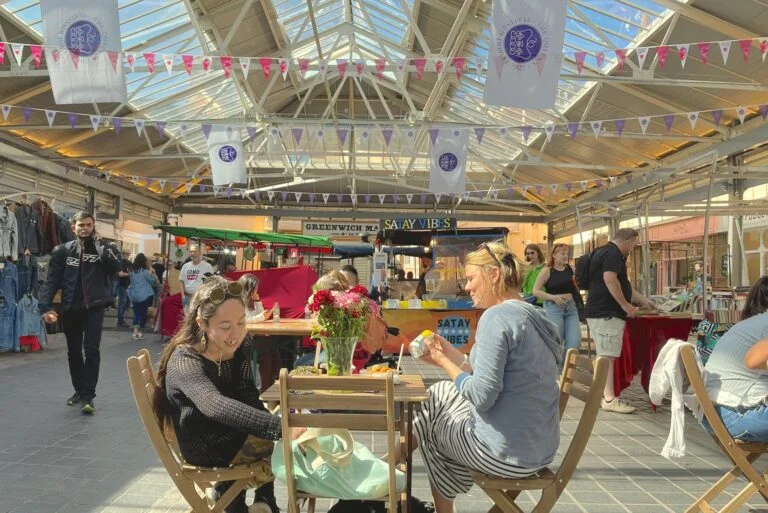 Greenwich Market is a labyrinthine warren of antiques, craft stands, astrologers' tents, vinyl stalls, second-hand bookstalls and more, where, in one fell swoop, you could tick Ming vases, bowler hats and antique decanters off your shopping list.
It's also a microcosm of the world when it comes to food. Across its near 50 street food stalls, you'll find dozens of global cuisines represented – veggie food from Ethiopia, Andean empañadas, Thai curries, roast dinners, and burgers… where the patties are sandwiched between crispy ramen. Add something hot off the grills to your burgeoning picnic stash, and make a beeline for…
–
➎ GREENWICH PARK | 3pm
It's one of the biggest parks in London, and pretty much unrivalled as a picnic spot. In Spring, there's lush lawns and canopies of blossoms; in winter, its sprawling snow-covered plains look like the kind of scenes Good King Wenceslas could have looked out upon. It has royal orchards, rose gardens, and an actual deer park, as well as a stunning panorama of the historic buildings by the river, and the glittering metropolis beyond.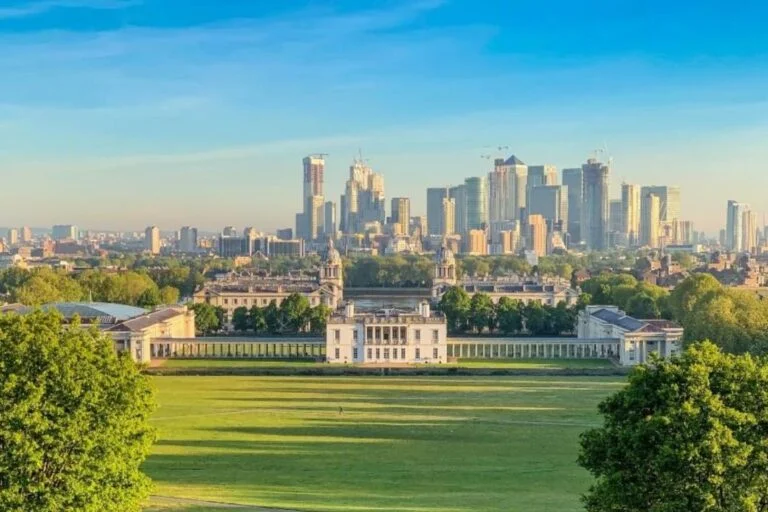 Climb to the top of the hill – partly because it'll give you the best views, but also because you won't want to climb it after you've sunk the bottle of wine. After which, it's time to head to your last stop:
–
➏ THE ROYAL OBSERVATORY | 4pm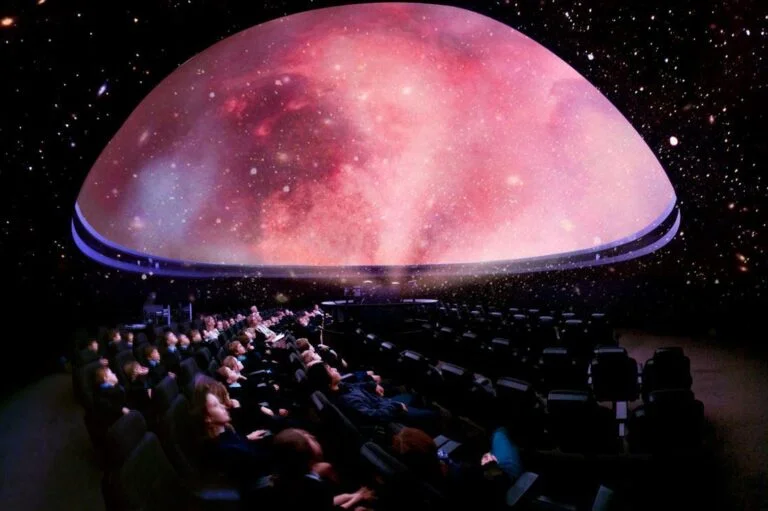 Close to the heavens at the top of the hill is the Royal Observatory, where astronomers have been charting the skies for centuries. There's plenty for star buffs to geek out over here – you can see the telescope where Halley spotted his comet; hop over the Meridian line (where time begins); and impress your date with a couple of priceless astrolabes – but you might want to head straight for the planetarium.
You might not be able to levitate, La La Land-style, but this plush cosmic cinema is still an unexpectedly romantic spot to wrap up your evening. After all, what's more amorous than watching the night sky unfold above you as you tour constellations, visit distant moons and watch celestial fireworks with the birth of a star?
As date spots go, it's out of this world.
---
The Itinerary:
➊ Thames Clippers | Westminster Pier, Victoria Embankment, London SW1A 2JH
➋ The Painted Hall | College Way, London SE10 9NN
➌ 15 Grams | 28 Greenwich Church St, London SE10 9BJ
➍ Greenwich Market | Greenwich Market, London SE10 9HZ
➎ Greenwich Park | London SE10 8QY
➏ Royal Observatory | Blackheath Avenue, London SE10 8XJ
---
Not ready to call it a day? Drop in at one of these fine Greenwich pubs