Itinerary Location: Bloomsbury | Duration: 8 Hours
---
Weather forecast looking grim this weekend?
Don't take a rain check.
Sometimes it's actually quite nice walking through the drizzly streets of London, seeing the lights reflected in the glassy, rain-slicked pavements… and then ducking in somewhere dry and cosy as soon as humanly possible.
So we've put together an itinerary taking you through the Georgian streets of Bloomsbury (which look particularly brooding against a grey sky), stopping in at strange museums, dining on Japanese pancakes and enjoying a little retro entertainment en route – all with a grand total of about 5 minutes walking time in between.
Meet at Warren Street or Euston Square tube stations, and head down Tottenham Court Road or Gower Street respectively before turning onto University Street, where you'll find…
–
➊ THE UCL MUSEUMS | 12:30pm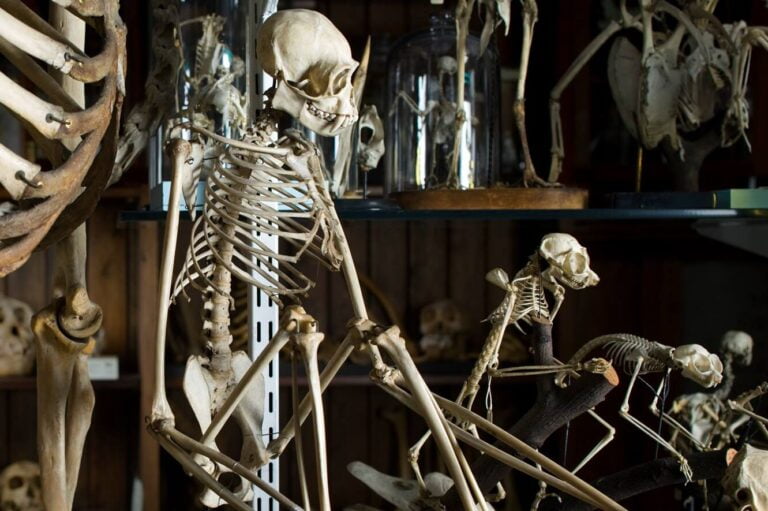 Preserved oesophagus. The world's oldest dress. A jar of moles. The UCL Museums take the prize for some of the more unusual exhibits in London, variously on display at UCL's Art Museum, The Petrie Museum of Egyptian Archeology, and the Grant Museum of Zoology. Here, you'll find yourself outside the latter, a bizarre cabinet of curiosities including preserved organs in spirit jars; skeletons of extinct animals and other oddities (like the aforementioned moles). It's basically a condensed, more eccentric version of the Natural History Museum. The downside: there are no dinosaurs. The upside: it won't take you five hours to complete, leaving you time to take a leisurely lunch at…
–
➋ CAFE DECO | 2pm
Head (back) onto Gower Street and swing a right. Along the way you'll pass one of the most grandiose Waterstones in the city; a gothic, Grade II listed block kitted out with gargoyles and turrets. It's not your typical bookshop – the basement holds first editions and rare tomes; there's a vast collection of vintage Penguin paperbacks; and the second floor caters to UCL med students with stethoscopes and skulls.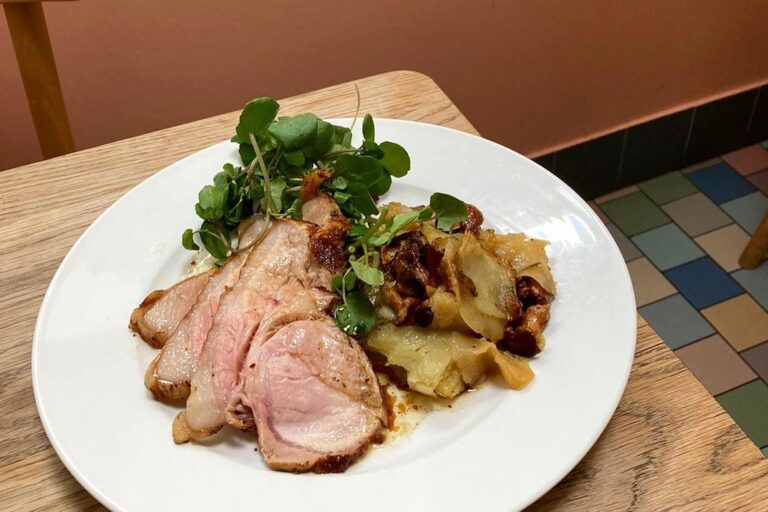 Carry on a little further, head right on Store Street and you'll soon spot the ivy-green awning of Cafe Deco on your left. It's the first solo spot from acclaimed chef Anna Tobias, opened in collaboration with her alma mater, 40 Maltby Street. It's a beautiful, relaxed space offering elevated home comforts – earthy salads; steaming bowls of seasonal stews and soups; English puds – basically, everything you're looking for on a rainy day. Wash it down with a glass of something delicious (which is where the partnership with Maltby St, and its wine import business, comes in so handy), and brace yourself for a drizzle dash round the corner to…
–
➌ THE BRITISH MUSEUM | 3:30pm
Not as offbeat as this morning's collections, but still housing some of the most impressive antiquities and works of art from across the globe – and it's entirely free to visit. So really, since you're walking past it would be a shame not to dip in to pay your respects to the ancient Egyptian mummies; 15m totem poles; Easter Island sculptures; Mesopotamian tombs and, of course, the Rosetta Stone. The museum's working hard to address the sticky subjects of how these objects came into the collection in the first place, and to acknowledge the colonial legacies behind them. So even if you visited on a school trip years ago, you'll probably get to see these objects in a new, more considered, light.
Play gift shop secret santa before heading back outside, walking right along Great Russell Street until you come to:
–
➍ L. CORNELISSEN & SONS | 5:15pm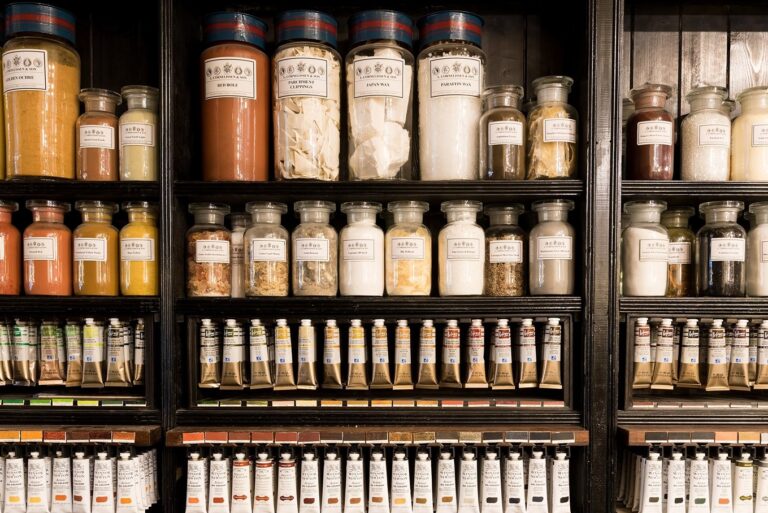 Hands down one of our favourite shops in London. It's a 150 year old store specialising in artists' materials, and it barely seems to have changed at all in that time: the bespoke wood shelves are stocked to the rafters with paints of every colour; alchemist's jars of pigments and resins; and obscure objects like gilder's cushions, quills and 'historical inks'. It's enough to make you bail on your day job and wholeheartedly embrace the life of a bohemian 19th century artist, minus the syphilis.
Retrace your steps along Great Russell Street, and take a right opposite the museum down Museum Street. Pop your head into Thomas Farthing, a vintage-styled gentlemen's outfitters where Peaky Blinders caps hang off penny farthings, and continue along until you spot the blue awning of:
–
➎ ABENO | 6pm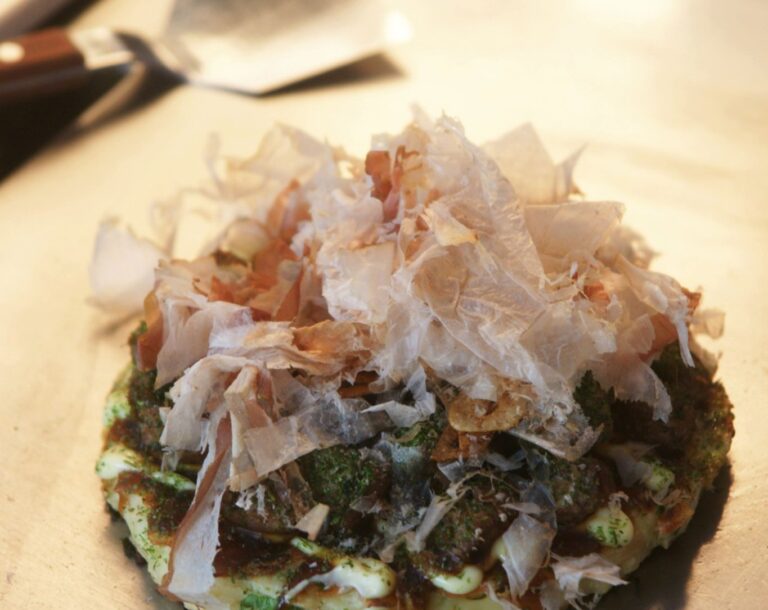 Okonomiyaki (savoury pancakes) have been a staple of southern Japanese cuisine for over 400 years – and for the past 30 Abeno has been serving them in London, too. Still family-run all this time later, it offers a kind of low-key chef's table experience. Sip on warm sake or a sweet potato shochu as servers prepare your meal on the teppan (hot plate grill) right in front of you, tossing fresh ingredients onto a sizzling base of spring onion-laced pancake batter. After a couple of minutes, it's finished off with swirls of ketchup and mayo, and a dusting of lightly grated bonito flakes (smoked & aged tuna), which delicately curl up in the heat. The whole dish is a glorious, moreish pillow of warmth and flavour, almost scientifically designed to insulate you against the rain outside.
Which is handy, because one last five-minute walk awaits you. Turn left out of the restaurant, head left again and cross Bloomsbury Square when it comes up on your left (It's London's oldest square! Designed in 1665! Which explains why it's actually a rectangle). Turn right on the other side, and look for the gold sign above a set of basement steps leading down to…
–
➏ ALL STAR LANES | 7:30pm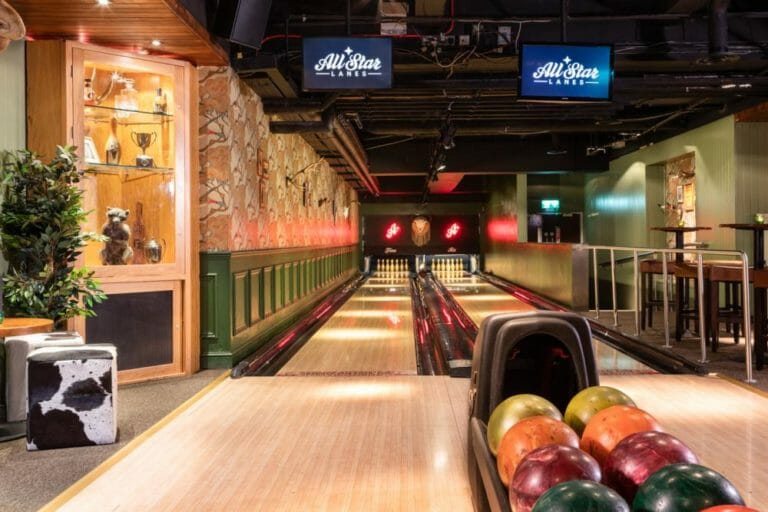 A retro subterranean bowling arcade with its own karaoke rooms, vintage photo booth and non-sweaty shoes. On Sunday evenings you can bowl for a fiver, and the cocktails – from classics to signatures like the whisky and triple sec-laced Peach Lynchburg – will set you back less than a tenner. Which, by our calculations, means it makes more economic sense to stick around for a nightcap if it's still raining, than get an uber home…
---
The Itinerary:
➊ UCL Museums | Rockefeller Building, 21 University Street, London WC1E 6DE
➋ Cafe Deco | 43 Store Street, London WC1E 7DB
➌ British Museum | Great Russell Street, London WC1B 3DG
➍ L. Cornelissen & Sons | 105 Great Russell Street, London WC1B 3RY
➎ Abeno | 47 Museum Street, London WC1A 1LY
➏ All Star Lanes | Victoria House, Bloomsbury Place, London WC1B 4DA
---
Looking for more inspiration? Tackle this bucket list of London's unusual museums