Itinerary Location: Covent Garden | Duration: 6 Hours
---
There are some occasions – birthdays, anniversaries, Tuesday evenings – when you really want to go to town.
But what to do when you actually get there? How to navigate the centre of what is probably the greatest city in the world, but is nevertheless 90% American sweet shops and pigeons?
Climb aboard our Covent Garden itinerary, your trusty steed for a night on the tiles befitting a special occasion. You'll start with classic cocktails in one of the city's most classic bars, dine at one of London's most romantic tables for two, soak up live entertainment in a low-lit cabaret bar, and finish – as you do most evenings – with a Dirty Top.
Allow us to roll out a virtual red carpet for you, and make your way to:
–
➊ THE SAVOY | 6pm
A legendary London hotel, The Savoy offered the height of luxury when it opened in 1889 – we're talking electric lighting, bathrooms in each room, and hot water. Almost any 20th century icon you can think of has stayed here — Frank Sinatra, Marilyn Monroe, Charlie Chaplin and The Beatles have all been tucked up under their luxury thread count sheets.
Strolling down the art deco entranceway from the Strand feels like stepping into the golden age of Hollywood  (it's also the only place in London where cars drive on the right), and that feeling only intensifies when you walk into the American Bar.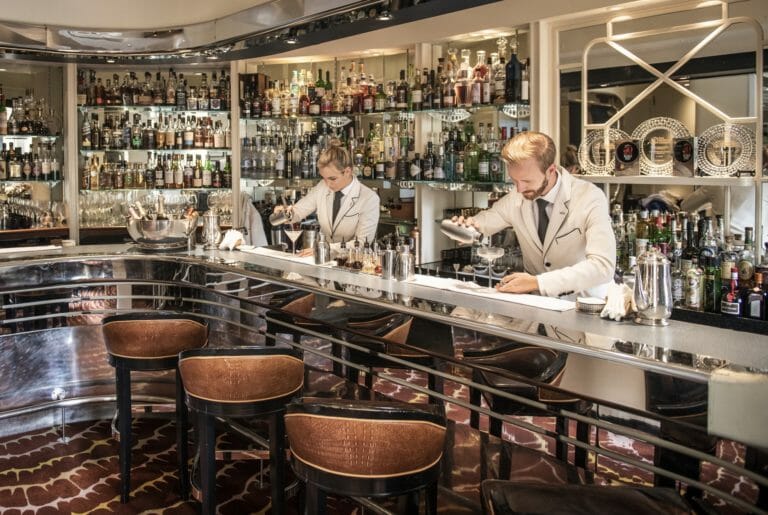 The American Bar at The Savoy has been operating for almost 130 years, and is pretty much unchanged inside from its art deco days. From behind a sweeping polished steel bar, white jacketed barkeeps shake up classic cocktails – though really, it would be just as accurate to call them signature cocktails, since most drinks were invented in this very bar. Try the Hanky Panky, the White Lady or the hangover-busting Prairie Oyster. Just be careful if you're ordering a sazerac – they make a version with vintage spirits (some over 160 years old) that'll add three zeroes to your bill.
Cross the Strand to head up Southampton Street towards the Covent Garden piazza. Swing a left on Henrietta Street to find your next stop:
–
➋ CORA PEARL | 7.30pm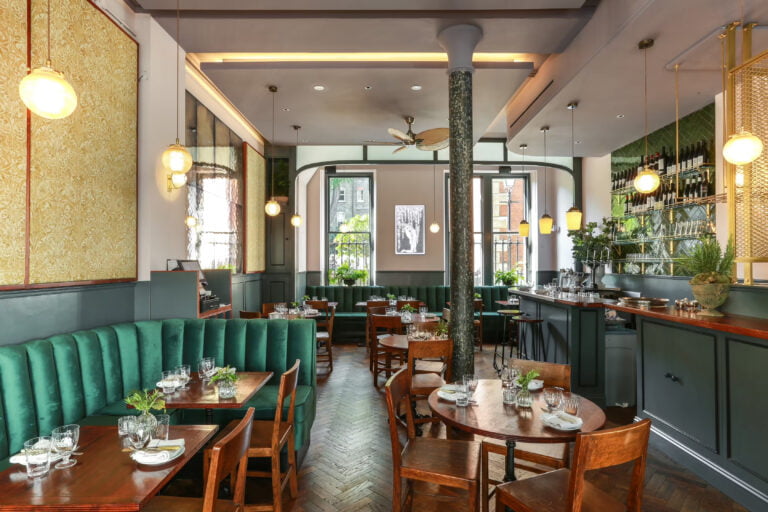 There are a number of very good restaurants in Covent Garden. But when you're planning to start a love affair, none really comes close to Cora Pearl. Named after an 18th century courtesan, Cora's the sister (in restaurant, rather than historic terms) to Kitty Fisher's in Mayfair. And it's every inch as decadent and romantic; bijou in its dimensions, with emerald green velvet seating and possibly the cosiest table in the city – a nook for two nestled into the window bay overlooking Henrietta Street.
Dishes here are broadly Modern European, and are unfailingly delicious. Comfort food is elevated to god tier: there's a melt-in-the-mouth ham & cheese toastie, and crumpets topped with a dollop of cod's roe. And there's also plenty of main dishes fitting for a celebration: sugar pit bacon chop & fennel choucroute, salt-aged sirloin with wild garlic butter; and a shaved truffle and Cora Linn cheese risotto.
From here, take a right along Bedford Street, and left down Cranbourn Street, weaving through Leicester Square and, eventually, passing the bright lights of Piccadilly Circus. Curve right around the big screens, and allow the top-hatted doormen outside Brasserie Zédel to usher you inside…
–
➌ THE CRAZY COQS | 9.15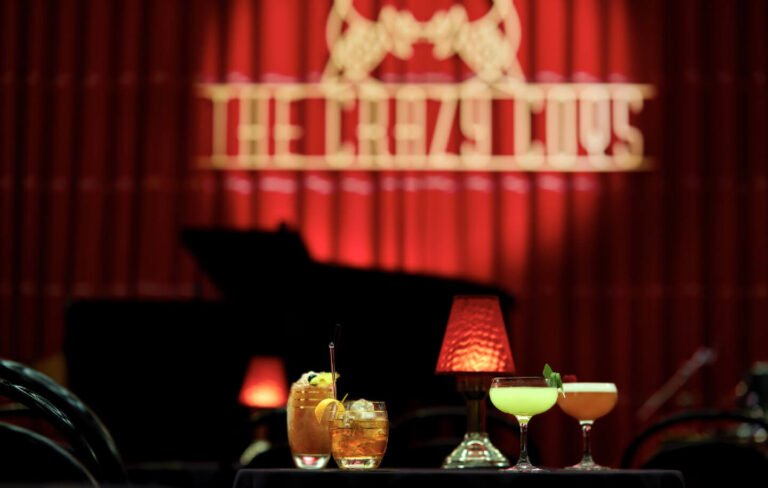 Set in the basement of a grand old hotel, the entire Brasserie Zédel complex is a subterranean dreamscape of art deco glamour. There's the cavernous marble hall linking everything together; the brasserie itself, a frou-frou confection of pink tablecloths and gilded columns; Bar Américain, a cocktail den wrapped in its original wood panelling; and the Crazy Coqs, a low-lit cabaret bar with two performances most evenings.
You're just in time for the late show, so take your seats (assuming, that is, you've already bought tickets), and catch the eye of the barkeep who'll bring cocktails directly to your circular table (complete with tiny lamp). The programming is eclectic and discerning, from the vaudeville wit of Miss Hope Springs to Rat Pack crooners, West End stars, burlesque dancers, circus acts and jazz trios (Jay Rayner even plays here occasionally). Tucked below ground in an atmospheric setting, it's a wonderful hour or two of pure escapism.
–
➍ FRANK'S | 11pm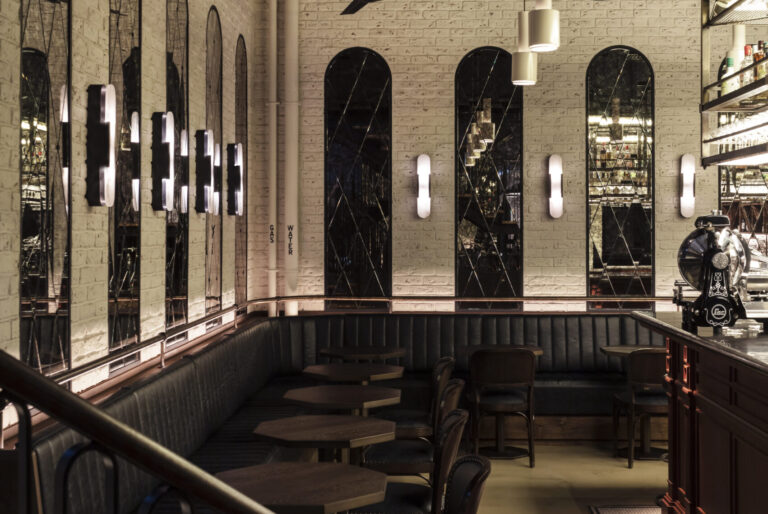 Finally, to Frank's, the low-lit, subterranean wine bar that everyone needs up their sleeve for precisely this sort of occasion: the last tube is going soon, you might even have work in the morning, but it's just not quite time to call it a night yet. Slung beneath Maison Francois on Jermyn Street, it has a 1am closing time (Thur-Sat) and a strapping list of wines to peruse, as well as late night snacks sent down from the restaurant above. Being in St James's, it's not exactly affordable… but at the more budget-friendly end of the menu, there's the very drinkable Dirty Top, a heady blend of Top Cuvée vermouth, Armagnac and prosecco.
It actually has a very clean finish…
---
The Itinerary:
➊ The American Bar at The Savoy | The Savoy, Strand, London WC2R 0EZ | Walk-ins only
➋ Cora Pearl | 30 Henrietta Street, WC2E 8NA | Book a table
➌ Crazy Coqs | Brasserie Zédel, 20 Sherwood St, London W1B 5AP | Book tickets
➍ Frank's | 34 Duke Street, St James's, SW1Y 6DF | Walk-ins only
---
Liked this? Find more inspiration with these other Nudge Itineraries