Itinerary Location: Richmond | Duration: 6+ Hours
---
Ah, Richmond: a leafy pseudo-village perched at the end of the District line, just waiting for you to soak up its riverside charms, elegant Georgian houses, noble pubs and excess of greenery… and also home to a lot of people who are kind of secretly hoping you don't discover it.
Most people come here for the park, with its famous herds of deer – but if you explore Richmond with our handy itinerary (which you can preview in our reel here), you'll discover it's popular for a lot more than its stag dos. Because along the way, we're going to take in curious bookshops, delicious cheesemongers, intimate little cafes, boutique-lined alleyways, convivial theatres, and more.
Today our journey begins on the fringes of the park, up on Richmond Hill. Depending on where you're coming from, you might want to build in an amble across the park first, otherwise, if you're coming from the station, hop on a bus or take a 15 minute walk up towards Richmond Hill and duck into the…
–
➊ RICHMOND HILL BAKERY | 11:30am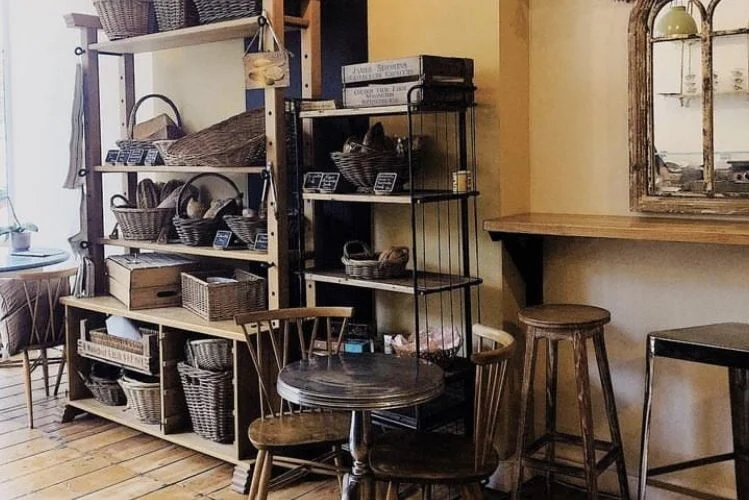 Richmond Hill Bakery looks like the kind of coffee shop that'd feature in a Richard Curtis film. Beaten-up floorboards, mismatched vintage furniture and an antique wooden dresser festooned with garlic all combine to make the kind of charmingly rustic setting that feels like it's been around for years… because it has. It's a long-standing neighbourhood stalwart, supplying locals with freshly baked loaves and pastries for over a decade. Pull up a pew to refuel after your uphill climb, or grab a coffee and something sweet to accompany you as you window-shop along…
–
➋ HILL RISE | 12pm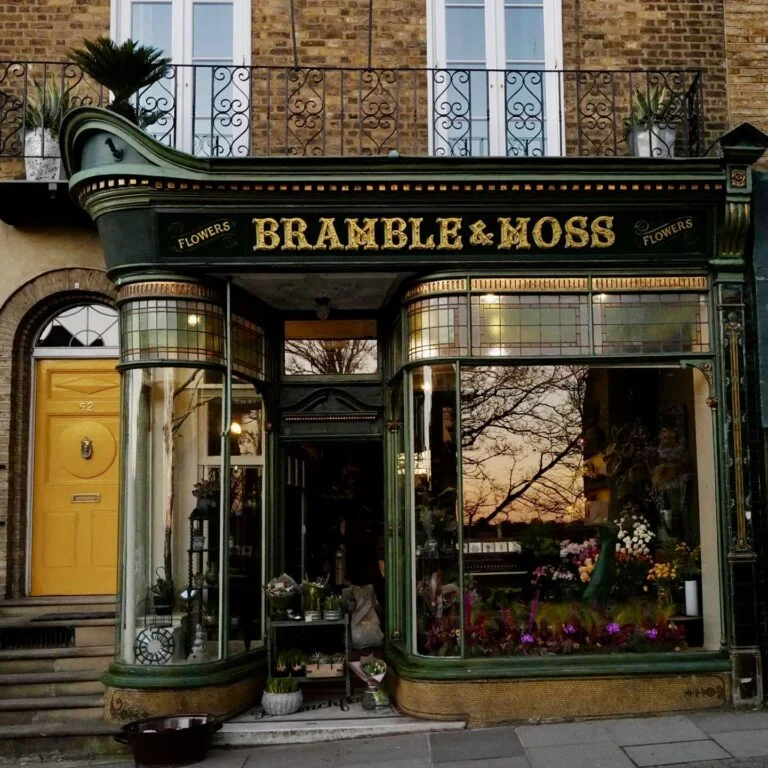 Carry on left along Friars Stile Road, and swing a right when you reach the end. Here you'll catch intermittent glimpses through the trees of the countryside beyond as you descend Richmond Hill, and after ten minutes or so you'll hit a run of boutique shops. Assuming you don't feel like picking up a fireplace on your travels today, you'll want to pop your head into shops like Tribe, a knitting store run by self-professed 'yarn-snob' Milli that'll have you vowing to make all your own clothes from now on; newcomer Books on the Rise, a bookshop run by a pair of indie publishers who are committed to supporting diversity in publishing; Teddington Cheese, where the owners will enthusiastically offer you samples (much of which is matured right there on the shelves) as you follow your nose; and finish up at Bramble & Moss, a florist's that could have been ripped straight out of Belle Epoque Paris, blooming with fresh flowers, houseplants and dried bouquets.
–
➌ LUNCH AT KAPUCIN CAFÉ | 1pm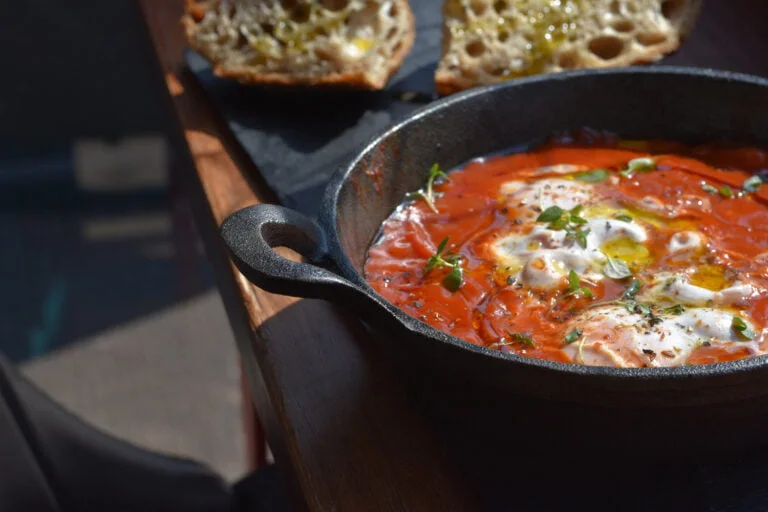 It's been a full hour since you finished your croissant, so duck into Kapucin Café at the end of the parade for a light brunch. The team here whip ingredients from top-end suppliers like The Estate Dairy and Hedone Bakery into numbers like the Kapucin Burger (with beef shin and melted provola), an irresistible aubergine parmigiana, and a sausage & egg breakfast muffin to rival any, er, well-known fast food outlet. Pick up another coffee (ground up from Climpson's, or Berlin-based roastery The Barn), and carry on down the street to reach…
–
➍ RICHMOND RIVERSIDE & THE WHITE CROSS | 3pm
This stretch of the Thames has to be one of the most scenic in London. Just look at it! You've got grand Georgian townhouses, stately old pubs, colourful rowboats bobbing up and down and an expanse of stepped lawn to sprawl out on in the sunshine with a good book. And if you happen to be there on the 362 days of the year it's not warm enough to do that? Huddle up inside The White Cross – one of Richmond's best pubs, stood right on, and occasionally in, the river. At high tide the Thames effectively turns the pub into an island for a couple of hours – all the more excuse to hunker down by the fireside or station yourself on the terrace for the duration.
–
➎ RICHMOND GREEN | 5pm
High seas allowing, continue your stroll along the riverside – if you're in the market for a long walk, you can join the Thames Path at this point and wander about a mile along to Ham House. Otherwise, peel off just before the bridge down Old Palace Lane. The plot of land to your right was where Henry VIIIth's Richmond Palace once stood, which gave the area its name.
Pass by dozens of perfectly manicured cottages until you reach Richmond Green, where the houses become even more grandiose – keep an eye out for the Gatsby-style optician's sign hanging from one of the house's railings. Crossing to the other side, you can easily while away the afternoon exploring the flagstone-paved, festoon-lit backstreets between the Green and the high street. There are plenty of pubs to drop into, if you're so inclined (you might recognise The Prince's Head as the pub from Ted Lasso), as well as an ice cream shop and crêperie on Brewers Lane, plus jewellery shops, gift shops and art galleries.
From here it's a short walk back up the high street to the station – but if you've got the evening free too, pop into one of the many fine restaurants in Richmond and snag tickets to see something at the…
–
➏ ORANGE TREE THEATRE | 7:30pm
Housed in a converted Victorian school, this independent producing theatre has staged hundreds of productions in its 50 year tenure. It started out as a room above the pub opposite, playing lunchtime performances so they could use the daylight, as they didn't have any specialist theatre lighting. Half a century on, the Orange Tree has won a slew of awards, seen sell-out shows transfer to the West End, and staged premieres for big name playwrights like Martin Crimp and Alistair McDowall.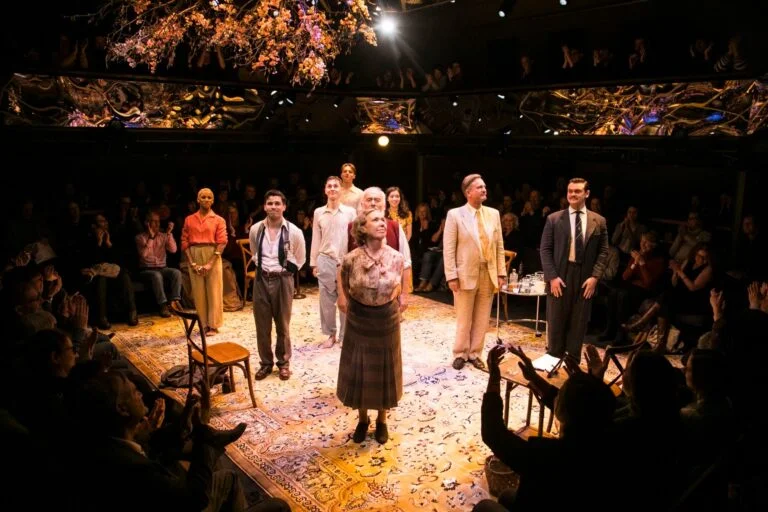 The Orange Tree remains London's only purpose-built indoor theatre in the round, where the 170-strong audience surrounds the stage for a thrillingly intimate experience. Tickets start at £15 a pop, and the programme spans from unusual revivals of older plays to new writing, Shakespeare and modern classics. So whatever you see…
…it's guaranteed to be pithy.
---
The Itinerary:
➊ Richmond Hill Bakery | 54 Friars Stile Road, Richmond TW10 6NQ
➋ Hill Rise Shops | Hill Rise, Richmond
➌ Kapucin Café | 18b Hill Rise, Richmond TW10 6UA
➍ The White Cross | Water Lane, Richmond TW9 1NR
➎ Richmond Green | The Green, Richmond TW9 1LX
➏ Orange Tree Theatre | 1 Clarence Street, Richmond TW9 2QE
---
Liked exploring Richmond? Get to know London's neighbourhoods with our other Itineraries