Itinerary Location: Notting Hill | Duration: 3-4 Hours
---
Notting Hill's mews are the muse of Instagram.
These cobbled courtyards, with their wisteria-laden balconies and vintage bicycles perched nonchalantly against pastel walls are a mainstay of insta feeds – though, mysteriously, the owners shouting at people to get off their doorsteps never seem to feature.
Here's the history: mews were once home to the stables tacked onto the enormous houses of West London. Mostly built around the 1860s, they had stables on the ground floors, with a few rooms upstairs for the stable boys or cart drivers to live in. And most importantly, the big houses were built back to back, so that the stables could be built along a courtyard and the smell of the horses kept away. Once cars became a thing, and big houses started to be broken up into flats, the mews houses were gradually converted into proper houses. Nowadays, they're some of the priciest property on the market and have become a quintessentially British scene.
Whether you're documenting the trip or not, these hidden backstreets make for a picturesque stroll around West London. So we've put together a (fairly) reasonable walking route to tick off the most scenic mews in Notting Hill, Holland Park and Knightsbridge. All you need is shoes.
We're starting at…
–
➊ ST. LUKE'S MEWS
People flock to St. Luke's Mews to take a peek at the baby pink cottage used as Keira Knightley's house in Love, Actually. If you ask the owners nicely – say, by standing outside in the snow with placards as a big gesture – or just make a charity donation, they'll let you take a snap. The rest of the mews courtyard is equally picturesque, with houses sporting the full Farrow & Ball catalogue of muted greys and blues.
Once you've had your fill of this mews' charms, turn onto Lancaster Road, head right and then immediately down Clydesdale Road, turning right at the end. If you're feeling peckish at this point, pop into Buns From Home for some out-of-this-world cinnamon buns, which you can enjoy in the garden square opposite (which, unlike most of the squares in Notting Hill is actually open to non-residents). Otherwise, carry on along Talbot Road for another two minutes, until you can take a left into:
–
➋ CODRINGTON MEWS
Codrington Mews is absolutely tiny, but worth a look for the house on the corner. Home to independent record label XL, it sports a sprawling mural from Thom Yorke's The Eraser on one side, while the other changes every few years to reflect another of their album covers. Adele, M.I.A., SBTRKT and The White Stripes have all recorded here – but with an average release of six albums a year, it's probably not worth hanging around outside. Instead, retrace your steps but this time take a right onto…
–
➌ PORTOBELLO ROAD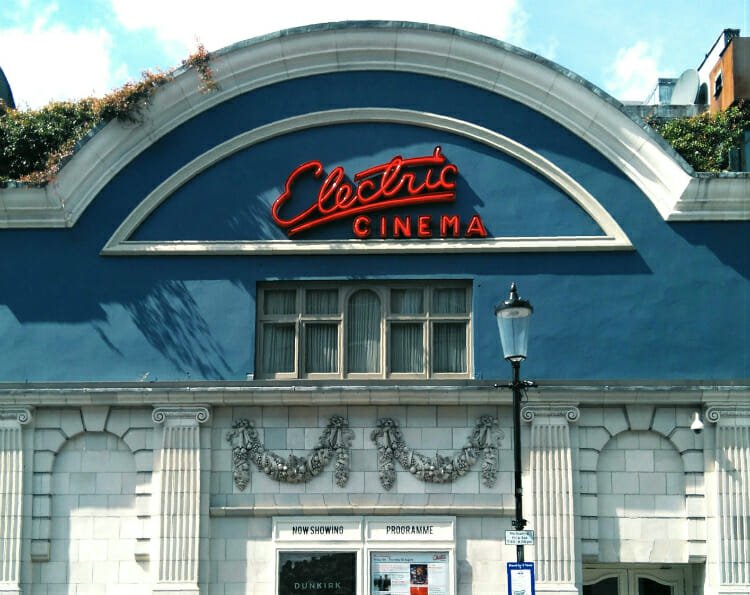 To your right – the Electric Cinema, one of the oldest purpose-built cinemas in London, now lovingly restored by the people behind Soho House who have filled it with cocktails, cashmere blankets and red velvet daybeds for two. To your left – Colville Terrace, one of Notting Hill's many pastel-coloured streets that look like they were carved out of ice cream. Up ahead – the sprawling Portobello Road market, with hundreds of stalls hawking antique bric-a-brac and cameras that don't work anymore. Dotted along the road are plenty of spots for pit-breaks – Miznon for stuffed flatbreads, the original Hummingbird Bakery or Farm Girl for blue lattes – before you reach the end, where you'll be rewarded with another stretch of pastel-slathered houses. At the roundabout, turn right onto Ladbroke Road. Take a left onto Ladbroke Terrace, and on your right you'll spy…
–
➍ LADBROKE WALK
Another picture perfect mews, lined with 150 year old stables. At the end of the 19th century, number 8 was home to a fireman, his wife, and their eight children. Cosy. Take a left at the end, cross over Holland Park avenue, head left down Holland Park, and duck into…
–
➎ HOLLAND PARK MEWS
Holland Park Mews is so fancy, even the archway at the end is Grade II listed. The mews houses here are a cut above, with winding staircases to first floor balconies and Victorian street lamps. Rest assured that once you have £3.5 million saved up, you'll be able to snap one up.
Now, take a leisurely stroll through Holland Park, spot the peacocks at the Kyoto Garden, and stop off for a light lunch at Dishoom Kensington or Maggie Jones's.
And if you're still jonesing for more mews? Take a scenic route weaving through Kensington's back streets lined with red brick mansion blocks, and set course for:
–
➏ KYNANCE MEWS
The crowning glory of West London's mews: with trailing fronds of wisteria, tiny balconies, ivy-clad walls and roses climbing round doorframes, Kynance Mews feels like a quintessential English country lane… in London. It's so beautiful, it's been a World Heritage Site since 1973, putting it on a par with Westminster Abbey, and Liverpool. Once you've drunk in the rustic splendour, continue along Elvaston Place and leafy Imperial College Road, then head in between the two college buildings in front of you. Make your way along Prince's Gate Mews to reach our final stop…
–
➐ ENNISMORE GARDENS MEWS
Chances are, if you've got this far then Ennismore Gardens Mews will be right up your street. It ticks all the boxes – pastel-hued houses, cobblestones, window boxes, wrought iron balconies, and a studio flat  the size of a tube carriage that recently sold for £1.25m.
Better save your pennies for a post-walk slap-up meal at Hawksmoor Knightsbridge round the corner.
---
The Itinerary:
➊ St. Luke's Mews | W11 1DF
➋ Codrington Mews | W11 2EH
➌ Portobello Road | W11 2DY
➍ Ladbroke Walk | W11 3BG
➎ Holland Park Mews | W11 3SS
➏ Kynance Mews | SW7 4QS
➐ Ennismore Gardens Mews | SW7 1AE
---
Want to explore more of London? Check out more of The Nudge's curated Itineraries