The Magnificent Seven.
Film buffs would say the best was Steve McQueen.
Graveyard buffs would say it's Kensal Green Cemetery.
London's 'Magnificent Seven' are a group of sprawling 19th century burial grounds, designed to reduce overcrowding in churchyards. Like everything else in Victorian times, they were bombastic places. Inspired by the Père Lachaise burial ground in Paris, they were designed as 'garden cemeteries'; huge green spaces filled with trees and flowers, alongside family mausoleums and grand monuments to the dead.
Trust us when we say it's actually a really nice place for a walk.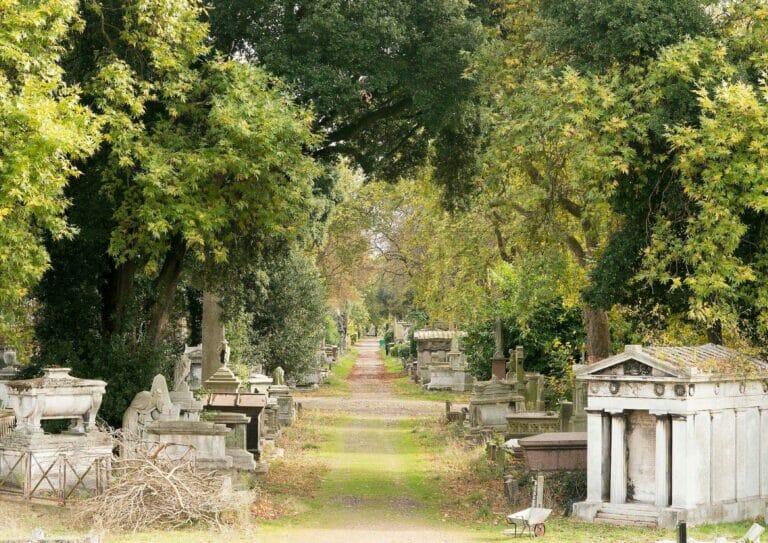 Free to visit, the cemetery's open year-round – and despite the macabre setting, it's not remotely creepy. Spanning 72 acres, including two conservation areas, the place is filled with birdsong and wildlife. Against an industrial backdrop of canals, railways and gasholders, it's almost like an eclectic, al fresco gallery of striking Victorian sculpture.
Kensal Green Cemetery has two chapels; one originally built for Church of England burials, and the other for 'Dissenters' (everyone else). The first is a Grade I listed building, and sits on top of one of the few catacombs in London. Every Sunday, The Friends of Kensal Green Cemetery run intimate tours into the crypts, taking you past 200 year old graves and the (still-working) Victorian coffin lift.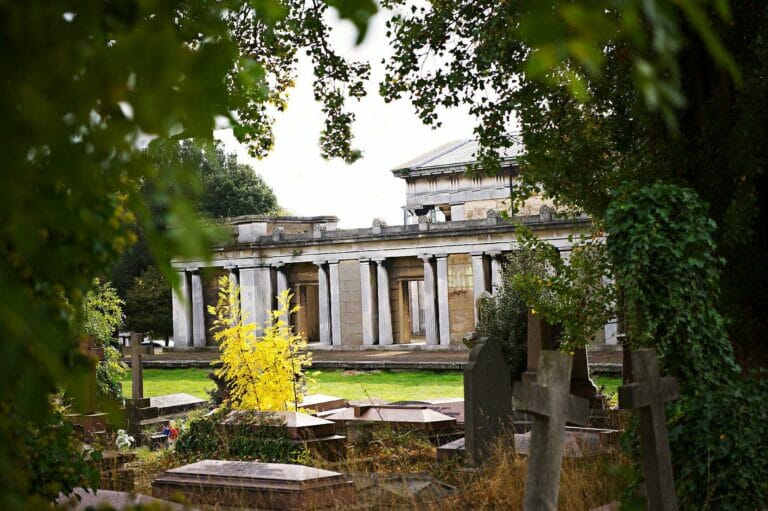 They'll also happily take you on a bespoke tour of the graves, or you can just go for a wander and see who you spot. The cemetery's home to 65,000 different graves, including 500 members of the nobility, and big names like Isambard Kingdom Brunel, playwrights Harold Pinter and Sir Terrence Rattigan, author William Makepeace Thackeray, and Charles Babbage, who essentially invented the computer (and printer) in 1822, but couldn't get the government funding to build it.
If you take the tour, though, you'll hear the lesser-known tales of Philmore 'Boots' Davidson, who brought the steel drum to Britain; John St. John Long, a quack doctor who claimed to treat tuberculosis (until he died of tuberculosis); Walter Clopton Wingfield, the man who first thought of playing tennis on grass; and Princess Sophia, daughter of George III, who supposedly fell from grace by having an illegitimate child and later became a spy in Kensington Palace.
G. K. Chesterton famously mentioned the cemetery in a poem – "For there is good news yet to hear and fine things to be seen; Before we go to Paradise by way of Kensal Green."
Which, coincidentally, is now an excellent bar and restaurant round the corner.
NOTE: Kensal Green Cemetery is open daily, and is free to visit. Tours of the catacombs take place on Sundays at 2pm (1st & 3rd Sundays Nov-Feb). Meet outside the Anglican Chapel, no need to book (suggested donation £7). You can find out more on the Friends of Kensal Green Cemetery website HERE.
Kensal Green Cemetery | Harrow Road, London W10 4RA
---
Like quirky places? Tick off some of these unusual London museums…