The circus has grown up.
La Clique has fired the human cannonball. They've let the trapeze artist go. They've gone for the juggler.
Because their version of a circus is an Olivier award-winning, all-adult, all-risqué, burlesque, cabaret, and sideshow cocktail that launches a dazzling assault on your senses before sending you back out reeling into the winter night. Head to the vintage Spiegeltent sitting in the middle of Leicester Square on any given evening this festive season, and you'll find a breathtaking lineup of acts, which includes…
The multiple Guinness World Record-holding Craig Reid (aka The Incredible Hula Boy), who makes balancing inside a giant hoop look like zorbing;
Pin-up performer Heather Holliday, who brazenly defies all innate human survival instincts by lowering a panoply of blades down her throat and going on to exhale great plumes of fire;
The amazing, the incredible Mirko Kockenberger, who combines suitcases, hand-balancing and strip-tease;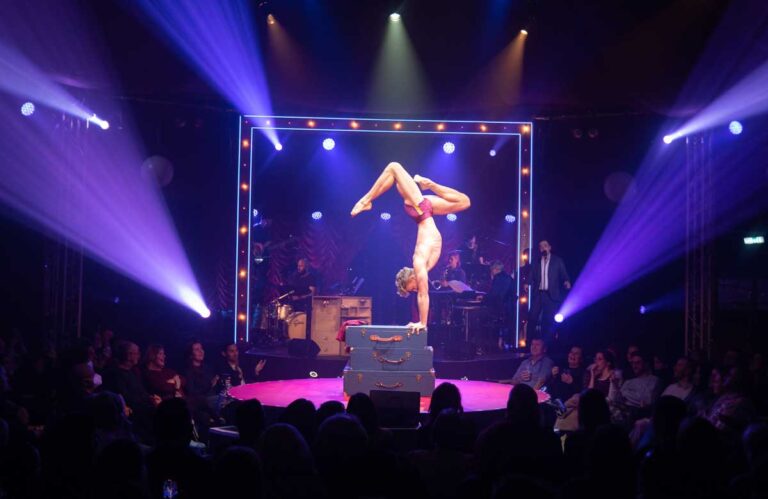 Aerial artist Hugo Desmaris, who's been appearing in cabaret shows around the world since 1998 and can still get his legs over his head, and his partner in crime Katharine Arnold, who performed in the Olympics Opening Ceremony;
"Farcical showgirl" J'aiMime, who ran away to the circus 15 years ago and has never looked back (possibly because of the giant balloon enveloping her);
Hackney's own LJ Marles, who began learning circus skills at 17 and has since invented his own equipment, the 'tension straps' (which he manages to navigate in thigh-high boots); and
The third generation of Skating Willers, recreating some of the world-famous performances of their parents and grandparents, while putting their own stamp on things.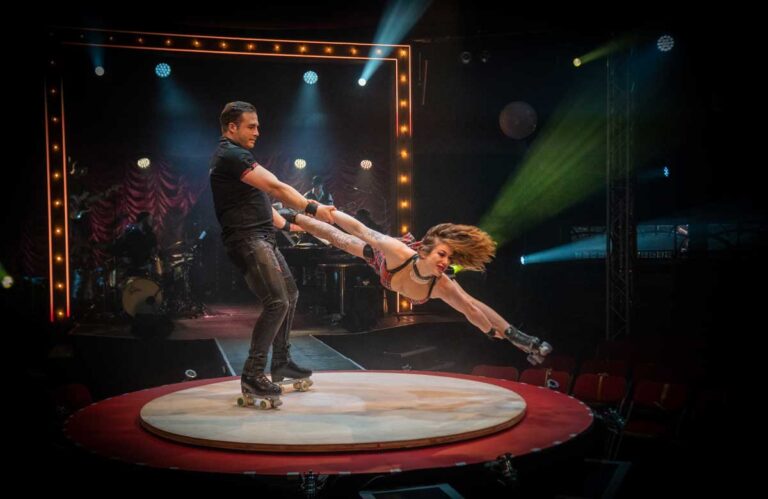 Jury's still out on whether this is one of their new moves, or one debuted by Nan & Gramps Willer.
This rag-tag bunch of talented artists is corralled together by the infamous Bernie Dieter, the self-proclaimed "Queen of Weimar punk kabarett" who's compèred dozens of critically acclaimed cabaret shows in the past few years, and whose eye-line you will spend all night desperately trying to avoid in case she interacts with you.
In short – this is a Clique you're going to want to join.
NOTE: La Clique runs until 8th January 2022 at the Spiegeltent in Leicester Square. Tickets start at £21, and you can book right HERE.
La Clique | Leicester Square, London, WC2H 7NA
Image credits: Craig Sugden
---
Looking for something a little more traditional? Circus 1903 takes things back to the turn of the century…