Try to think of the pinkest thing you can possibly, possibly imagine.
Then make it pinker.
Now conceive of the campest thing that the universe, as we currently understand it, is capable of producing. Somehow, double that quantity of campness. Finally, envisage something that's ten out of ten fabulous, and then turn it up to eleven…million. If you've managed those thought experiments, congratulations; you've gone some way towards mentally preparing yourself for the tidal wave of outrageous fun that is Legally Blonde at the Regent's Park Open Air Theatre.
Following the journey of now-iconic Elle Woods from Malibu Barbie-esque airhead to Ivy League law queen, director Lucy Woods (co-creator of the musical Six, no less!) gives us a heroine reinvented for Gen-Z – with ring lights, social media and TikTok-inspired dance-moves in abundance from the off. The show wears those trappings lightly though – and they only serve to fuel the feel-good narrative; believe in yourself, work hard, support your fellow sisters, and don't change who you are for someone else.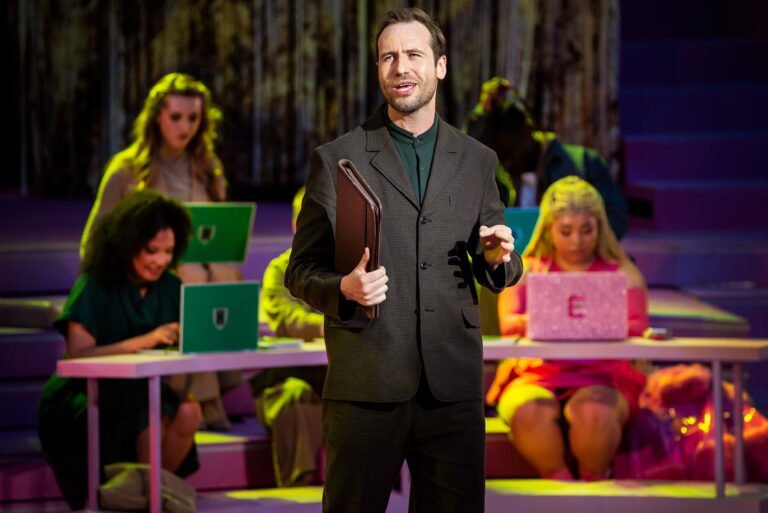 The choreography is lighting-fast, raunchy, and knowing, and the vocal performances are ludicrously strong across the ensemble – with particular mention to the dazzling Nadine Higgin, a hilarious standout in the role of Paulette, the hot-mess-hairdresser-best-friend-with-a-specific-penchant-for-Irish-men. 
And as for the star? Ohmigodyouguys – you simply have to see Courtney Bowman, who gives a powerhouse, pitch-perfect performance as Elle Woods, taking her from heartbreak to Harvard via an array of costume changes and a continuous barrage of show-stopping tunes.
Much like the show's heroine, Legally Blonde is big-hearted and loudly and unapologetically itself. It's got soul, pathos, and two dogs in bondage-style costumes getting off with each other (sure).
Book now, and be quick; competition for tickets – much like the show itself – is fierce. The verdict is in: Legally Blonde is guilty – of being the most fun you can have outside without getting arrested. 
NOTE: Legally Blonde is playing at the Regent's Park Open Air Theatre until July 2nd. You can find out more, and book tickets here.
Regent's Park Open Air Theatre | Inner Circle, Regent's Park, NW1 4NU
---
Looking for more culture? Here are the best theatre shows to book now…