Winterfest | A mindblowing light & sound show in North London
For too long now, Wembley has gone without a groundbreaking light & sound festival.
Well, at last there's a light at the end of the tunnel. And the middle. And the beginning. And basically throughout the whole thing. Because this tunnel is the Sonic Runway, an incredible, 100-meter-long conceptual project that forms the centrepiece of Winterfest.
If you don't know what Winterfest is, that's understandable, because this will be the first year it's happened. It's basically a huge outdoor light & sound show up in Wembley Park, and it's set to hit town for six weeks from November 20th. It's completely free, and here's what you'll find when you wander in:
The Sonic Runway – the aforementioned centrepiece was designed by a pair of former Pixar animators, who came up with the idea at Burning Man while they watched the effects of music as it 'rippled' across the festival-goers. That's where they first set it up it, and after taking it on the road to China, now it's here for its European debut. It's made up of 32 concentric rings, forming a 100-meter corridor – as people move down it, they trigger kaleidoscopic patterns of light that move at the speed of sound, all paired with a bespoke soundtrack.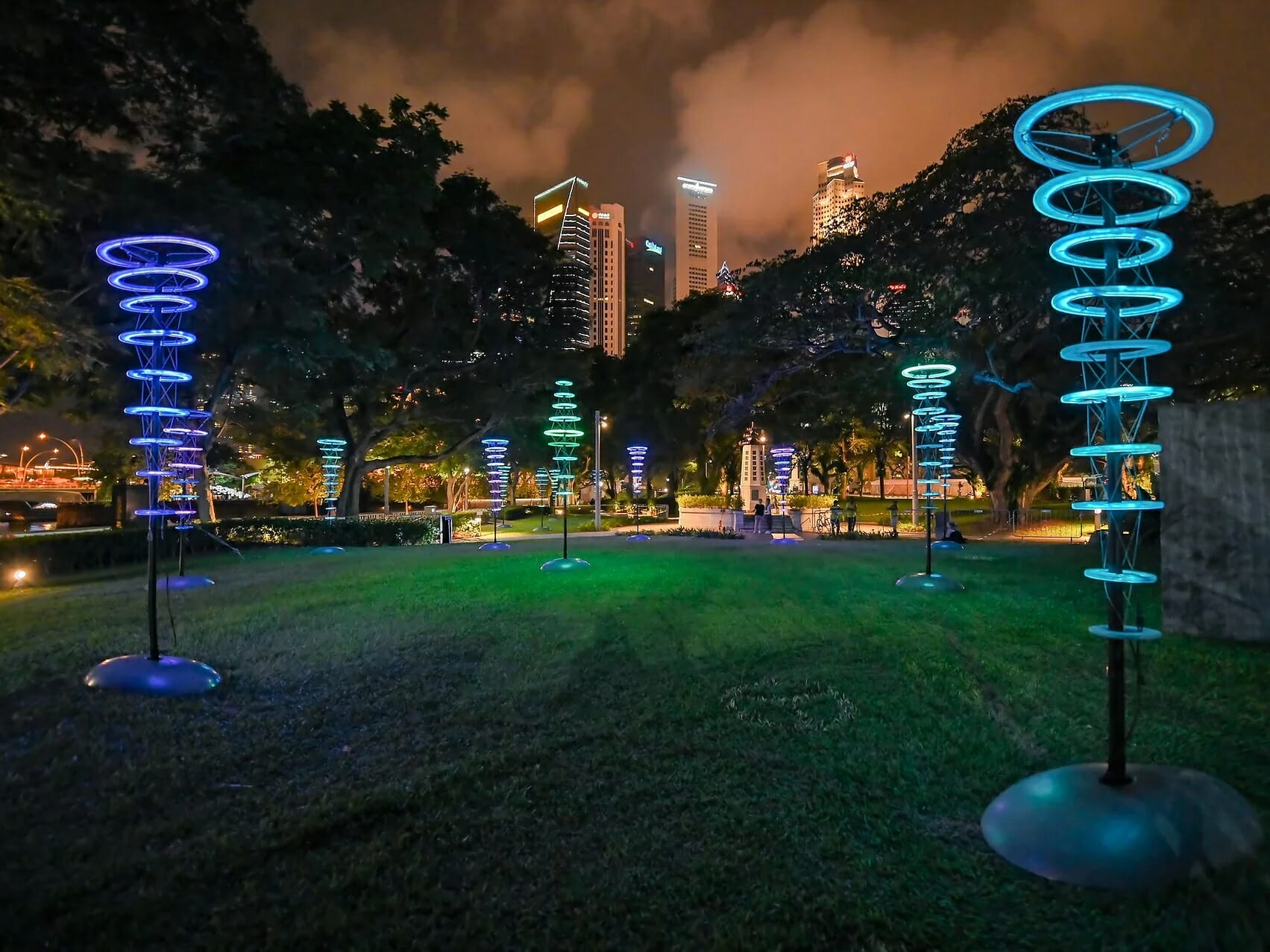 Illumaphonium: Halo – this is a collection of eight, three-metre tall music-making installations that seem to be made up of cool hoops of light. Using digital sensors, they react to passers-by, and connect with each-other to create "ever-evolving patterns of light and music".
London's largest LED tree – this sucker will be 25 meters high, and will contain over 100,000 colourful individual LED lights. You'll find it at the end of a row of 36 newly planted trees, that'll have a flock of 'digital birds' perching on them.
Then there are giant glowing cubes, and huge pulsating heart sculptures, and large-scale street art murals, as well as a few other installations too. There's going to be a Big Switch On party to kick everything off, with a live band, DJ sets, which is completely free to attend too.
NOTE: Winterfest runs from 20th November until 3rd January 2020, and it's all completely free. If you want to attend the Big Switch On launch night, you'll just have to register a ticket right HERE.
Wembley Park | Wembley, HA9
---
Like mind-blowing light shows? You wouldn't have made it this far if you didn't. So here's another.