Magpie's Nest | An idyllic folk and roots festival by the Thames
You know how it goes with magpies.
One for sorrow, two for joy… but throw in a whole nest and you get a blissful afternoon in a secluded riverside garden on the banks of the Thames, surrounded by the sounds of roots and folk music.
Taking place on 3rd June, Magpie's Nest is an intimate festival is from The Nest Collective, the people behind other nature and music mergers like Campfire Club. Folks, who, besides being huge fans of folk music, 'bring people together to experience extraordinary music, rekindling connections with nature, tradition and community'. They've collaborated with well-known London venues like the Southbank Centre, the Roundhouse and Tate Modern, and they've taken over stages at large-scale UK festivals like Shambala and Cambridge Folk festival. They know how to put on an event, basically.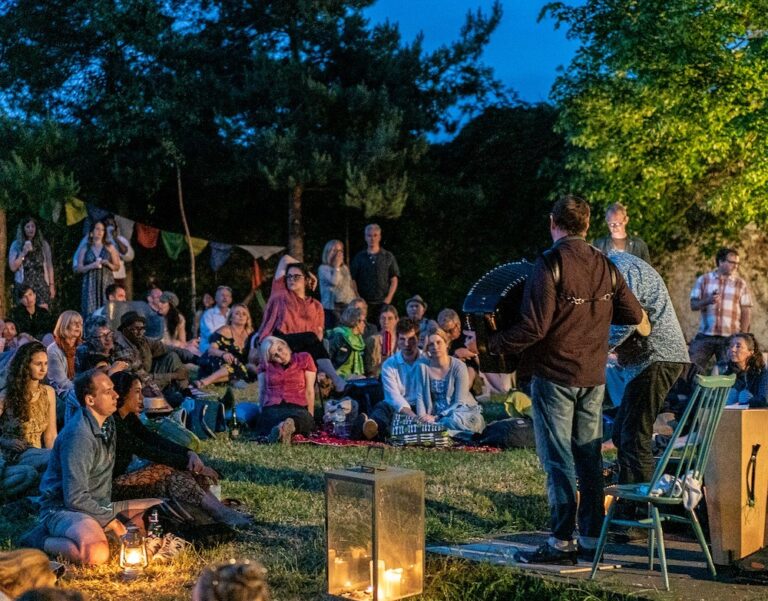 With Magpie's Nest, the idea is to celebrate folk & roots music and the traditions behind it. To do that, they couldn't have asked for a better setting: the Master Shipwright's Palace (a grand 18th century Georgian house by the former royal docks in Deptford). The festivities will take place in and around the grounds, in the house itself and under the trees – which glow with festoon lights as the day turns to night – with campfires, food stalls and a decent amount cider & wine all part of the agenda as well. 
The line-up is performing its part too – with artists representing various corners of the globe. They'll be spread across multiple stages (which you can freely wander between) and include Ryan Young (a Scotsman who is a master of the fiddle); Saije (an award-winning indie duo whose music is said to 'breathe life into heartfelt stories'); Idrisi Ensemble; Faith i Brank; Tommy Khosla & Jawari; and Max Barton. 
In terms of what to wear, expressing yourself with shiny accessories should be fine…
…after all, the threat of birds swooping down to pinch your silver should be pretty low.
NOTE: Magpie's Nest takes place on June 3rd from 3-11pm. A ticket costs £38 – you can get your hands on one here.
Master Shipwright's Palace | Watergate Street, London, SE8 3JF
---
Like discovering unusual things to do? Check out The Nudge's Monthly Agenda