Mao Chow is coming to Mortimer House.
Don't worry though, it's socialism-distanced.
The elegant private members' club in Fitzrovia has played host to a number of top-shelf residencies over the past few months (notably Luke Selby and Supa Ya Ramen) inviting non-members into their plush fifth-floor Living Room to eat, drink, and generally make merry.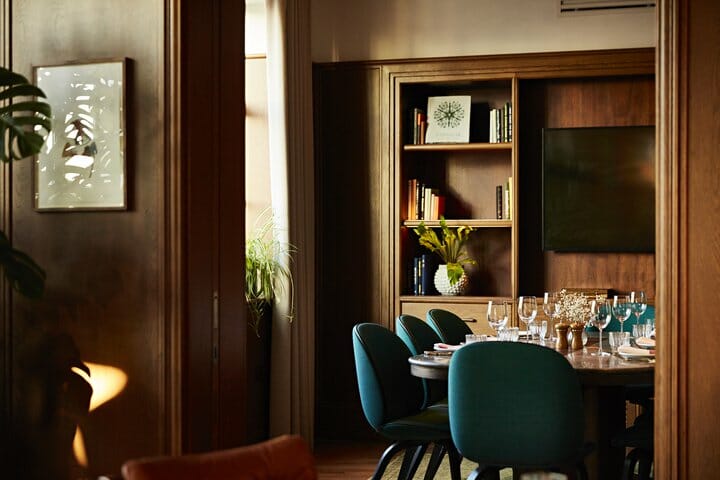 Mao Chow will be their fist since the lockdown started. For those who haven't had the pleasure, it's a quite superb all-vegan Szechuan Chinese eatery in Hackney. They were flirting with the idea of a second venue, but then the world went a little bit topsy turvy, so they've elected to keep things simple with a residency for now. Most of the dishes will be all new, created exclusively for the venue, and will include:
Yuxiang Fried Shiitake Mushrooms – with fish fragrant glaze & crispy Shiitake
Husband + Wife Celeriac – braised celeriac with pickled chilies & toasted rice powder
Roujiamo – cumin mushrooms & green chilli dip encased in a Xi'an flatbread
Lijiang Rice Sausage – with crispy greens & chili oil
Dongpo Tofu – braised tofu with spicy & aromatic ginger sauce with jasmine rice
Xiao Mian – numbing oil and garlic noodles with tempeh & chickpeas
The residency is only slated to last for four days from August 20th to the 23rd. And, should the weather hold out, they'll be opening up the balcony terrace too, so you can soak up some stellar views across W1.
As dining experiences go, it's up there.
NOTE: Mao Chow is popping up at Mortimer House from August 20th to the 23rd. You can make a booking, and see the menu, at their website right HERE.
Mortimer House | 37 Mortimer Street, Fitzrovia, W1T 3JH