Birthdays.
They're often a cause for self-reflection.
And it would appear that Tate Modern's 20th birthday was no different, as it was decided that it ought be celebrated with a year-long exhibition dedicated to the legendary Japanese artist Yayoi Kusama, including two of her world-famous mirrored Infinity Rooms.
No doubt you'll have caught wind of Kusama's work before. However, for anyone in need of a quick refresh, she is a multi-faceted modern artist best known for her continued fascination with polka dots.
According to Kusama, it all started with a terrible hallucination when she was a child. One day she woke up to find herself trapped in a field of flowers all of which were talking to her. The flowers went on and on as far as she could see, gradually blending into just a continuous stream of polka dots. Kusama explains that she felt like she was disappearing, or – in her words – 'self-obliterating'. She felt herself melting, blending into the world and wider universe, which is exactly the sensations she's continuously worked to extend to her audience since.
'Our earth is only one polka dot among a million stars in the cosmos', Kusama says. 'Polka dots are a way to infinity. When we obliterate nature and our bodies with polka dots, we become part of the unity of our environment.'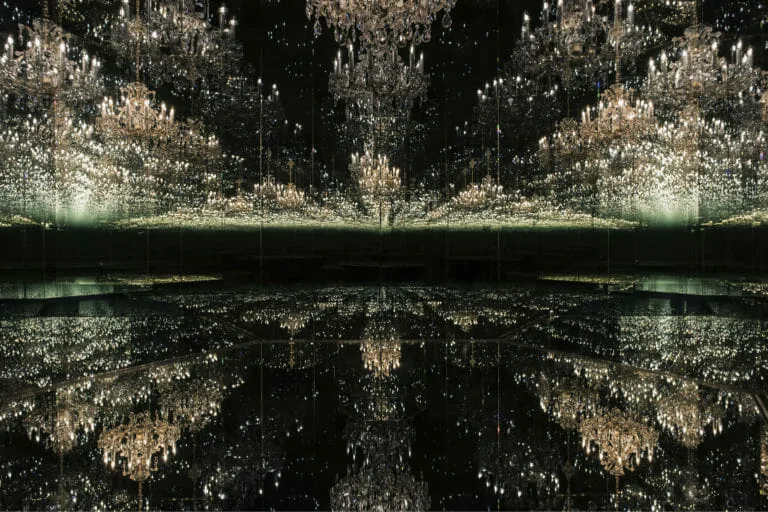 Chandelier of Grief 2016 © Yayoi Kusama
For this particular show, there'll be a small series of photographs, and then you'll get to immerse yourself in two of Kusama's most mind-bending pieces: Chandelier of Grief is a mirrored room filled with a number of rotating chandeliers, created to give you the sense of being at the centre of a boundless, glittering universe. Infinity Mirrored Room, on the other hand, is filled with hundreds of coloured LEDs which, reflected again, and again (and again) making you feel like you are floating in a boundless stretch of star-studded space.
Top that for a birthday party destination.
NOTE: Yayoi Kusama: Infinity Rooms is at the Tate Modern until 28th April 2024. You can get tickets right HERE
Tate Modern | Bankside, London SE1 9TG
---
Like staying up to date with the latest goings on in the art world? Check out what else is on show at London's art galleries.