One Track Minds | Desert Island Discs x TED Talks
For those of you with one track minds…
…no, this event isn't about that.
Instead, it's an uplifting, thought-provoking, life-affirming evening that combines live storytelling with music – resulting in a kind of wild, inspirational mash-up of TED Talks and Desert Island Discs.
Taking place every few months in the crumbling old beauty that is Wilton's Music Hall, it sees an invited panel of Interesting People take to the stage to talk about a song that changed their lives. These interesting people span all careers and walks of life – in the past, they've included The Guilty Feminist Deborah Frances-White; author Lemn Sissay; doctor-diarist-comedian Adam Kay; food critic and jazz musician Jay Rayner; and singer Katie Melua (who, after releasing her debut album at the age of 19 and selling nearly 2 million copies in its first five months, presumably had at least 13 songs that changed her life). And even if there's a few names on the roster you don't recognise, you might just come away with fresh perspectives or insights on topics that you never even knew you'd be interested in.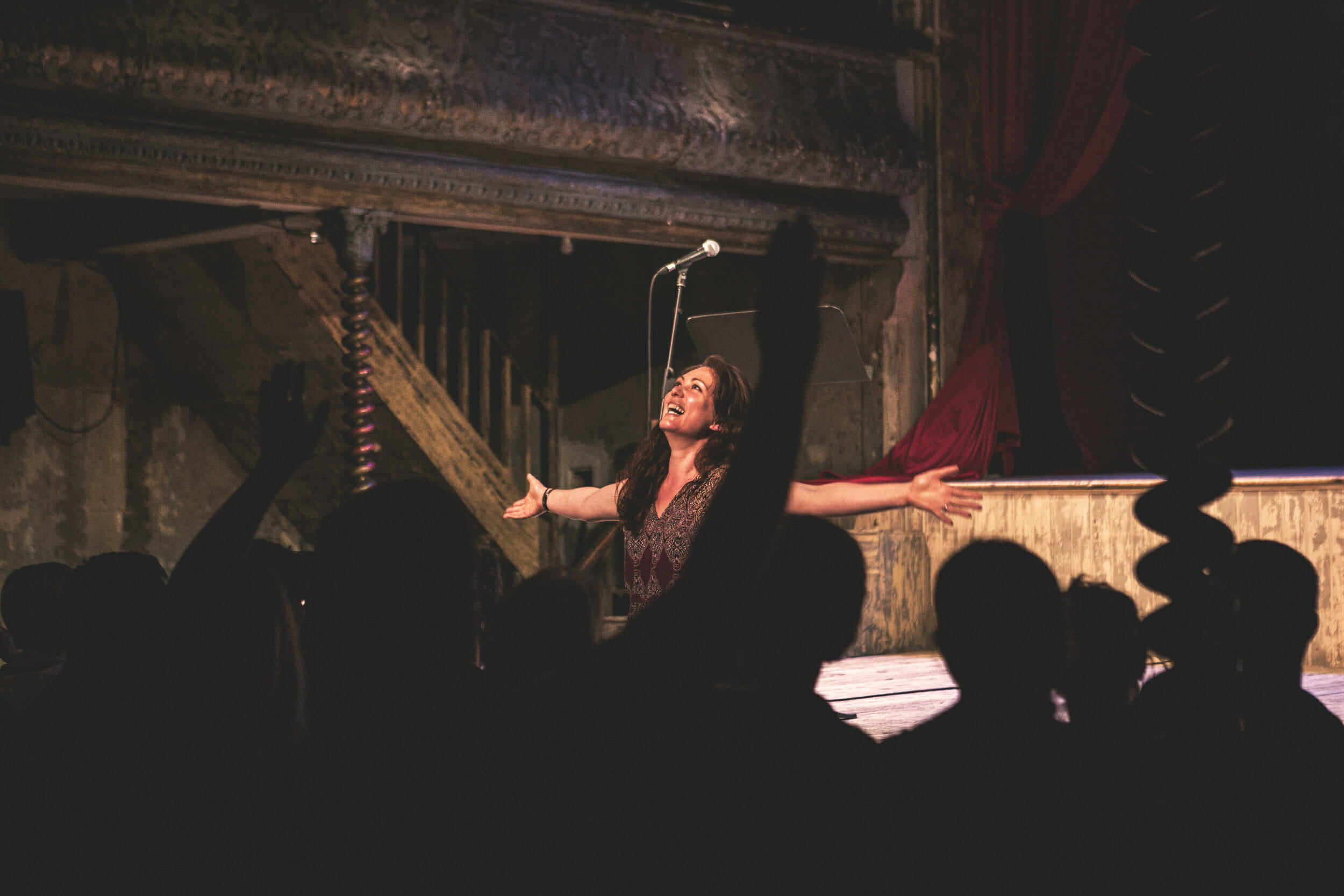 The next One Track Minds show is coming up on 27th March, with a killer line-up in tow. You'll step into the fairy-lit surrounds of London's last remaining Victorian music hall, take your seat, and prepare for a trip down memory lane with…
Patrick Marber, probably best known for writing Closer, but also as an actor, director, author, screenwriter and comedian. Hopefully he'll be able to scrape the barrel for something to talk about.
Kit De Waal, aka Mandy Theresa O'Loughlin, who released her first novel, My Name is Leon, in 2016 after 15 years working in family law, as a magistrate, and on adoption panels. She put some of her publishing advance towards founding a writing scholarship for a disadvantaged student, and is a huge advocate for underrepresented voices in fiction.
John Mitchison, the head of research behind television's QI, which automatically makes him quite interesting;
Fern Angel Beattie, the poet behind The Trouble With Love (From Trouble, With Love); and
David Hepworth, the legendary music journalist who founded (among others) Q, Mojo and Empire magazines; presented The Old Grey Whistle Test and apparently famously provoked Bob Geldof to keep saying "f*ck" during Live Aid.
Each of them will share their stories and what their chosen piece of music means to them, in an intimate and magical evening of storytelling. And you'll leave with a head full of other people's life experiences, from the heartbreaking to the wonderful – as well as a few new songs for your playlist.
You might want to take notes.
NOTE: One Track Minds next takes place on 27th March and 2nd April (with a different line-up) at Wilton's Music Hall. Tickets cost £5.50-13, and you can book them right HERE.
One Track Minds | Wilton's Music Hall, Graces Alley, E1 8JB
---
Like romantic, musical events? Tune in to The Little Orchestra.