My Neighbour Totoro.
You either love it, or you haven't seen it yet.
The good news for those who haven't seen it yet is that the Royal Shakespeare Company's incredibly ambitious theatre adaptation of the Studio Ghibli animated classic is returning to the Barbican Centre later on in the year – this time for 17 weeks (from 21st November all the way to the 23rd March 2024) – following its immediate sell-out last year. Calling the adaptation insanely popular doesn't even begin to do it justice… it currently stands as the Barbican's all-time fastest selling show, smashing the box-office record in a single day.  
The brief premise of the film, without ruining anything, tells the tale of two sisters who head to the country to tend to their sick mother. In doing so, they have a look around the nearby woods, which so happens be an enchanted forest inhabited by a half-cat-half-bus creature (the cat bus) and the titular character, a very large chinchilla-looking thing; a forest spirit named Totoro who treads a fine line between being creepy and cute. It's on many 'best films of all time' lists and widely adored by all ages – young children, teens, nostalgic adults – and should really be seen if you haven't done so already.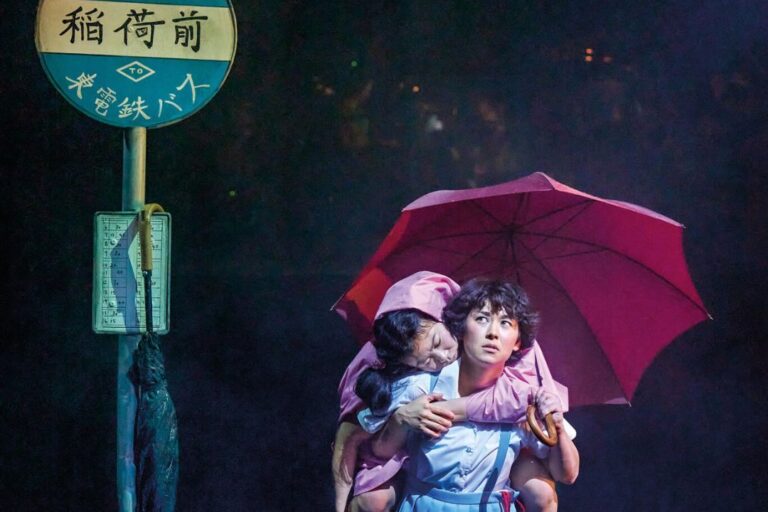 As for My Neighbour Totoro's stage adaptation – written by Tom Morton-Smith and directed by Phelim McDermott – it did okay too… Under sky-high expectations it earned a flood of five-star reviews after the critics took it in, and just recently bagged itself six wins at the Olivier Awards. The film's legendary director Hayao Miyazaki gave it the big thumbs up and it's safe to say that even the most diehard Ghibli fans left happy. 
Expect the same sense of calm yet slight eeriness that the film is famous for; mesmerising set pieces from costumed performers alongside spectacular set designs; music from the man who composed the iconic original score, Joe Hisaishi; and even puppets, of whose involvement is kept top secret to make it more of a memorable moment when you witness them live for the first time. The overall gist is essentially: don't miss it.
Just make sure to be on the ball when tickets go on sale…

NOTE: My Neighbour Totoro will be at Barbican Centre once again from 21st November – 23rd March 2024. Tickets go on sale at 10am sharp, on Friday the 21st of April. You can find out more and book here.
Barbican Centre | Silk Street, EC2Y 8DS

---
Beforehand? See if you can squeeze in a visit to the Barbican Conservatory…