National Portrait Gallery | It's Had a Facelift
The National Portrait Gallery has been out of the picture for way too long.
It's been three years since we've been able to stare at the faces of Britain's most famous (in painting, photo and sculpture form), but now, after a £35 million spruce-up, one of London's best art galleries is back. 
You have to go all the way back to 1896 (40 years after the building originally opened) to find the last time the National Portrait Gallery underwent any major changes, so although the hiatus may have felt like forever to some, it's been a long time coming to say the least.
The newness starts with the entrance (there's a new one at the gallery's north façade), and continues on with a new wing (the Blavatnik Wing) that's spread across nine galleries on the first floor. Both the East Wing (now Weston Wing) and the forecourt have also been sleekly modernised for today's art-gazing standards, but at the same time, have also restored historical and decorative elements from the pre-makeover days.
Thanks to the boost in size, the whole of the gallery's collection is now on display. Filling the space are some 220,000 portraits depicting notable Britons from the Tudor age up 'til the present day. The permanent galleries are free to visit, but there's also ticketed exhibitions that pop up throughout the year: right now you can see the David Hockney (until 21st January) which was cut short by Covid back in 2020, as well as 2023's edition of the Taylor Wessing Photo Portrait Prize (until 25th February).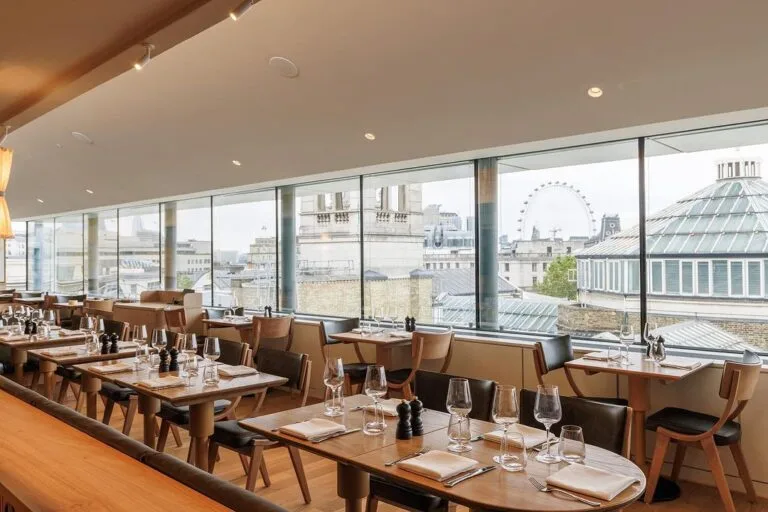 As merely being an 'art gallery' doesn't quite cut it these days, food, drink and an events programme all have prominent roles to play in the NPG's facelift, too. Like its neighbour the National Gallery, there's art after dark (and special events) with weekend hours extending beyond the evenings once the opening frenzy settles down a bit. The Portrait, the aptly-named restaurant with top views over the London skyline, now boasts Richard Corrigan (the Irishman behind Bentley's, Daffodil Mulligan and Dickies Bar) as chef. Audrey Green, meanwhile, a two-floor cafe from the Daisy Green group (Scarlett Green, Darcie & May Green etc), looks after the lunchtime/afternoon crowds. And also it'll tend to those who want to hang around the gallery once it closes as well, as it transitions into a 'sophisticated cocktail bar' late into the night serving drinks made with London's best small spirit producers and their own in-house infusions.
From there the picture gets a little blurry…
NOTE: The National Portrait Gallery is open daily from 10.30am-6pm (with gallery hours extended until 9pm on Friday and Saturday). Entry is free, but you can book for the temporary exhibitions right here.
The National Portrait Gallery | St. Martin's Place, London WC2H 0HE

---
Art lover? See the best exhibitions on in London now