Neighbourhood Cinema | Frozen Island
Neighbourhood Cinema is a roving, pop-up cinema that roams from one interesting place to the next showing classic films.
Truly, they are moving pictures.
And for the winter, they've marooned themselves on a frozen island. In Covent Garden. It's in the normally lush, slightly OTT (in the best way) Tropicana Beach Club, which has been given a blue-hued frosty makeover for the festive season: the palm trees are covered in snow, the blue lagoon dance floor has become a shimmering lake of ice, and the cabanas have transformed into Alpine cabins. There's even snow falling around you.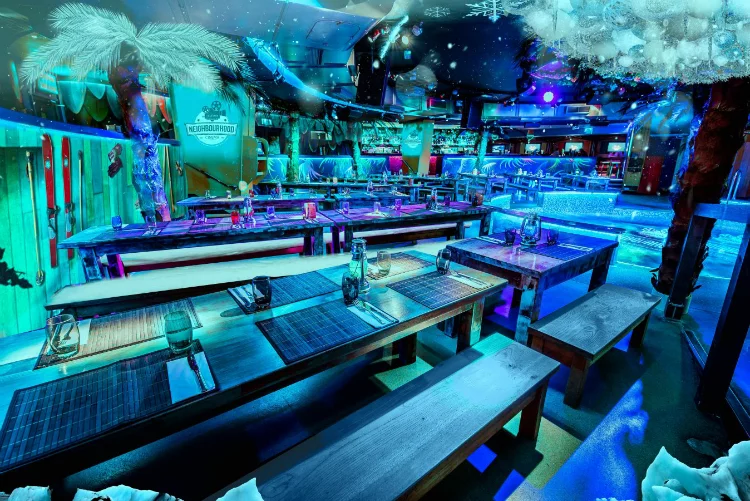 The big screen has been set up on the main stage, and will be showing flicks like The Muppet's Christmas Carol, Home Alone, Love Actually, Elf, Cool Runnings, The Polar Express and …a Greatest Showman sing-a-long. Among others. There will be frozen cocktails, non-frozen popcorn, and Christmas sliders to snack on while watching.
And if you fancy taking that whole experience up a massive notch, then you can spring for one of the Alpine cabins we mentioned: they come with their own private screen, a bottle of bubbly, and a menu of huge winter-themed sharing cocktails.
Which all sounds quite 'ice.
NOTE: Neighbourhood Cinema's Frozen Island runs from now until January 27th. You can find out more, and get a ticket at their website right HERE.
Tropicana Beach Club | Parker Street, London, WC2B 5PW
---
Like pop ups? Then check out the best in London right now…