In the summer of 2006, teenager Lee Denny's parents went on holiday.
So, naturally, he decided to hold a music festival in the back garden while they were gone. He called it Leefest.
There were only seven bands, and 150 people, but all the money raised went to charity. The next year, he did the same thing, and the year after… until by its 10th anniversary, it had dozens of acts watched by thousands of people, in a huge space that became known as 'mini Glastonbury'.
Now, it's going to rebrand itself for its biggest, most spectacular event yet: Neverworld. Set in a huge Kent forest around 40mins outside of London it's part festival, part immersive experience, and it's going to be absolutely incredible. Here's what they have going on:

THE MUSIC BIT
There'll be hundreds of artists across 11 stages, playing 24hours a day, including big names like Bastille, Clean Bandit & Sub Focus, along with rapidly rising stars like Declan McKenna, Tom Grennan and Rae Morris. As part of the ethos of the festival in fact, most of the bands will be new, up-and-comers.

THE IMMERSIVE BIT
The whole festival is going to be split up into three separate areas (or 'magical realms') based loosely on the Neverland of Peter Pan: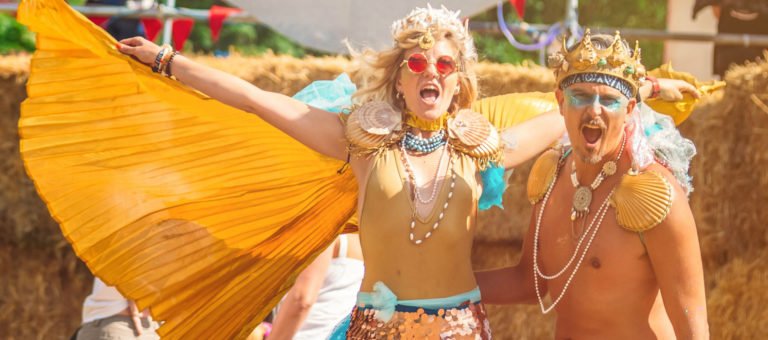 The Neverwoods is home to The Lost Boys tribe, and it's where you'll find the main, fireworks-equipped Fortress Stage, as well as the Circus Stage (housed in a circus tent), the mini Wendy House (for acoustic sets & comedy gigs), a bar in the form of Tinkerbell's Pop House, and a colossal campfire.
The Mermaid's Lagoon features actual mermaids, as well as a real beach with 100 tonnes of sand, the Rainbow Rooms Drag Club, Tiger Lily's cocktail bar, and a Vegas-style, neon-soaked Strip.
Skull Ridge is run by a band of pirates, and has an underground club (literally) in the form of The Goldmine, a pair of dive bars, a risqué cabaret club, and a games arcade called Pieces of 8-Bit.
THE OTHER BITS
Woo boy. There's a lot to get through, so we'll restrict it to the best stuff. Aside from all of the greatness listed above, there'll also be street food, with literally dozens of traders including Van Dough pizzas, Burrito Boys, Westlands BBQ, Brighton Gelato, and even a shisha lounge. Add to that a paint fight, some glitter wrestling, a beach party, drag club, some circus sideshows, regular sets from big-name DJs, and toooons more.
Consider it a holiday from reality.
NOTE: Neverworld is taking place from 2nd-5th August, 2018. Tickets cost £68-£135 (and are selling very quickly, so get on it before they run out), and are available right HERE.
EXCLUSIVE DISCOUNT: Nudge readers are getting 10% off tickets. Use the code NUDGE10, or have it applied automatically by clicking the link right HERE.
Neverworld | John Darlings Farm, Wilderness Lane, Hever, Kent TN8 7LP
---
Like Theatre? Check out our guide to The Best London Theatre Shows right now.