NFL Kickoff On Piccadilly | A Free NFL Festival In London
American Football is about to touchdown on Piccadilly.
It's taking the form of an epic, free, day-long festival celebrating the start of the NFL season this September.
Because as you may or may not be aware, the NFL have actually been playing a number of games in London stadiums since 2007* – and to celebrate this year, they're closing off Piccadilly to traffic and transforming the area into an extravaganza of NFL-inspired games and activities, live entertainment and street food.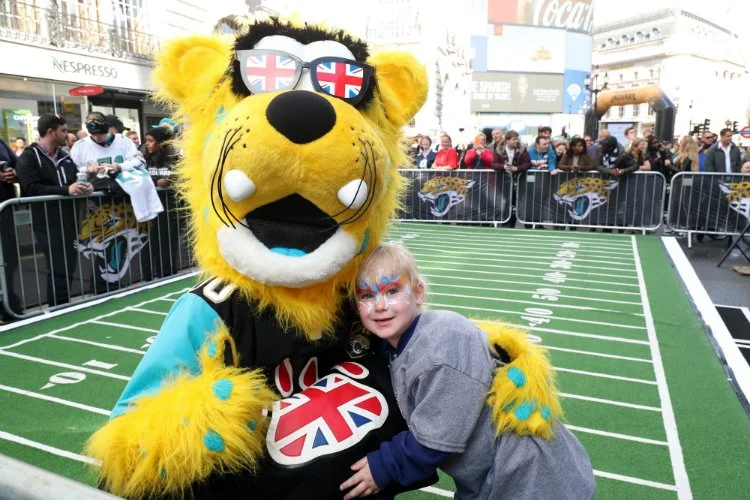 Specifically:
A music and entertainment stage with exclusive inner circle performance by The Vamps.
A dedicated team 'tailgate' area with trucks from across the pond
A load of NFL-themed games and activities (including an NFL mini-pitch for kids)
Roaming cheerleaders and NFL mascots.
Meet-and-greets and Q&A sessions with some of the league's biggest players, and
Street food stalls plating up classic American game snacks.
Plus, the commentators covering the games taking place in London later this year – BBC's Mark Chapman, Osi Umenyiora and Jason Bell, and Sky Sports' Neil Reynolds – will also be making an appearance, giving their analysis over a giant screening of last season's Super Bowl, when the Philadelphia Eagles beat the New England Patriots. And if you're a true sports fan, there's plenty of live podcasts, panels and other screenings to check out, including this year's annual NFL documentary, America's Game, at their pop up screening room, NFLUK Theatre.
But even if you're just heading down to grab some food and watch the game…
You'll be super bowled over.
NOTE: NFL Kickoff on Piccadilly takes place on 8th September, 12-6pm, and is free to attend. You can find out more on their website right HERE.
ALSO NOTE: Register now for your FREE NFL Event Pass to make sure you don't miss any of the exciting experiences at NFL Kickoff on Piccadilly. With NFL Event Pass you'll get access to a range of activities on the street, receive free gifts from NFL partners, plus be entered for chance to win a number of incredible prizes on the day. Register now HERE.
*This year, you can catch Seattle Seahawks x Oakland Raiders at Wembley, 14th October; Tennessee Titans x LA Chargers, 21st October; and defending champions, the Philadelphia Eagles x Jacksonville Jaguars on 28th October.
---
Like sports? You should acquaint yourself with London's top activity bars…