In a tiny old shop in a mock Tudor building in Holborn sits a penny arcade.
And we can guarantee you won't have encountered games like these before.
Novelty Automation describes itself as a satirical arcade, filled with hand-made slot machines that take the usual tropes from the likes of Zoltar fortune-telling machines and classic seaside arcade games, and turns them completely on their head. Very, very rarely do they do what you expect them to do.
They're the brilliant inventions of engineer and cartoonist Tim Hunkin, who builds most of them by hand in his workshop. What started as a side project for the (dearly departed) Cabaret Mechanical Theatre in Covent Garden soon turned into a full-time job, fuelled by the surprising revelation that "people were enticed to follow weird instructions".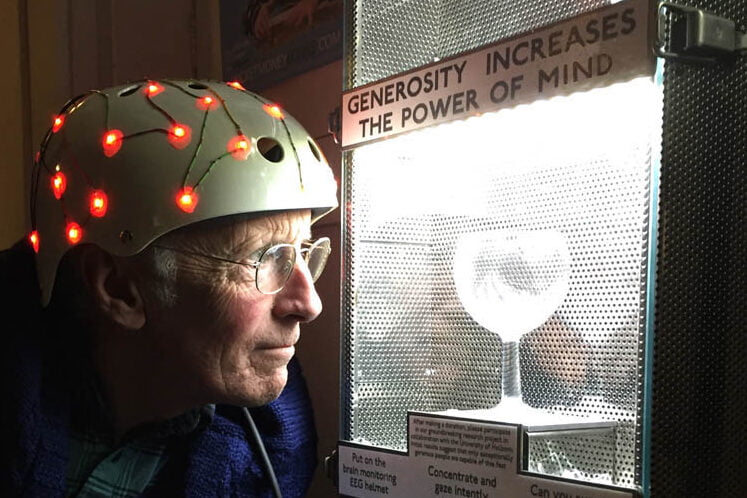 There are currently 33 games on offer, although the line-up changes frequently as Hunkin comes up with new ones and brings in guest machines from other makers. Currently, you can attempt to win yourself a Nobel Prize by taking a shot on the Small Hadron Collider; use bicycles to power a classic game of Pong; play an exhilarating game of Pet or Meat with an adorable lamb; test your mettle by sticking your hand into a cage with a slobbering guard dog; present objects to a leading authority to discover whether or not it is, indeed, art; and battle over custody of the kids in everyone's favourite light-hearted game, Divorce.
It's an institution that speaks to our long and illustrious history of being an extremely silly nation. Each game only takes a token or two to play, but we can guarantee you'll end up spending much longer than you'd expected there.
It's quite the novelty.
NOTE: Novelty Automation is open Tues-Sat, 11am – 6pm (12-8pm Thursdays). There is also a pop-up bar that runs on the first Thursday night of each month. There's no need to book ahead; just turn up. You can find out more HERE.
Novelty Automation | 1a Princeton Street, London, WC1R 4AX
---
Like visiting quirky places? Check out these unusual London museums