Something in Greenwich Peninsula that isn't the O2.
That's a breath of fresh air.
NOW Gallery is housed in a huge glass horseshoe (which almost always has a large-scale installation visible from the paving outside). And unsurprisingly, given the name of the place, the installations are all about cutting-edge, contemporary art; but it's also art that's thankfully accessible and unpretentious.
NOW Gallery's exhibition space is huge, allowing for them to put on some of the city's largest walk-through installations. They typically put on five different shows a year, including three solo shows from the worlds of art, fashion, photography, and design. They tend to focus on up and coming artists – in fact, their mission statement is to "champion emerging designers and new schools of thought", and helping them to "experiment with unusual exhibition and display formats". Oh, and keeping it all free.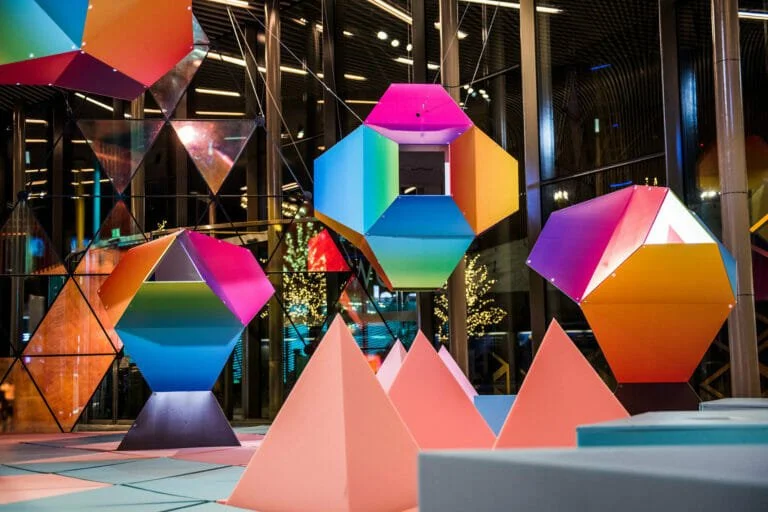 Up next is Greetings From Ireland (8th December – 25th February 2024), NOW Gallery's annual fashion commission. They've invited Dublin designer Robyn Lynch to create a walk-through of her design process, from research to the community formed around her tongue-in-cheek menswear label. You'll even be able to virtually try on garments using motion sensor technology. Oh, and the whole thing's essentially contained in a giant bouncy castle.
But besides exhibitions, NOW Gallery also holds events, talks, lates, live music, and even the occasional fashion show, too…
You might even forget that the O2 is even there.
NOTE: NOW Gallery is open Tues-Sun. It's free to visit, and you can see more info on current and upcoming shows at their website right HERE.
NOW Gallery | The Gateway Pavilions, Peninsula Square, Greenwich Peninsula, SE10 0SQ
---
Take a look at these other great free things to do in London