'Tis the season to be jolly.
Almost.
And so we're kicking it all off on Saturday 2nd December with a massive Nudge Winter party in a secret, beautiful, abandoned church on Shaftesbury Avenue with booze, canapés, DJs, live music and dancing 'til late.
And you're invited…
It's all happening inside Bourne & Hollingsworth's literally-impossible-to-get-into Winter House, which'll be hosting a number of private Christmas events for companies throughout December – events that are likely to involve a combination of Harry Potter-style banquets in the Grand Hall; dinner parties in the balconies; DJ-fuelled cocktail & canapé receptions; live music gigs; and secret parties in The Crypts. We, however, are taking the entire place over and doing all of the above in one big wintery night out.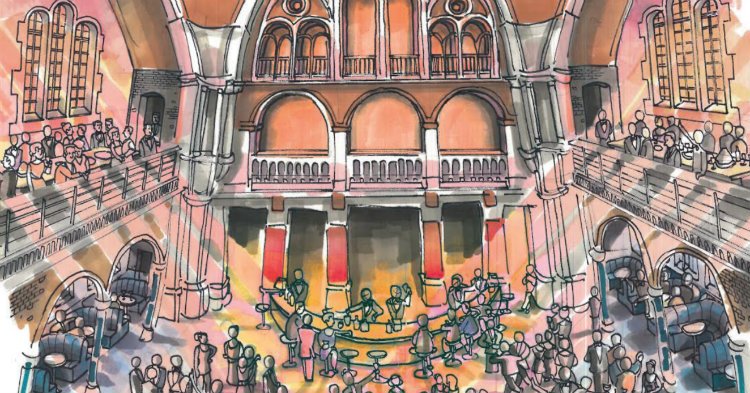 The place itself is filled with staggeringly lofty ceilings, secluded cloisters, sumptuous furnishings, garlands of twinkling fairy lights and, most importantly, lots of booze that needs to be drunk. So you'll be getting a glass just for walking through the large gothic doors. Champagne, naturally. But that's just for starters…
There are three different types of ticket, with a limited number of each available. So gather ye friends while ye may… 
---
1) The Banquet: £60 = Entry + Welcome Champagne + 3 Course Candlelit Feast In The Grand Hall + Party
2) Champagne & Canapés: £35 = Entry + Welcome Champagne & Extremely Generous Canapé Reception (It'll Be Like A Meal, Basically) + Party
3) Crypts: £20 =  Entry + Welcome Glass Of Champagne + DJ In The Crypts + Party In The Grand Hall
---
In summary it's going to be a big old winter party in a beautiful venue with DJs; live music; cocktails; champagne, all of your friends…
….and hopefully, you.
Unfortunately we've totally sold out of tickets for the Christmas party, begged for more, and been told no. However, if you don't yet have tickets and are keen to come please email editor@thenudge.com and we'll add you to the waiting list in case anyone drops out. 
TICKETS: Now on sale HERE (or in the box office on this page)
DATE:  2nd December 2017 | 6:30pm -12am
DRESS CODE:  Dress To Impress (It's A Party)
NOTE: If you have any questions (or if you miss out on tickets and would like to join the waiting list) please email Editor@TheNudge.com
Please note that if you're booking dinner tickets and would like to sit with friends, you must ensure that you book tickets in the same area (either the North, East or West Balcony, or the South Cove). Please also note that if you book dinner tickets we'll then email you for dietary restrictions etc.
The Nudge's Christmas Party | The Winter House, 136 Shaftesbury Avenue, W1D 5EZ
---
Looking for something to do in the run-up? How about checking out our pop up guide.