We've found London's greatest escape artists.
They're the people behind Otherworld, an all-new immersive virtual reality arcade & bar in East London.
"But wait," you quite reasonably interject, in this imaginary scenario, "aren't all virtual reality experiences kind of immersive or whatever? What makes these guys so special?" Well, no. Because at Otherworld you go far beyond just slapping a smartphone against your nose. Allow us to explain:
First off, you'll enter the arcade itself – it's in an old railway arch which they've transformed with neon-soaked, cyberpunk details, and filled with cool-looking cylindrical chambers. These are called the 'immersion rooms', and you and your buddies will each get your own one. Don't worry though, you'll all still be able to hear each other.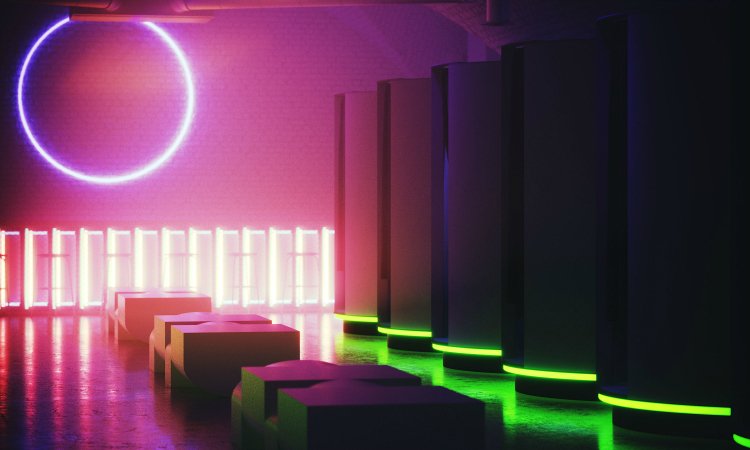 Inside they're rigged with multi-sensory widgets that'll make everything that little bit more immersive, meaning you'll be able to "feel the sun beat down on your face as you emerge from the cave, feel the wind in your hair as you slide down a vast mountain and feel the thud beneath your feet of a new land to explore." You'll strap on your state of the art VR headset, and dive in.
There are 16 games to pick from in total, meaning you can "paint in 3D with light and fire"; dance with lightsabers; climb a full-scale Everest; "stride the earth like a giant" in Google Earth VR; blow up robots with laser cannons in Space Pirate Trainer; fight zombie hordes in Arizona Sunshine; and play a surreal game called Accounting Plus which they apparently "can't explain".
After the games, you'll be able to decompress in either the Otherworld bar/restaurant or their First Class Lounge, which is like a private dining room… only it has 360 degree art projections animating your surroundings, and a self-serve beer tap pouring house-brew lager. The food all comes from Lords of Poké (and includes poke bowls, Hawaiian pulled-pork tacos, teriyaki sliders, etc.) and the cocktails have all been designed by an ex-Milk & Honey mixologist. And then?
It's back to reality.
NOTE: Otherworld is now open. You can find out more, and make a booking at their website right HERE.
Otherworld | 336 Acton Mews, Haggerston, E8 4EA
Last Updated: 24th April 2019
---
Like bars with games? Here are the best activity bars in London…