Pizzas.
They're hard to top.
Unless someone shows you how to do it properly. And the people at Pizza Pilgrims are going to do just that with their new series of Dough It Yourself pizza parties and masterclasses held at their game-filled West India Quay branch.
You'll arrive, and be handed a friggitoria (it's a kind of Neapolitan street food) plus a glass of prosecco or beer to pair with it. The class will start once everyone's settled in, and you'll be shown how they make the dough, then using one they made earlier you'll get the chance to throw it yourself, top it, cook it and then eat it (we assume you're a dab hand at the latter already). Of course, you'll also have another drink in hand while you make the pizza, and yet another whilst you eat it.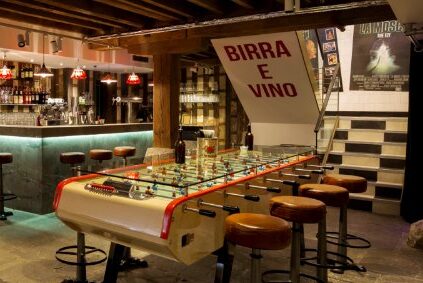 At the end of the session, you'll get a shot of Pococello (it's their own version of limoncello) and a Nutella pizza ring. But wait, there's more – you'll also get some more dough to take away with you for making more pizza at home, as well as some "Pizza Pilgrims goodies". Which, under normal circumstances…
…means pizza.
NOTE: Pizza Pilgrims Dough It Yourself Pizza Parties take place regularly on Tuesdays. Tickets start at £40 and are available HERE.
Pizza Pilgrims West India Quay | 12 Hertsmere Road, E14 4AE
---
Like pizza places? Then check out L'Antica Pizzaria Da Michele…