Rooftop Film Club | High-Altitude Flicks
Rooftop Film Club is back.
Which is good news, because now, when people ask us the question, "Where should I go to watch a selection of both the best classic and new release films under the setting sun and into the starlit night, with deckchairs, and a bar?" (as they often do) we no longer have to politely deflect and change the subject.
They're setting up on the rooftops at Peckham's Bussey Rooftop Bar & Roof East in Stratford, both of which are equipped with plenty of street food (pizza from Share-a-Slice, stuffed Turkish flatbreads from Piddaji, tacos from Papi Chulo, etc.), as well as bottomless popcorn, cocktails & craft beers, deckchairs, love seats, and very handy wireless headphones. RFC is one of the godfathers of London's outdoor cinemas, and being set on rooftops, the view is almost as good off screen as on it.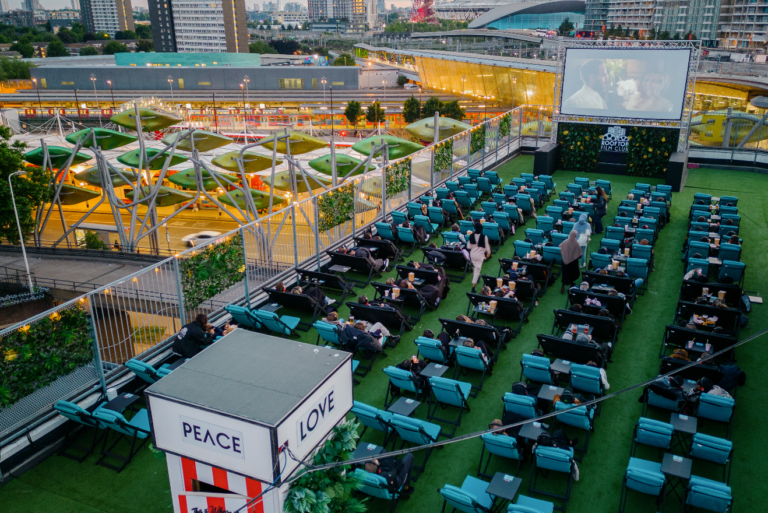 The 2023 season commences from 28th April at Roof East, and 1st May at the Bussey Building.  The line-up covers all bases: you've got this year's Oscar winner Everything Everywhere All At Once; soppy rom-coms The Notebook and Notting Hill; big blockbuster Top Gun: Maverick; recent films that have generated buzz, like Cocaine Bear, The Whale, AIR and Creed III; and a boatload of cult classics like Dirty Dancing, Romeo + Juliet and Fight Club. And, let's be real, no self-respecting film club can call itself a 'film club' without a special screening of The Big Lebowski. So there'll be one of those at the Bussey Building on 28th May with Sheep Dog Peanut Butter Whiskey and a 'bring your dogs' policy.
It should be pretty good, man…
NOTE: Rooftop Film Club returns from 28th April. Tickets are now on sale right HERE.
ALSO NOTE: You can find our massive list of every outdoor film screening in London this summer right here.
Rooftop Film Club | Bussey Building, Peckham | Roof East, Stratford
---
Raining today? Here are the best indoor cinemas in London.