Scoop: A Wonderful Ice Cream World
An immersive ice cream exhibition is coming to London this summer.
And we've got the scoop.
It's coming to you from the specialists in experimental edible experiences, Bompas & Parr – who you may recognise from such pop-ups as Drive Thru, Dinner at The Twits, and Alcoholic Architecture – that time they filled an entire room with an alcoholic cloud.
Next month, they'll be unveiling their very own British Museum of Food in a converted King's Cross gasworks – and for their inaugural exhibition, they'll be exploring the past, present and future of ice cream (spoiler: apparently it involves fizzing).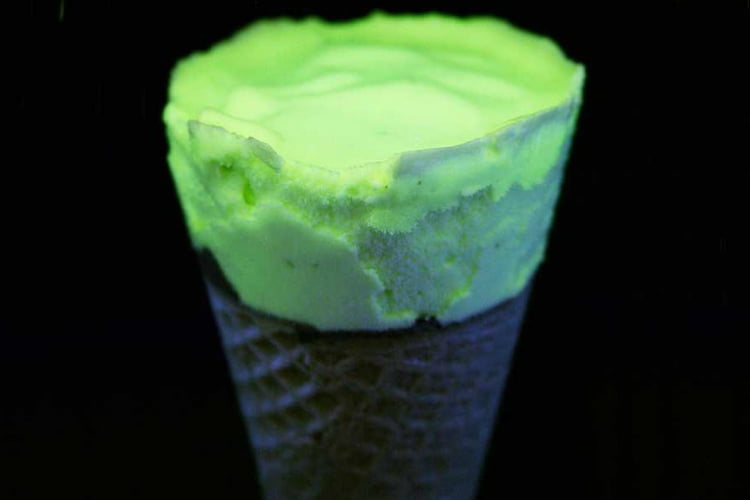 There'll be obscure ice cream paraphernalia plucked from the private collection of globally recognised ice cream authorities, Caroline and Robin Weir; Warhol prints alongside the first recorded drawing of an ice cream cone; and a detailed explanation of the neuroscience of brain freeze. And for the strong-spirited, there's even an 18+ section that explores the dark side of ice cream – namely the turf wars that broke out between two rival ice cream vans in 1980s Glasgow, in which 6 people died.
But, of course, being Bompas and Parr, they're not displaying any of this in a 'normal' sense.
Instead, you'll be invited to walk down aromatic corridors and into luminescent caves filled with glow-in-the-dark ice cream. You'll breathe in vanilla-flavoured fog, and taste daffodil ice cream from the 18th century (freshly made, according to old recipes, that is). And you'll naturally wrap up by stepping into a sub-zero ice chamber, before attending a tasting class with a Victorian ice cream cookery student, admiring a fountain of hundreds and thousands, and sitting down with an all day breakfast ice cream in the Conehenge café.
Sounds like an excellent way to spend a sundae.
NOTE: Scoop: A Wonderful Ice Cream World will be showing at Gasholders in King's Cross from 3rd July – 30th September. Tickets cost £12, and can be reserved on their website right HERE.
British Museum of Food | Gasholder 11, 1 Lewis Cubitt Square, N1C 4BY
---
Like ice cream? Then you probably need these ice cream macarons in your life