For those wondering, this is not Slytherin's hangout spot.
It's an innovative pair of gallery spaces located in the idyllic Kensington Gardens, perched on the other side of the Serpentine Lake from Hyde Park.
The Serpentine has presented pioneering exhibitions, live events, architecture and more for half a century, showcasing both emerging and internationally recognised contemporary artists for free, all-year round. The galleries are situated a convenient five minutes walk from each other, on either side of The Serpentine Bridge, and have full disability access and facilities. The original South Gallery, established in 1970, exhibits from within a Grade II listed former tea pavilion; and The North Gallery, only going since 2013, is housed in a Grade II listed former gunpowder store. But despite their historic settings, what's inside – and out – is cutting edge stuff.
See, each year, The Serpentine also commissions a different artist or architect to design an outdoor pavilion. It's become the highlight of the architectural calendar since Zaha Hadid's first Pavilion back in 2000, and if you're visiting between June and October, it's not to be missed. This year it's the turn of Lina Ghotmeh, whose installation À table invites strangers to get around a circular table and discuss our relationships with food and the environment.
Back indoors, The Serpentine Galleries have heaps of cool free events and exhibitions throughout the year, with a distinct taste for the futuristic. Currently on show you'll find Third World: The Bottom Dimension, an experimental video game and exhibition concerned with world-building and decolonialisation.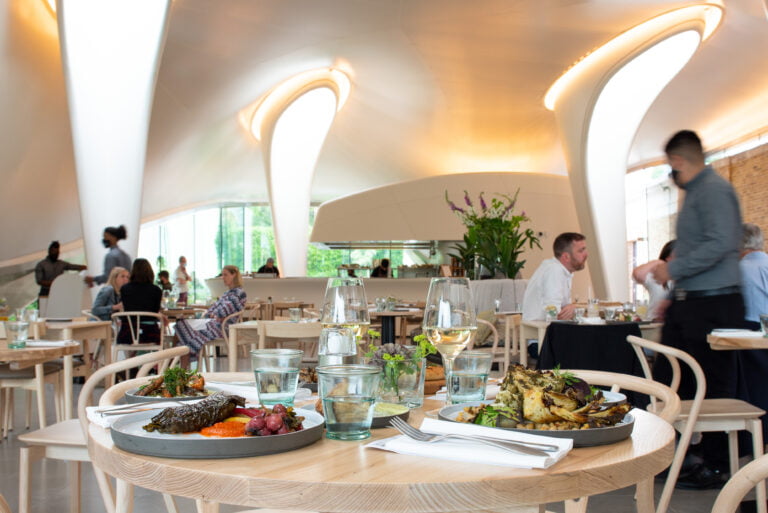 Between gallery hopping, take a break at The Magazine restaurant, housed in a striking Zaha Hadid-designed extension. Combining exquisite culinary delights from Slovakian-born chef Tomas Kolkus and a minimum-waste contemporary menu, it's guilt-free dining…
…at its finesssst.
NOTE: The Serpentine Galleries are free to visit and are open Tuesday – Sunday (and bank holiday Mondays). You can find out what's on right HERE.
Serpentine South Gallery, Kensington Gardens, London W2 3XA | Serpentine North Gallery, West Carriage Drive, London W2 2AR
---
Love art? See what's on at every London art gallery right now