If you were just thinking how nice it would be to attend an outdoor party with live music, bunting and garden games…
…then this must be fête.
Because Soho's annual al fresco knees-up — held in the bucolic setting of St. Anne's Gardens on Wardour Street — is back with its inimitable mix of top-quality restaurant pop-ups; non-stop live entertainment; and snail racing.
Now in its 47th year, the Soho Village Fête started out as a bid to protect the area, which was at risk of being bulldozed in the 1970s. Now, it's an entrenched summer tradition whose proceeds still go towards supporting local businesses, schools and residents (yes, there are some)… but is, most importantly, just really fun.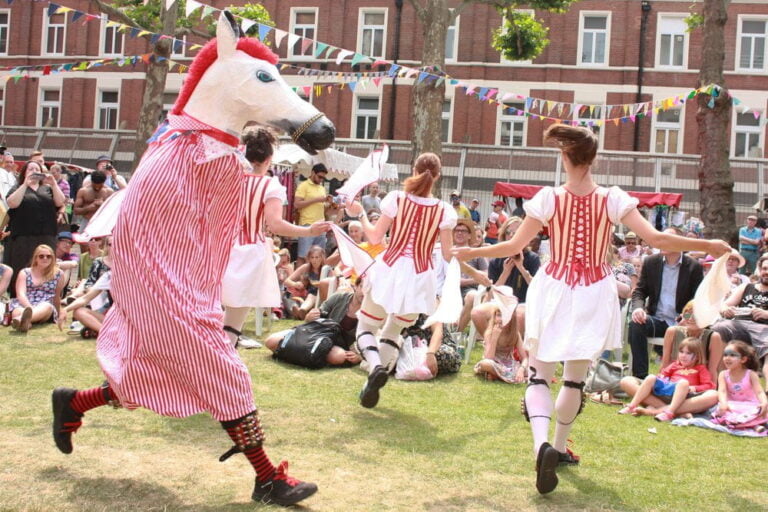 Meander down to the leafy gardens on Sunday 10th July and in between sampling street food dishes from Soho's finest restaurants you'll be able to refresh yourself with a little Cidre Breton from the French House pop-up bar; enjoy long-standing traditions like the spaghetti-eating contest and Soho Police vs Soho Fire Station tug of war; try your luck on the Human Fruit Machine; enter your pooch into the Soho Dog Parade; stock up on raffle tickets (prizes include dinner for two at Lina Stores and Bocca di Lupo); witness a fleet of servers in full black tie race down Dean Street while carrying trays of Champagne; and gamble on the nail-biting denouement of the equally thrilling snail race.
Which, needless to say, is on all afternoon.
NOTE: The Soho Village Fête takes place on 10th July, 12-6pm. Entry is free, but it helps the organisers if you register your interest HERE so they can plan for numbers. Raffle tickets & dog show entry can be bought HERE.
Soho Village Fête | St Anne's Churchyard, 55 Wardour Street, London, W1D 6HW
---
Want to make the most of the summer? Check out our run-down of 75 outdoor date ideas