Ah, the Southbank Centre.
So much more than just a Convenient Central London Loo.
Perched overlooking the Thames, this celebrated arts hub has been a fixture of the riverside since – well, the Southbank itself was created, back in 1951. With exhibition spaces, libraries and ballrooms designed around a 2,700-seat auditorium like "an egg in a box", it's now Europe's largest centre for the arts, comprising three performance venues and the renowned Hayward Gallery.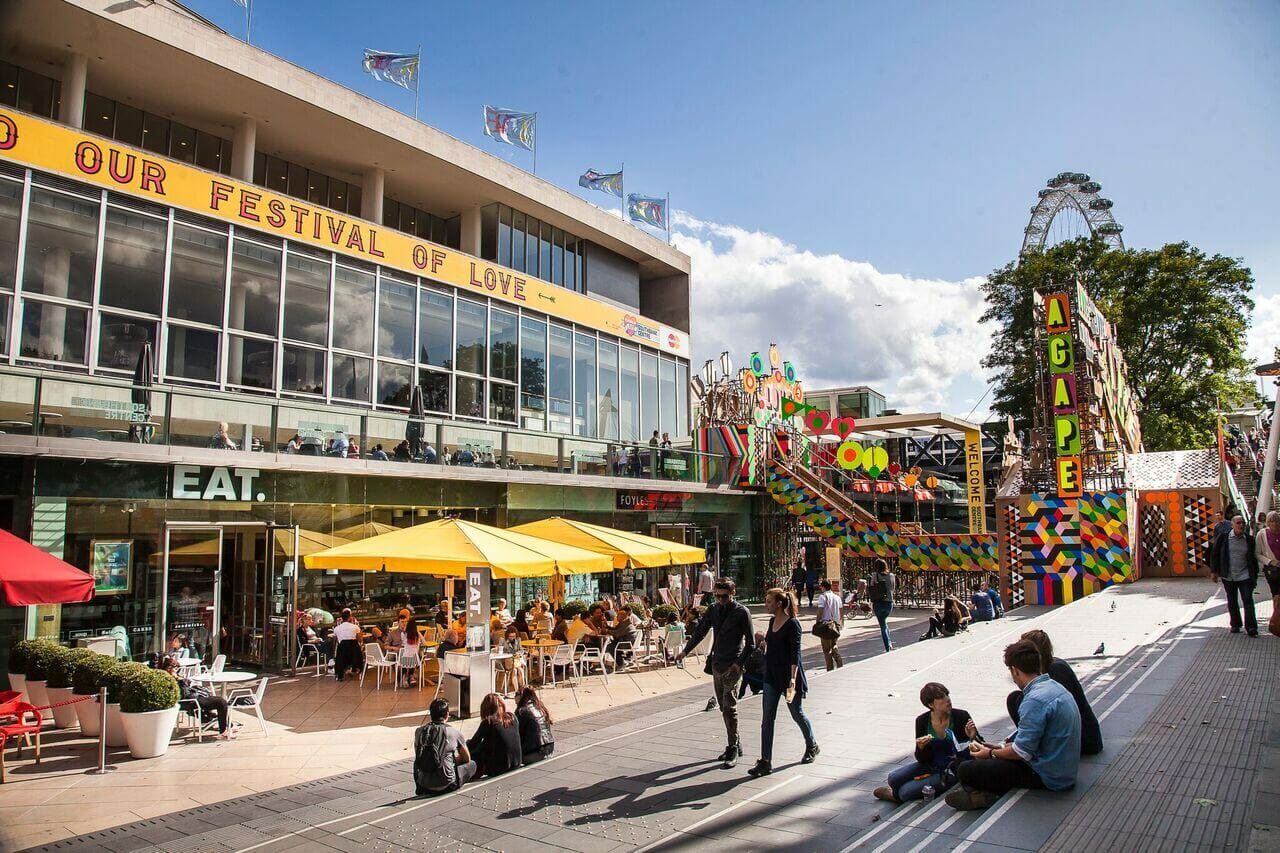 The original building is the Royal Festival Hall, which – aside from said auditorium – now has a bustling street food market round the back; a sprawling terrace bar overlooking the river at the front; and a huge café/bar inside, where you'll often stumble across impromptu live music. Here you'll also spot the ballroom, a sunken dance-floor that really comes into its own at the Southbank Centre's annual retro new year's eve bash.
Upstairs, meanwhile, is the archive studio – where you can leaf through old flyers from the 50s or watch vintage recordings – and the National Poetry Library, with 200,000 loanable volumes on its shelves, which plays host to live readings, book launches and exhibitions.
To say the programme at the Southbank Centre is varied is an understatement. They stage over 2,000 performances and events every year, with just as many that are entirely free to attend. We're talking:
ART – the Hayward's home to solo and group exhibitions showcasing the best in modern art, from Roy Lichtenstein retrospectives to an exhibition entirely focussed on sound art;
MUSIC – classical music's covered by not one, but four resident orchestras (including the London Philharmonic) as well as visiting virtuosos like Chineke!, the critically acclaimed ethnically diverse ensemble;
MORE MUSIC – spanning every other possible genre, from the Brazilian bossa nova of Bebel Gilberto to Mali's husband and wife duo, Amadou & Mariam, alongside pop legends like Goldfrapp and Grace Jones;
PERFORMANCE – We're talking circus, cabaret, comedy, spoken word and dance from big names like Stewart Lee and Akram Khan;
TALKS – including podcast recordings, one-of-a-kind events like Letters Live, and interviews with the likes of Grayson Perry and Tim Peake; and
LOADS OF OTHER STUFF, from the annual Women of the World festival to courses, workshops, panels, parties, and pop-ups.
Not to mention the fairy-lit Christmas market that pops up by the river each year, the "world's longest continually-used skate park", a secluded rooftop garden, a swanky restaurant and cocktail bar, aaand…
…really nice loos.
NOTE: The Southbank Centre will reopen as soon as indoor activities reopen in London. In the meantime, you can take a look at their website, and book tickets for future events, HERE.
Southbank Centre | Belvedere Road, London SE1 8XX
---
Like finding culture in the city? Check out the best talks and lectures on this month.