Summer by the River | Outdoor cinema and live music by London Bridge
It's always nice to spend summer by the river…
…particularly if that river also has food stalls, pop-up bars, live music and outdoor movie screenings. 
We don't claim to be mind readers, but this might have been what the organisers behind Summer by the River were thinking when they set up this free annual festival. From June onwards, they're back to replicate the formula that's served them so well over the years – bundling up all those beloved outdoor activities and unpacking them across three locations around London Bridge (The Scoop, Hay's Galleria and The Pier), for three months over the summer.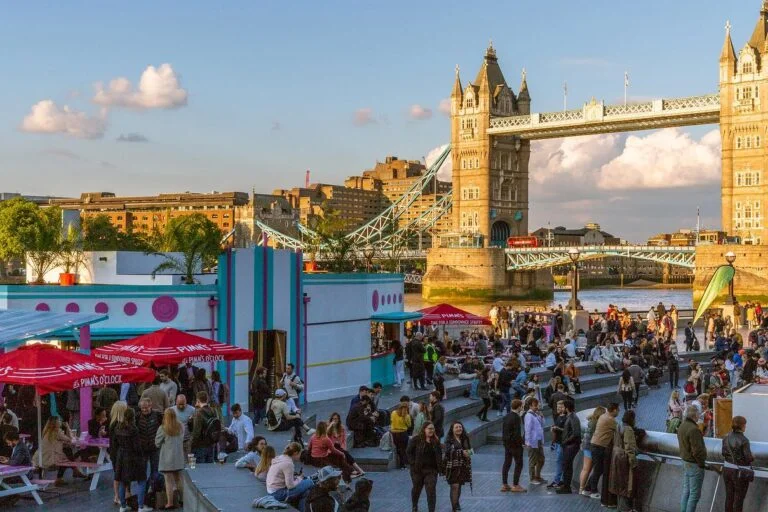 They're going in big from the onset, with a loaded launch night on June 1st to kick off the whole shebang. That'll feature a moving performance (12 street artists powering a 12-foot-tall wheel), and a horns & rhythm gig by brass band Con Latón.
Then once the the festival's up and running, you can expect a programme of outdoor music; starting with grassroots hosted by Brixton's live music venue Hootananny (June 8) and every Thursday, evenings curated by Jess Izatt of BBC Introducers (who, considering her job, has her pulse very much on London's music scene) selecting three up-and-coming artists based in the capital that have caught her eye, to perform back-to-back in a single night. 
Summer by the River also hosts one of the most popular free outdoor cinemas in London in The Scoop, a dramatic concrete amphitheatre with space to squeeze in around 1000. It's here that, every Tuesday, you'll be able to take in films that span cult classics to today's big blockbusters, all in the shadow of Tower Bridge – which at night, looks rather nice all lit up. For June's lineup, you've got Elvis (Baz Luhrmann's Oscar-nominated biopic) on June 6, Onward (the animated film about two elf brothers, voiced by Chris Pratt and Tom Holland) on June 13; and Top Gun: Maverick (Tom Cruise, fighter jets, non-stop action etc) on June 20.
There's no need to bring any cash to these or book a ticket in advance, as they're completely free. Arriving a little early might help secure a spot, though. The screen will also show Wimbledon when the tennis starts, and the Ashes, once that does too.
Helping to keep punters hydrated and suitably fuelled, Summer by the River also has pop-up bars on-site – with spritzes and Pimms – and food from Honey Honey Chicken and Bad Boy Pizza. We know exactly what you're thinking.

This is the perfect (and cost-effective) summer date idea…
NOTE: Summer by the River is running throughout the summer until 3rd September. There are a range of free events going on – you can see the full programme HERE.
Summer by the River | The Scoop, London Bridge, SE1 2AA
---
For everything else going on in the area? We've tried our best to squeeze it all into your London Bridge agenda…