Tanqueray Townhouse | Partner Content
Almost 190 years ago, Charles Tanqueray distilled his first bottle of gin in Bloomsbury.
And now, it's coming home for Christmas.
For nine days this December, the elegant Bloomsbury House will be transformed into the Tanqueray Townhouse; a three storey temple to gin where you'll be lavished with welcome cocktails, multi-sensory experiences, and – should you be in the right place at the right time – access to a hidden, mind-reading bar. Here's what you can expect…
THE GROUND FLOOR
Ushering you in from the cold is the Gifting Room, a gin boutique where the shelves are stacked with rare juniper-laced treats and Tanqueray gins in one-off, limited-edition bottles. The highlight? The calligraphers' table, where artists will be on hand to help you design your own customised label, wax bottle seal and bespoke wrapping paper for your chosen gin.
THE FIRST FLOOR
Tanqueray No. TEN and tonic in hand, you'll ascend the winding staircase to explore the rest of the townhouse. As you take in your strikingly opulent surroundings, you'll encounter close-up magicians with playing cards in gin bottles and vanishing cocktail shakers. And as you settle into the Lounge, you'll find the bartenders creating a little cocktail magic themselves, with a menu spanning from classics like the Tom Collins, to new concoctions like the Townhouse Negroni and the Bloomsbury Sour.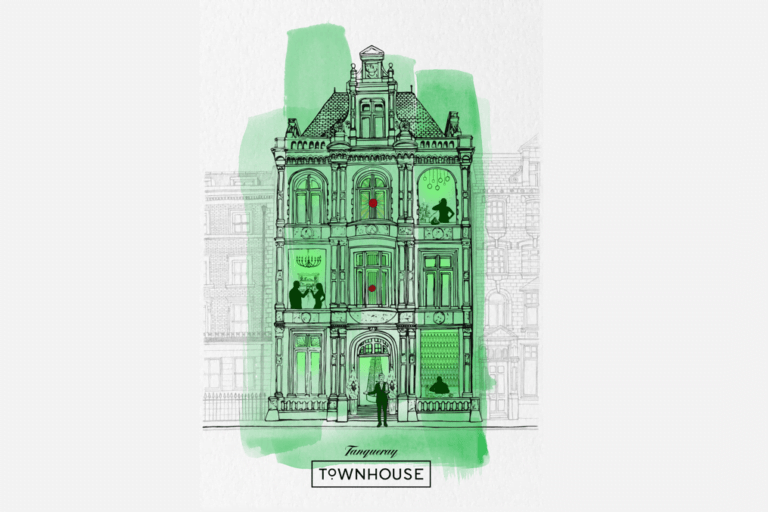 THE SECOND FLOOR
Head up another level, and you'll uncover even more rooms. There's the Library, where you can soak up two centuries of Tanqueray's history with a complimentary Tom Collins; and The Aura Room, where an 'aura photographer' will use facial recognition technology to pick out a gin cocktail best suited to you.
Oh, and you see that telephone? Hover near it, inconspicuously, and you might just get the call inviting you to the Townhouse's elusive hidden bar. Here, you'll experience the scents of the various Tanqueray No. TEN botanicals, and have your brainwaves analysed in response to each one. When you head back to the Lounge Bar, your perfect cocktail – scientifically tailored to your personal taste profile – will be waiting for you.
Because while a great bartender can feel like a mind-reader…
…these ones actually are.
NOTE: Tanqueray Townhouse runs from 6th-14th December in Bloomsbury. The Gifting Room is open to everyone, all day, but access to the upper two levels is ticketed. To find out more, and book yourself a ticket (£12), head HERE.
---
Tanqueray Townhouse | Bloomsbury House, 2-3 Bloomsbury Way, London WC1A 2RL