The Best Yoga Classes In London | We've Bent over Backwards To Find Them…
Finding a decent yoga class in London can sometimes leave you feeling a little stretched, which is exactly why we've pulled together the following list.
Taking into consideration everything from the studio space to the pricing, we've put together our favourite yoga classes in London. Whether you're looking for somewhere calm and non-judgemental to learn the basics, or you can do handstands in your sleep, there's something for you:
Triyoga | Camden, Chelsea, Kensal Rise, Ealing, Shoreditch
Triyoga was set up to provide a space for people to indulge in what the founders consider to be three vital components to living a happy, healthy life: yoga; pilates; and treatments. Focusing in on the yoga classes, they offer a huge variety of sessions for all abilities – everything from beginners yoga to hot yoga, in a room heated at 38 degrees. They also run various workshops and courses, allowing you to spend anywhere from a couple of days to a week really focusing in on your practice. For anyone looking for the ultimate refresh, they also run retreats. Hosted everywhere from the UK countryside to Marrakesh, they're the ideal way to properly improve, whilst also immersing yourself in nature, eating well, and generally remembering how to relax.
Types of yoga available: Dynamic (Ashtanga, Jivamukti, Vinyasa); hot; non-postural (meditation and breath work); therapeutic (for injury or illness); pregnancy; baby
Cost: drop-in £20; beginners' 7-day pass £25; monthly unlimited pass £125
For more information, or to book, visit their website here.
–
Fierce Grace | Primrose Hill, Kilburn, Hoxton, Gospel Oak, Finchley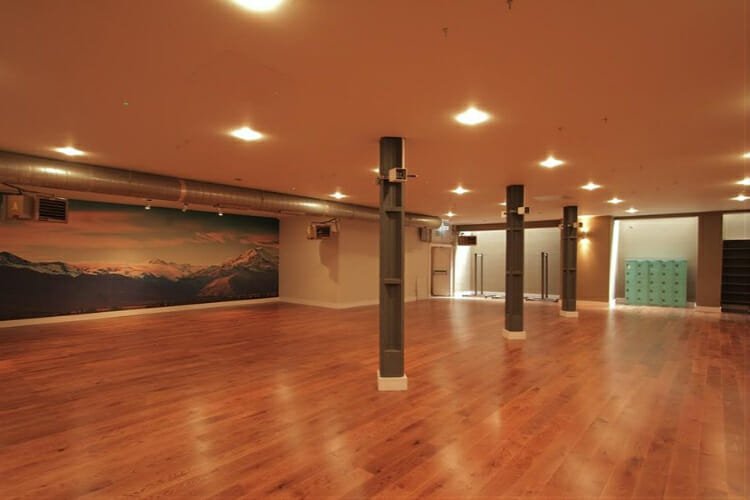 If you want to get a sweat on, go to Fierce Grace. It comes to you courtesy of Michele Pernetta who was actually a student of Bikram Choudhury himself for many years. Michele then decided to move from LA to the UK back in the 1990s, taking Bikram with her (the practice, not the man). Unlike most other yoga studios who split their classes up by style, all of Fierce Grace's classes are a blend of Hatha, Bikram, and Ashtanga, with the difference being either the focus (maybe on a particular body part), the length, or the intensity.  That said, all classes are open to everyone, including beginners. If you've never done yoga before, or you're working with an injury, the teachers will happily offer you adjustments to make sure you're moving at a level you're comfortable with. Fierce Grace also offer week-long retreats where you can disappear off into the hills of Tuscany or Spain, clear your mind, and refine your practice.
Types of yoga available: Hot, although they have eight different classes of varying lengths and intensity 
Cost: drop-in: £20/£12 with 10 class card; beginners' 14-day pass £39; monthly pass £99-119
For more information, or to book, visit their website here.
–
Digme Fitness | Covent Garden, Bank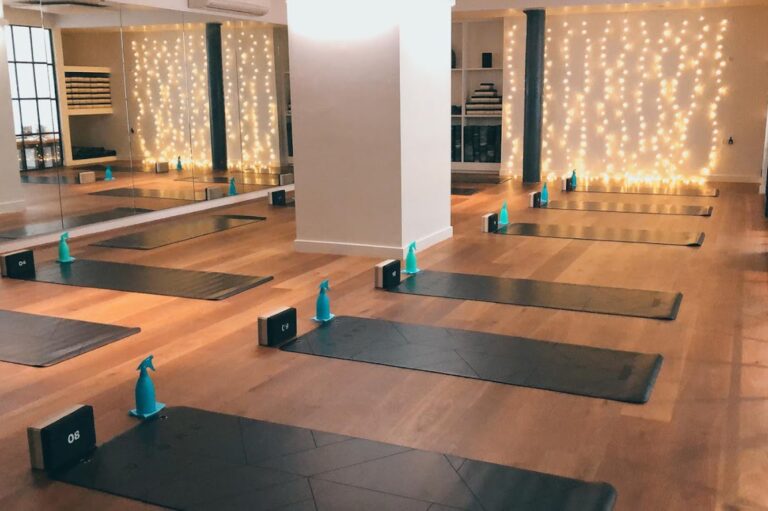 Digme Fitness (formerly known as Another_Space) is a series of sleek, ultra-modern fitness studios, offering HIIT, Spin and yoga classes across London. Sessions run from 45 – 75 minutes and are aimed at a variety of levels; beginners can get involved with the classic vinyasa flow practices, while Rocket, Power and Hot Yoga sessions can push those with more experience a little harder. There's also a gentle pregnancy yoga class for expectant mums wanting to stay active.
Types of yoga available: Ashtanga, hot, pregnancy
Cost: Drop-in £23; class passes work out at £17.50-19 per class
For more information, or to book, visit their website here.
–
Frame | Fitzrovia, Hammersmith, King's Cross, Victoria, Shoreditch, Farringdon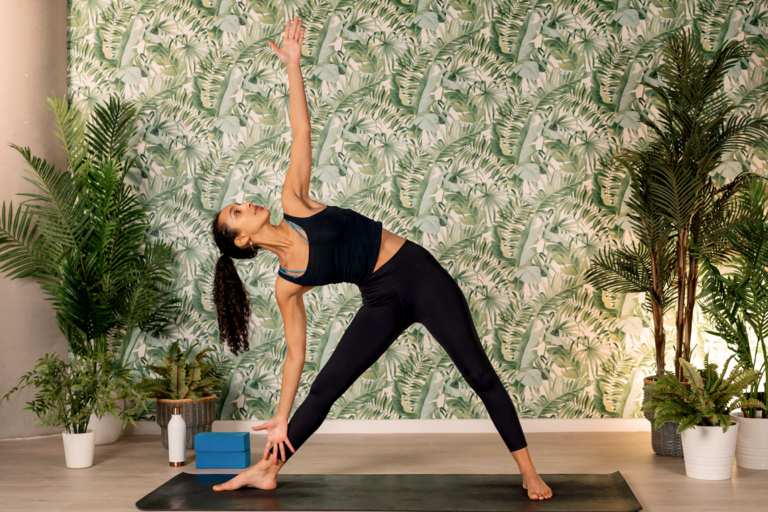 Pip Black and Joan Murphy set up Frame in 2009 to offer a more positive approach to health and fitness. Rather than spending hours pounding away on a running machine, they wanted to offer classes – dance, yoga, boxing, barre, and more – that were actually (whisper it) enjoyable, helping you to get fit at the same time. They're all totally inclusive, and there are zero judgements, so whether you're there for their 45 non-stop Frame Rave, or for Carnival Rebounding (jumping up and down on a trampoline to Carnival songs) you can totally throw yourself into it uninhabited.
When it comes to their yoga classes, they have plenty of options available, from Beginner Yoga (a class focused on teaching beginners all of the basic postures and techniques) to Power Yoga (a much more challenging class with the option of complex binds, inversions, and arm balances). They're all about fitting yoga into your routine, so join them for the 45 minute Lunchtime Reset, aimed at counter-acting the negative effects of working at a desk; the invigorating Morning Flow or a slow-paced Yin & Sound Bath session at the end of the day ("cosy clothes encouraged").
Types of yoga available: Slow Flow; Mandala Flow; Yoga Basics; Yin; Restorative; Dynamic Vinyasa
Cost: Drop-in £16; class packages £9.50-14 per class; memberships from £66
For more information, or to book, visit their website here.
–
Yogarise | Peckham, Streatham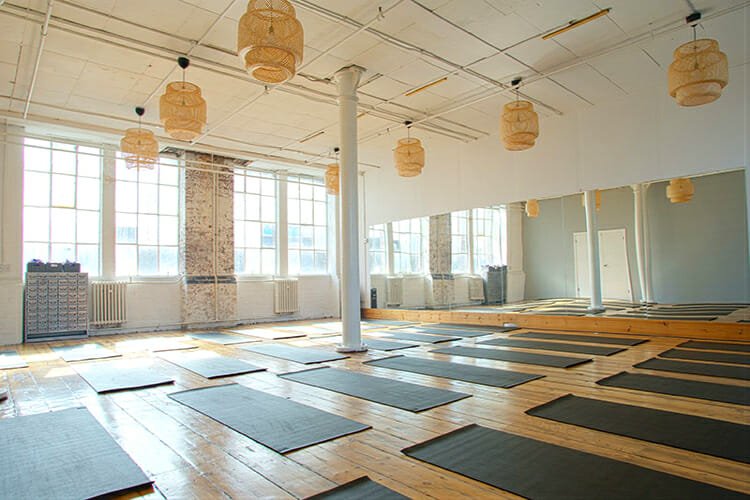 Yogarise is a relaxed, neighbourhood studio that – whilst appreciating the seriousness of yoga, in particular the huge range of health benefits – ultimately just wants you to have fun. They offer a whole range of classes, everything from Yin-Yang to Mindful Flow. Plus they offer dedicated beginner sessions for anyone totally new or nervous, and longer workshops to really get deeper into your practice. Price-wise, they're definitely on the lower side of things, not to mention they offer regular community classes for a fiver. In the summer in Peckham you can do rooftop yoga, and they also offer a range of retreats in beautiful scenic places like Portugal where not only do you get to indulge in three hours of yoga a day, you can also opt in for meditation classes and massages, alongside just general time to explore, visit beaches, and take it easy.
Address: Peckham: 133 Rye Lane Second Floor, Unit B 2.1, London, SE15 4ST | Streatham: 248a Streatham High Road, SW16 1HS
Types of yoga available: So much. There's dynamic & vinyasa flow; yin yoga; nidra yoga; jivamukti; ashtanga; hatha flow and dharma; yoga for restoring and mindfulness; yoga for babies and kids; and yoga on the roof.
Cost: Drop-in £16; community classes £5; 21 day beginners' pass £40; class packs £12-14; unlimited from £83 a month
For more information, or to book, visit their website here.
–
Down to Earth | Tufnell Park
Down to Earth's two studios are housed inside a beautiful building that used to be a piano factory, and the airy pot-plant and wood-tabled space gives it the feel of a true natural retreat (plus an aesthetic that could easily be on the pages of a design mag). Add on a range of massages and a boutique shop where you can take home candles, essential oils and everything else required to be a person of peace, and you're guaranteed to leave here with a new-found sense of zen. This North London studio offers yoga classes in all styles (and for all levels), including pregnancy yoga for future mums; baby & me yoga for new mums and their tots; kundalini for opening those chakras; sound baths; and even teacher training, so you can be on your way to becoming a yoga guru yourself. All told, they offer some of the best yoga classes in London, hands-down…
Address: 225 & 225A, Brecknock Rd, London N19 5AA
Types of yoga available: Vinyasa flow, ashtanga, hatha, restorative, iyengar, yin, meditation and mindfulness, pregnancy, baby & me, pilates.
Cost: Drop-ins £17; 14-day beginners' pass £40; class passes from £13-16 per class; 6 month membership £99
For more information, or to book, visit their website here.
–

MahaDevi | Islington
This warm studio, right next to the tube at Holloway Road, provides both beginner and advanced classes for the hatha style of yoga, which is the slower 'take a big breath in and then let it all out' style that's also greatly beneficial for your posture, meaning no more feeling like the Hunchback of Notre Dame (no offence to him). Their yoga classes are on the small side and maxed out at eight people, so the teachers have the capacity to give you more solo attention, guidance and personalised feedback than you'd normally otherwise receive at one of the larger, flashier studios (where you can sometimes find yourself in the unfortunate situation of being ignored from the back row). And, as well as doing your own body a world of good, you'll also be doing good for others – half your admission goes towards MahaDevi's support fund for families of children with special needs and their yoga therapy programme that gives children and adults living with disabilities access to the discipline.
Address: Roberta Sumar Yoga Centre, 12 Eden Grove, Stapleton House, London N7 8EQ
Types of yoga available: Hatha
Cost: First class is free, drop-ins after are £13; class passes £10-11 per class
For more information, or to book, visit their website here.
–

The Shala | West Norwood
The Shala has been around since the late 90's, a time when it was one of the only studios offering yoga classes in London. Its light-filled Victorian townhouse is home to yoga of all styles, traditional and modern, both on the ground and, erm, above ground (aka aerial yoga, where you defy gravity by swinging around in the air doing stretches supported on a low-hanging hammock). As unrelaxing as that may sound, it's actually bliss for people who sit in front of a computer all day (relieves the pressure from the spine), reduces stress (work emails will be the last thing you'll be thinking about in some these positions…) and you don't need to be a competitive gymnast to partake with The Shala offering beginner workshops. The whole thing is a real boost…
On the flip-side, if you'd rather your feet were touching the floor (a 25-degree heated ashwood floor, no less) when practising yoga, The Shala have classes on ashtanga (a modern and physically demanding style that focuses on energy and breathing), creative flow (one that focuses on movements and transitions) and yin yoga (one that focuses on rest and unwinding, and that puts you in the mood for bed as soon as your instructor ends the class…), among others. They also have a reception area that to them is more like a 'living room area' where you and your fellow yogis can chat stretching and spirituality over coffee. 
Address: 3rd floor, 1 Chestnut Rd, Norwood, London SE27 9EZ
Types of yoga available: Aerial yoga, ashtanga, beginner flow, jivamukti, creative flow, slow flow, yin yoga, pregnancy yoga, yoga postures. They also run weekend forest retreats as well as a variety of workshops and events.
Cost: Drop-in £18.50; beginners' 3 class pass £30; packages from £9-15 per class
For more information, or to book, visit their website here.
–
Sangyé Yoga School | Kensal Green
Sangyé is one of the best yoga classes in London for tapping into the spiritual/mental side of the practice – you know, connecting your body to your brain, being able to 'let go' and getting rid of your worries with the click of a finger, or in this case, one deep breath. So on that note, don't expect pumping EDM to soundtrack your sessions, instead they've had monastery monks from Tibet drop by for a visit before and they hold a spiritual warrior class that involves chanting (e.g. ommmm). Most of the stuff here is geared towards those with a bit of experience, but they do hold open classes for vinyasa (a flow method that's faster and where you don't hold onto one pose for too long) which also, in saying that, ends with a period of complete stillness, so try not to get an itchy nose… The studio itself is clean, spacious, modern and brightly-lit – all the musts – and the teachers are some of the most chilled out people you'll ever meet with years and years of yoga devotion under their belts.
Address: 300 Kensal Rd, London W10 5BE
Types of Yoga available: Vinyasa, Jivamukti, Ashtanga, Spiritual Warrior. They also Tibetan  Buddhist teaching and social events like a Lunar New Year Vegan potluck.
Costs: Drop-in £17; beginners' 5 class pass £40; other class passes £11.50-14 per class; monthly membership £99
For more information, or to book, visit their website here.
–

One Yoga | Haringey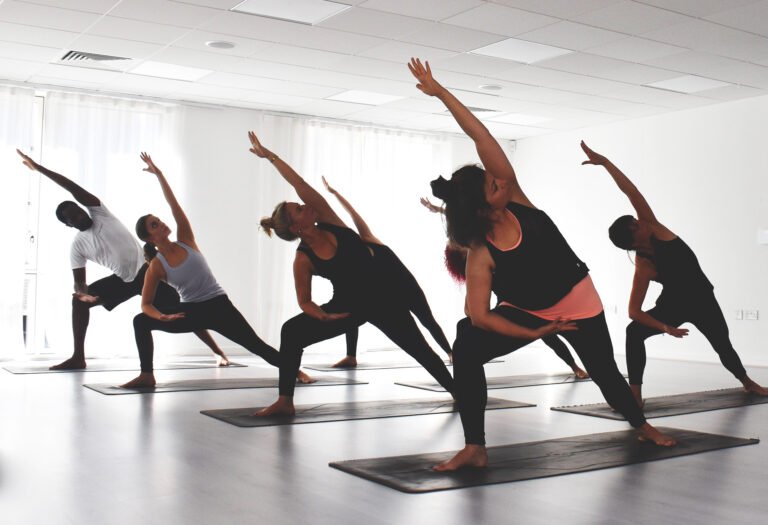 Located inside a small but comfortable temporary studio in Haringey's Priory Park (affectionately named the Sacred Shed), One Yoga offers classes for all yogis – complete beginners who can't cross their legs (yet) and those who possess the shouldn't-be-possible ability to turn their bodies into pretzels – all led by a team of friendly instructors in easy-going environments that are as intense (or not intense) as you want them to be. You'll be ready for bed after one of their candle-lit yin courses that promise a good night's sleep and a deep state of relaxation, while on the opposite end, if you're seeking something that'll get your blood pumping (and that you'll likely feel the physical effects of the next day) then the sculpt pilates courses might be for you. They also offer everything in virtual form, so you can join the classes from your laptop without needing to make the trek up to the top of North London…
Address: Priory Park Pavilion, London N8 8LQ
Types of Yoga available: Basics, yoga flow, honey flow, kundalini, yin yang yoga, pilates sculpt.
Cost: Drop-in £14, beginners' 14 day pass £35
For more information, or to book, visit their website here.
–
The Lodge Space | Rotherhithe
The Lodge Space is a place of calm on the edge of Southwark Park that offers pretty much the works in terms of yoga classes, and on a daily basis too. So whether you want to sweat your bum off and burn calories at hot yoga (in a studio fitted with high-tech FAR infrared panels, no less) or improve your range of motion at a vinyasa session in effort to dominate the next game of house Twister, you should find what you're looking for here. Seriously, whip out your a-z book of yoga disciplines and they'll probably all pop up on the Lodge Space timetable – in 30 minute to one-hour classes – at some stage during the week. 
For novices, don't worry – most of the classes are okay for beginners and the instructors are also incredibly welcoming (and importantly, patient), so there's no fear of feeling out of place if you can't do a handstand or even touch your toes. Not sure where to begin? They do a sweet intro deal where you can take any three classes for £20, allowing you to test out what aligns best with your body. And then afterwards, you can prolong your stay at the community cafe (which also doubles as a good remote workspace) serving a tempting array of paninis, sugarless cakes and smoothies. Also very nourishing for the mind, body and soul…  
Address: 120a Lower Rd, London SE16 2UB
Types of yoga available: Vinyasa, iyengar, power yoga, budokon yoga, yin & yang yoga, chakra yoga, restorative hatha yoga, aerial yoga, hot yoga, pilates.
Cost: Drop-in £10; beginners' 3 class pass for £20; monthly membership £95
For more information, or to book, visit their website here.
–
Hot Yoga Brixton | Brixton
As the name suggests, this welcoming studio – a stone's throw from Brixton station – offer hot yoga classes in South London (the style where one does everything in an extremely hot room and comes out at the end looking like they've been locked in a sauna for far too long). It's actually a lot of fun, however, helped along by their highly-trained instructors, and the benefits are extensive with the heat improving your flexibility (stiffness be gone), giving your skin a supple glow and boosting other health-related things like metabolism and blood circulation. They have four hot yoga classes: strong (the hottest at 39 degrees where you go through 26 postures and feel like you can on take on the world once the hour's up), deep glow (beneficial for balance and stretching), flow (a full body class, good for getting the foundations right) and inner (which is the slow, gentler class that's just generally very relaxing and low-energy).
As you would in any hot place, it's imperative to drink tons of water beforehand and while you need to bring two towels (or rent them from reception), they provide the rest of the equipment like mats, blocks and straps (though they also have an onsite shop where you can buy all those yourself, if you want). Finally, they're very accommodating to first-timers, so if you're a newbie… don't sweat it.
Address: 372A Coldharbour Lane, London SW9 8PL
Types of Yoga: Hot yoga – strong, flow, inner, deep glow. There's also gong baths and inferno pilates.
Cost: Drop in £21, beginners' 4 class pass for £30; 10 class pass £160; membership from £99/month
For more information, or to book, visit their website here.
---
Like keeping fit? Take a look at our guide to The Best London Walks