The quest to be crowned London's premier beer mile is no longer a one-horse race.
It's now a two-horse race thanks to The Blackhorse Beer Mile…
For so long, the Bermondsey Beer Mile has had most of the city's craft brewery contingent all to itself, but this high-density stretch of breweries and taprooms in Walthamstow – conveniently accessed by getting off at Blackhorse Road Station – has now officially joined the conversation. In truth, it's existed for a while, with most figuring it was called the Walthamstow beer mile (or something similar), but it was only until this spring when someone finally bothered giving the area an official title, 'The Blackhorse Beer Mile'. In fact, considering Bermondsey still isn't formally recognised as a beer mile yet, Blackhorse has a strong claim to being the only legit booze trail in town.
While it's got bit of catching up to do to match its foe down south for venue count, the number continues to grow each year (give it time and it'll get there), and completing it still requires a plenty of craft – not just because you have to know when to pace yourself and where to take a break for food, but since you'll be consuming a minimum of eight drinks if you want to successfully tick off each spot. 
As for where to start the Blackhorse Beer Mile, there's no right or wrong way, or any rules. You won't get accosted for beginning at Exale for instance, but there is a recommended route which you may as well take because, well, it's just easier. Each brewery on the mile has ample space for indoor and outdoor seating, sells artfully-designed cans that you take for the road, and is a short stumble away from the other so there isn't any real fitness required (aside from drinking endurance). Here's how it's been mapped out:
Big Penny Social: Formerly known as Truman's Social Club, at 10 minutes from the station this is probably the longest walk you'll have to do. The great hall can hold a capacity of 1400 punters where you can not only sink pints, but pad your stomach with sourdough pizzas too.
Signature Brew: These guys are about all mixing music and beer, so you may catch a gig here if you're lucky and the surroundings are incredibly scenic (drinking around the tanks, and sometimes straight from them). The star beer is the Roadie, a citrusy IPA that was once the winner of SIBA SE's Gold Award for Best Canned Pale Ale.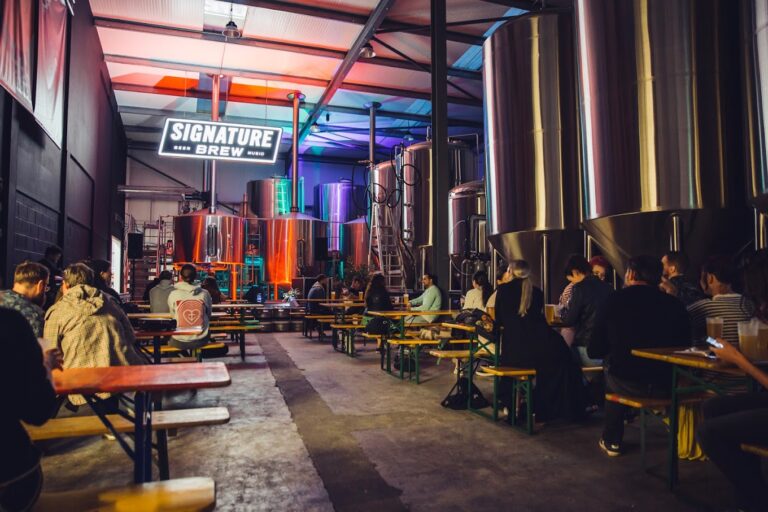 Exale: Don't take a breather here. Exale are known for producing peculiar beer flavours (think an Iron Brew sour or a pilsner with Arabian black limes), which you can then profile yourself in their taproom that's been converted from an old furniture factory. On weekends they stay open until 2am too, so expect DJs and a bouncy atmosphere. There's also a solid grub game here, including wild venison burgers and tatties topped with haggis (or 'Scottish Poutine' as they've dubbed it). 
Beerblefish: Beerblefish are noted for their vegan beers and cask ales, as well as their heritage brews that are based on recipes dating back to the 19th century (like an award-winning 1820 porter with hints of coffee and chocolate). They also have a pool table and Dutch shuffleboard if you fancy doing something other than sitting around drinking beer.  
Renegade: Renegade by name, renegade by nature. Technically not a brewery, no, but if you don't mind switching it up for a second, this urban winery has 18 wines (and do tastings) with four on tap. 
Wildcard: Wildcard's head brewer Jaega Wise is a radio and TV presenter, author, and most importantly certified craft beer expert, having won the British Guild of Beer Writers' 'Brewer of the Year' award in 2018. So as you can imagine, the beers (check out monthly specials like the 'I AM THE QUEEN', a chocolate, maple and pecan stout) are pretty decent…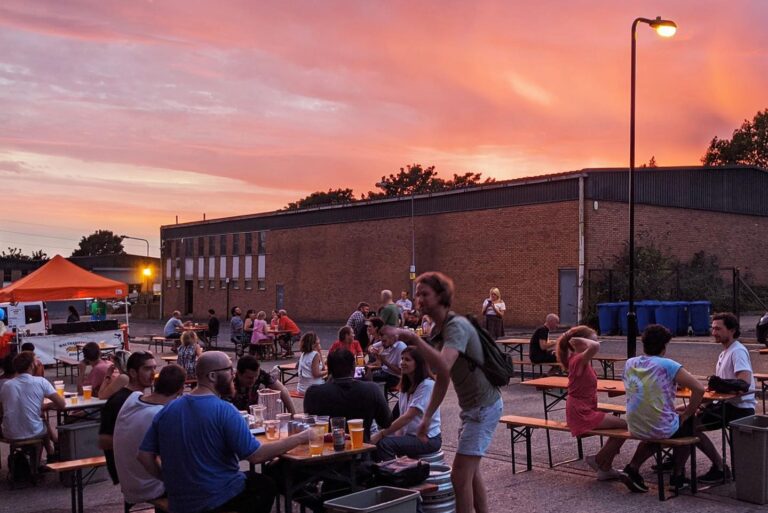 Pretty Decent Beer Co: Speaking of pretty decent… This is the newest member on the Blackhorse Beer Mile's roster and they have 20 beers on tap: sours, lagers, hazy IPAs, and they'll be welcoming in new beers in each week too with a simple enough focus of 'trying to not to f*ck it up!'. For food, expect local pop-ups to play a big part – currently, Neapolitan-style pizza from It's Not Big Dough.
Hackney Brewery & High Hill Taproom: Hackney Brewery is 11 years old now (so quite old in craft beer years) and this is their new hideout with a 120-capacity beer hall, roomy outdoor yard and 20 of their own hoppy potions on tap alongside a few guests. Middle Eastern eats from Oli Babas is the food, and if you're a Yard Sale Pizza person (silly question?), it's free delivery here for those too.
Obviously there's no obligation to knock all these off in one go. Getting into each brewery is free, and you can spend however long you want in there. For those who do wish to crawl their way around it – though not on all fours, hopefully – it's an achievement that you can be proud of. 
You just won't feel too good about it the next day…
NOTE: The breweries and taprooms on the Blackhorse Beer Mile are open at varying times. For more info on the venues, the map and any other faqs, you can find it on the mile's website here.
The Blackhorse Beer Mile | 665 Forest Rd, Walthamstow, E17 6AL
---
Still thirsty? Then keep on crawling at these London breweries